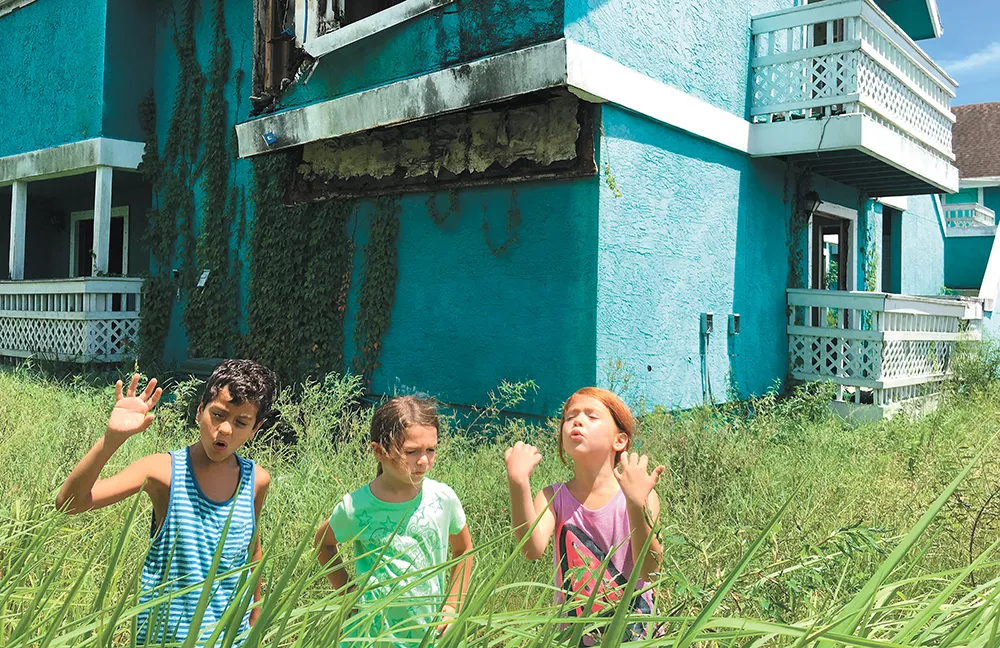 Disney World is billed as "the most magical place on Earth." Orlando, Florida, is not.
Orlando is a city built around constructed happiness, delivered to those who don't actually have to live there. If someone manages to wander outside the pristine theme-park bubble to outskirts like Kissimmee, they'll encounter long stretches desperate to lure tourist eyes with a grimmer, but no less true, version of the American dream: the hollow America of broken, colorful, plastic garbage. The Florida Project delivers a snapshot of childhood in that Orlando.
Life isn't as sunny as the weather would suggest at the Magic Castle, a run-down purple motel that has largely become a welfare slum (an all-too-common reality). But don't tell that to 6-year-old Moonee (Brooklynn Prince) and her friends who live there: it's the young scoundrels' summertime playground. Moonee's young, single and creatively tattooed mom, Halley (Bria Vinaite), lets the kids run around unsupervised and wild, creating their own adventures.
And these impolite little troublemakers have quite the array of activities that they approach with lively childhood zeal: spitting on cars at neighboring hotels, begging for change at the ice cream stand so they can buy a cone, flipping off the helicopters that constantly take off and land in the adjacent field, watching the old lady who always sunbathes topless in the pool, exploring the "Abandons" (dilapidated and abandoned foreclosed houses), going on "safari" (looking at cows in a field) and peer-pressuring new friends to join their antics.
When they inevitably get in trouble, it's usually up to the Magic Castle's kindhearted manager Bobby (Willem Dafoe) to set Moonee and company straight, a task that's more exasperating when he's forced to have similar disciplinary talks about their parents' actions.
While the characters in The Florida Project might seem a world away from the transgender relationship drama of writer/director Sean Baker's previous film, Tangerine, they're drawn from the same artistic well. Baker's films are free-form poems capturing the frenetic beauty of the underclass. He takes the marginalized and destitute people that society either looks down upon or forgets entirely and forces viewers to mainline their colorful, flawed and melancholy humanity. Baker and cinematographer Alexis Zabe make Moonee's world as vivid and vibrant as a child's imagination, including a few stunningly gorgeous framings of the Florida sunset and the hotel's outdoor room lights flickering on at dusk.
Baker also excels at getting the most from unknown actors. The cast, including all the children, turns in stellar performances across the board. The film simply wouldn't work if either Moonee or Halley felt unnatural, but both Prince and Vinaite nail the spirit of their characters.
Prince feels entirely authentic while conveying nuances that are well beyond her years. She's the kinetic, bouncy ball of joy at the center of everything, ignorant of some of the problems around her while blocking out the ones she's actually picking up on. She's adorable, impolite and sassy without ever feeling forced. Vinaite (who Baker discovered on Instagram) finds the delicate sweet spot where the audience buys into her charm as a wild, tough-luck mom who'll do anything to scrap for her daughter — from reselling wholesale perfume outside of tourist spots to less legal activities — but still dislikes her when she's neglectful, jealous, dangerous and an overgrown child.
Meanwhile, Dafoe acts as the rock-steady anchor, quelling the hotel's chaos, an established and commanding sympathetic presence who radiates care for the hotel's residents despite their consistently frustrating shortcomings. It's a reserved but emotionally resonant performance that could very well be bandied about for nominations come awards season.
The only place The Florida Project struggles relates to the plot, or the relative lack of one. It's certainly slice-of-life storytelling; scenes come and go like vaguely interweaving vignettes, rather than forming a solid narrative. If Moonee was at the center of them all, that approach could be chalked up to mirroring a child's memories, but it can get a tad uneven and drag at times as scenes drift about.
For what it lacks in narrative structure, The Florida Project artfully examines youthful exuberance in the face of systematic childhood poverty. How can thousands bask daily in the escapism of the most magical place on Earth, while mere miles away, far more have to live in this downtrodden, inescapable reality? But in a child's sweet, blissfully ignorant mind, there is no divide between those two worlds. ♦