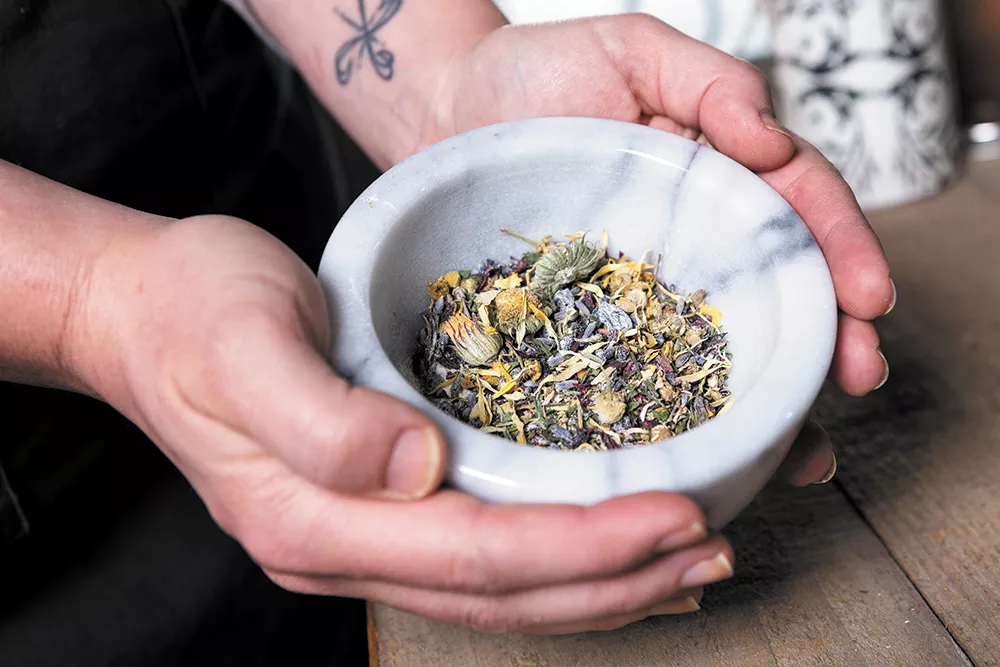 She's attempting to conceal the bitter tang of the dandelion leaf. Dashes of powdered vanilla and honey are spooned into the bowl, nearly covering the dried green leaves. Mixing the herbal tea, Erin Heuvel explains that dandelion leaf is excellent for your liver; it's just hard to swallow without masking agents.
We're at Spice Traders Mercantile in Spokane Valley, which provides an in-store station where anyone can mix their own tea and make their own essence. Every couple of months, the store offers a class to educate people about tea and tea blending. Jan Love, who co-owns the business with husband Bill Coyle, says those who attend these seminars are there to learn about flavors or the health benefits of tea.
"We brew up highly concentrated herbs or components, so participants can taste them and know what they'd like to put in their mix," Love explains. "Who's ever had hawthorn leaf? You wouldn't put that in your tea unless you tried it first."
After water, tea is the most consumed beverage on the planet. Yet America is a coffee-soaked nation — 83 percent of adults in the country drink it, according to a 2013 online survey by the National Coffee Association, making the U.S. its largest consumer.
"It's because we threw it all in the Boston Harbor," Love jokes about why Americans don't drink as much tea as they do coffee.
The steadfast packet of Lipton Orange Pekoe tea represents a bag of boring to many, but the beverage it creates is healthier than coffee.
"There's more caffeine in coffee, and chemicals [are] used in processing the beans," Love explains. "Where teas are oxidized using air, fermenting or drying, more natural tendencies than most coffee beans. The less processing the better, in my book."
The trick to further enjoying the health benefits of tea is exploring flavors that excite the palate while learning how to brew the beverage correctly. Black tea is more appetizing to many Westerners than green tea, but Love says that probably has to do with how green tea is steeped. (See "Steeping Guide.")
"You want to wait a minute after the pot has boiled for it to cool a little," Love suggests. "Then only steep the leaves for one to three minutes. It's not like black tea that gets darker when it's done. Follow this, and your green tea will be smooth."
Six types of tea are made from the leaves of the tea bush (Camellia sinensis) mostly grown in Asia: black, green, white, yellow, oolong and Pu-erh. Herbal tea, often healthy in its own right, doesn't use tea leaves, instead relying on aromatic plants, berries and spices. Tea leaves naturally contain more than 20 amino acids, the water-soluble vitamins B2 and C, and have been shown to stave off heart disease and some types of cancer. While all varieties from the tea plant offer antioxidants, which help cleanse the bloodstream of free radicals, green tea offers the highest concentration and also has been shown to improve bone density in older women, according to a study in the American Journal of Clinical Nutrition.
Because of these benefits, Love says downing two to four cups of tea per day is just fine. She and Heuvel admittedly sip tea all day long from various brews while working.
Love says loose-leaf tea is often the way to go for the freshest, most healthful results — not those pre-packaged bags you'd find in the tea and coffee aisle of the grocery store. That means using an infuser of some kind to brew the tea, which may seem more cumbersome than pre-packaged envelopes but allows one to better dictate their desired flavor profile.
Since Love opened her spice shop three years ago, she says people come from all around the area for high-quality tea ingredients; meanwhile, the Tea Association of the USA has found that more Americans are enjoying loose-leaf teas today than ever before. Even Oprah loves tea. She recently announced a partnership with Teavana that puts her name on a special blend of chai tea (a spiced black tea) that will be sold at Starbucks.
Erin Heuvel, who works at Spice Traders, names her blend "Garden Stroll." Drinking the reddish-purple dandelion herbal tea blend, a symphony of flavors hits the tongue: sour, sweet, grassy and earthy. She stirs in balsamic vinegar to offer more of a zing. Love explains that additional flavorings, like balsamic or a squeeze of honey, don't detract from tea's health benefits like cream or sugar would.
"Tea is not dehydrating at all," Love says. "In fact, it's the opposite. Everything should be consumed in moderation, of course, but tea is perfect for quenching thirst." ♦