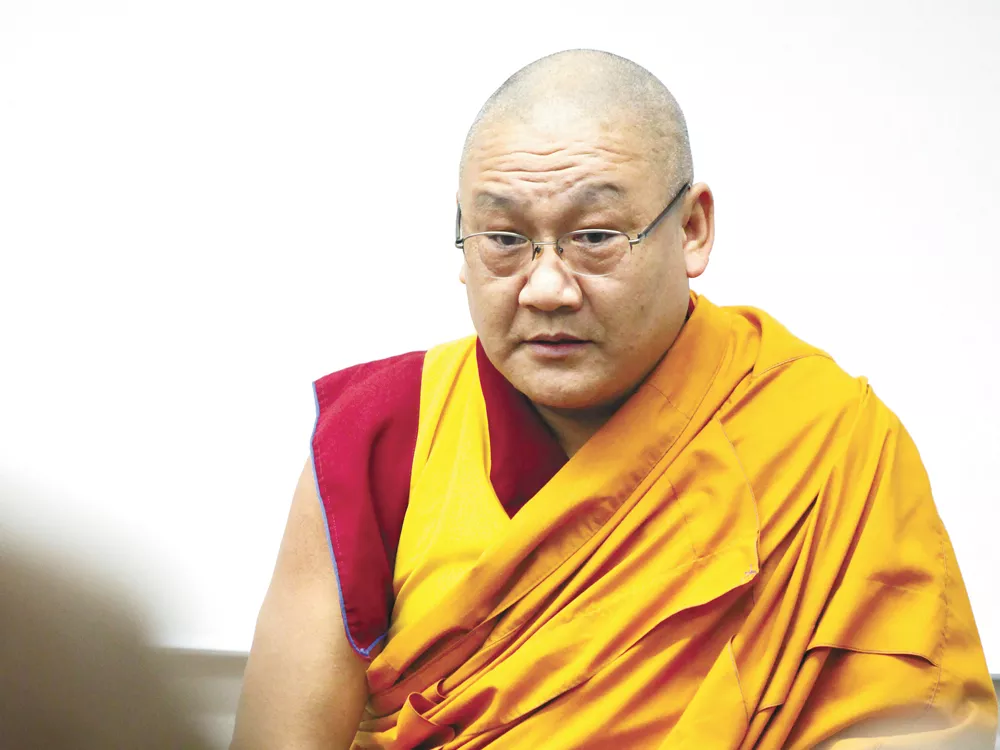 My interview with Geshe Thupten Phelgye was supposed to begin as we walked from his dormitory to his office.
But plans changed when the Tibetan monk spotted trash along the sidewalks lining Cincinnati Street on the Gonzaga University campus. Looking like a man-sized fireball in his red and yellow traditional robes, he scooped up plastic forks and cups and a discarded package of sunflower seeds. Phelgye is a vegetarian, known for his animal activism and is a former member of the Tibetan Congress in exile. And today he's a trashman.
And that's how we ended up standing next to a Dumpster, talking about the Chinese occupation of Tibet — the place where Phelgye was born and where he and his family fled when he was 3 years old. His name is pronounced Toop-ten Pel-gay, but most people just call him Geshe (Geh-shay) La, which refers to his academic degree in the Tibetan Buddhist tradition.
China first occupied Tibet — a region in the Himalayas that borders Nepal, Bhutan and northern India — in 1949. The Chinese have cracked down on the Buddhist religion and Tibetan traditions and have begun filling the area with ethnic Chinese migrants to dilute the Tibetan culture.
For a way of life that shuns violence, Buddhist monks have protested in recent years by setting themselves on fire. Each one who does, Phelgye says, leaves behind a statement or reason.
"In every message they say, we want freedom for Tibet. Some of them say we want to have our freedom of religion and culture and Tibetan rights," he says.
Some of the younger Tibetans are growing tired of that non-violent path, though Phelgye says it's a minority.
"It's not necessarily the monks, it's the younger generation, in which there may be one or two monastics involved," he says. "No matter who you are, human beings are human beings, and every individual have their own thoughts."
Phelgye is Gonzaga University's first Global Scholar in Residence in meditation. His arrival on campus to teach, first in 2011, is part of the Jesuit Catholic university's effort to expand the dialogue between people of different faiths. This semester, he is not teaching but primarily leading a weekly meditation session open to students and the general public.
The first time Lori Lindman, 52, heard Phelgye speak was at a 2008 talk in Coeur d'Alene. She likens his talk on compassion and their conversation afterward to "turning the light on in a dark room — it brought everything to life."
She went home that night and couldn't sleep.
"I didn't quite understand it, to be frank," she says. "Other than I felt spiritually more awake and aware. I knew something important had happened inside of me."
When Phelgye returned to the United States a year later, Lindman actually bought him a plane ticket to Spokane so they could talk more. And when the monk's term in the Tibet Congress in exile ended in 2011, it turned out that Gonzaga was looking to find ways to expand its interfaith dialogue. And that's how Phelgye's more formal relationship with the region began.
Lindman likes the meditations, which move between short, quiet sitting, and question-and-answer sessions, or just Phelgye sharing a few thoughts.
"He's probably lived the lives of 10 men in one, he's lived it all, he's seen the good, the bad and the ugly," Lindman says.
The only time in my interview with Phelgye that the smiling, good-nature disappears completely is when I ask about the more than 50 Buddhist monks who have set themselves on fire. Phelgye's sigh rolls like an ocean wave of sadness.
"It's very difficult, it's very unfortunate, very painful, what can I say?" he says. "Unless China's authorities give some consideration over their problems, I don't see so much change coming."
And a moment later, as Phelgye spies his first piece of trash on the sidewalk and springs into action, the grin returns.
Meditation with Geshe La Thupten Phelgye • Wednesdays, 7-8 pm, through the semester • Goller Hall, ground floor, 630 E. Sharp Ave. • lori@barkcanoe.com