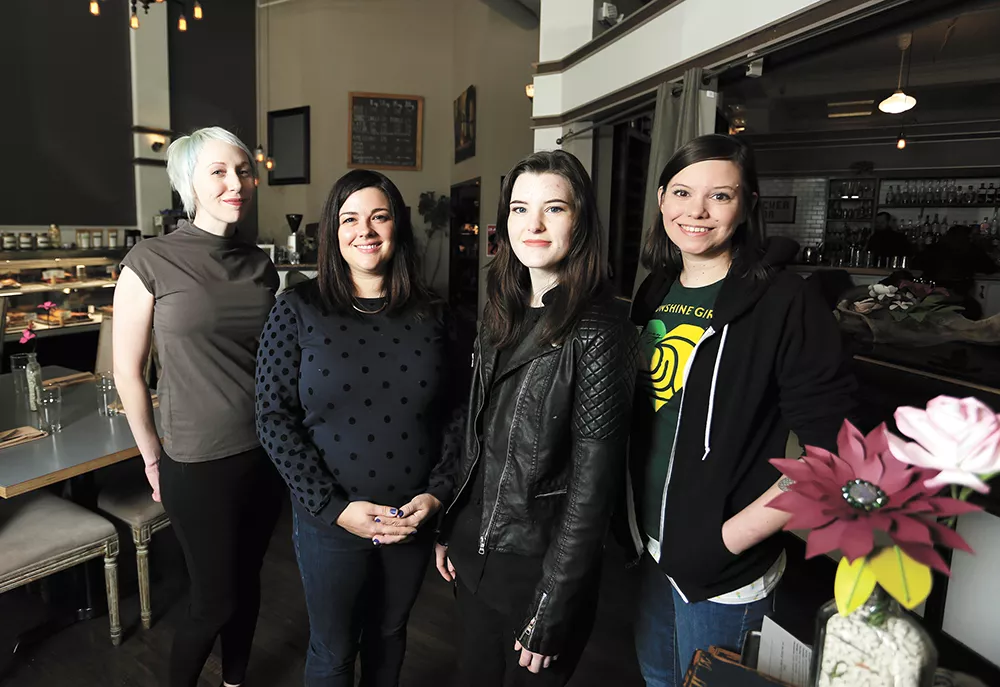 Naomi Boutz gets this a lot: "We'd like to thank the owner. Who owns this place anyway?"
"I am the owner," she'll reply, smiling to the inquiring patrons at her Coeur d'Alene restaurant, Vine & Olive Wine Bar and Eatery.
"No way!" Boutz says they'll often exclaim. "But you do have a partner, right?"
As the sole proprietor of Vine & Olive, opened in 2017, Boutz's is the only name on the business license. She's happily married, but the European-inspired restaurant is entirely hers, and has been since the beginning, when her husband encouraged her to pursue her dream to open a wine bar.
Boutz doesn't blame customers for these queries, which she believes aren't meant to be rude. Even so, as Vine & Olive's popularity grew, she started responding a little more firmly to the disbelief.
"I would get asked half a dozen times a week when it first opened," she recalls. "It's frustrating, because everyone else I worked for in the restaurant industry has not been asked that question so many times." Boutz's past employers were both male.
One explanation for why some diners may be hesitant to accept that a woman, married or single, could own a successful restaurant business on her own is because, statistically, so few actually do.
National figures paint a picture of predominantly male ownership and leadership in professional kitchens. While women make up more than half of all positions in food service, the breakdown of female-identifying workers in leadership is much lower. It's estimated that around 33 percent of restaurants are majority-owned by women and 19 percent of all chefs are women, yet only 7 percent are head chefs. The gender wage-gap in food service jobs is also wide; women earn about 28 percent less.
The reasons are complex. Established female chefs and restaurant owners, in interviews and editorials, point to several: a lack of mentorship, sexism and sexual harassment, difficulty securing capital or investors, a lack of paid family leave. Less recognition of women chefs/owners by media and award-granting organizations have also been blamed.
These trends and associated behaviors towards women in food are reflected locally. The Inlander spoke with several local women, including Vine & Olive's owner, an experienced bartender and a rising line cook. Some of the women we reached out to didn't want to comment for fear of backlash, while others expressed concern about sharing certain details or naming past employers. The majority haven't experienced the worst behaviors that male-dominated kitchens were accused of enabling in the wake of the #MeToo movement. But they repeatedly shared this sentiment: Women in food feel they need to work twice as hard as their male counterparts just to prove themselves capable.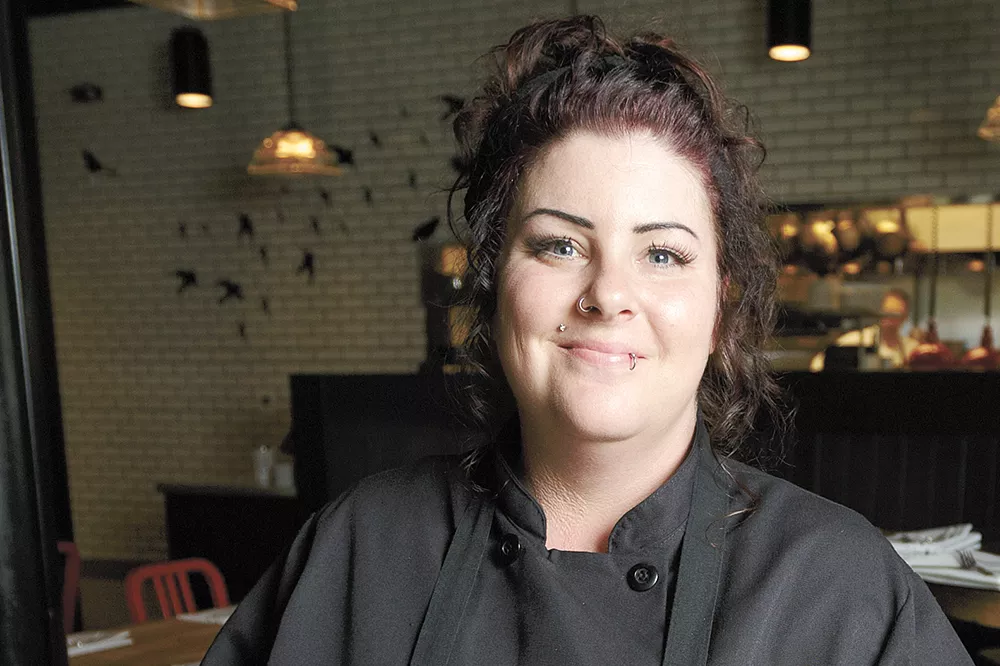 "There is a stigma that you, as a woman, are not able to do as much," says Lynette Pflueger, former pastry chef at Common Crumb bakery currently working at Spokane-based Spiceologist.
"I personally have felt that I always had to overcompensate a lot. I would show up earlier and stay later than everyone else," Pflueger adds. "I feel like you really have to work almost double than the boys in the kitchen to feel like you're even doing the same amount."
Erin Fasbender has seen and heard it all over more than 15 years tending bars in Spokane. She's currently lead bartender at Hogwash Whiskey Den, a tamer atmosphere than some past stints. Throughout her career, though, it's mostly customers who've disrespected or harassed her in ways she believes her male counterparts never face.
"I can remember older men would call me 'little girl,'" Fasbender recalls. "Oh god, all the comments, hotel keys left, numbers written down and 'how bad do you want this tip?' And a lot of walking by and groping in a busy bar. It was fairly common."
Men could get aggressive if she cut them off, calling her a bitch or a slut or worse. In her early career, Fasbender viewed such scenarios as simply part of the job. Now, the petite cancer survivor is not afraid to stand up for herself when things get dicey. It helps that her current employer and colleagues have zero tolerance for harassment.
"Not all customers are bad. Ninety-nine percent are great people, and [bartending] was something I was good at," Fasbender explains. "Why I do it now is that I have a passion for cocktails, and where I work allows so much creativity."
Hogwash is owned by local restaurateurs Kate and Jeremy Hansen, credited by past and current employees alike for fostering a safe and respectful workplace.
Amanda Perkins, a 19-year-old line cook at the Hansens' Sante (soon to become Smoke & Mirrors Saloon), currently is the only female cook in all of the couple's five area restaurants, and she says she's lucky she hasn't experienced anything worse than "locker room humor" at times.
"I haven't had anyone make me feel uncomfortable, but maybe some people underestimating me," Perkins admits.
Before starting in a professional kitchen right out of high school, Perkins recalls her family warning her of the conditions she may face, evidence that the industry's reputation for harsh working conditions and poor treatment of women permeates beyond itself.
"I was expecting to come into this super hard, vulgar, male-dominated thing," she says. "I definitely feel like I'm an outlier. [My colleagues] are respectful."
Respect and professionalism have been important ideals to the Hansens since opening Sante, says Kate.
"It all starts at the top, and with Jeremy and I, we never really subscribed to that seedy trash-talk culture," she says. "We have always wanted to have the type of culture where employees look toward challenging themselves more than anything."
Even though Kate and Jeremy own each of their restaurants together as full and equal partners, the industry's glaring gender imbalance often trickles down to Kate's day-to-day interactions. The most common occurrence relating to her dual roles as wife and business partner is being overlooked by others as only "Jeremy's wife," versus a full partner who's responsible for making business decisions.
"It does bother me, but I try and let my work speak for itself, and I know at the end of the day I shouldn't expect people to know how our business is structured," Kate notes. "I would like for them not to be so quick assuming that 'wife' is the only role of the female."
It's not all gloom and stolen glory in the perceived "boys' club" of professional kitchens.
Molly Patrick, executive chef at the newly rebranded Current Kitchen at Red Lion Templin's Hotel on the River in Post Falls, finds empowerment in being part of the industry's low percentage of female kitchen leaders.
"When I first started cooking, my very first chef was a woman," she recalls. "I never thought about it, and then as I moved around, I realized it was a rarity, but I always feel really cool about it."
Like her counterparts, Patrick has had her own share of challenges, from unwanted groping and snide comments to raising three kids while working late hours. She, too, has felt pressure to prove herself twice over to be seen as competent and equal to male peers, and still gets excited to see a woman's name on an application for a spot in the kitchen.
At the same time, Patrick has never felt her gender alone should define her success, nor her struggles, in the culinary profession.
"I've never walked around and said 'I didn't get that opportunity because I'm a woman.' I feel like I've created my career and I've worked really hard," she notes. "You could say the whole industry is a boys' club, and maybe it is, but don't let it stop you." ♦