Rüt Bar and Kitchen
Arguably one of the region's most anticipated restaurant openings of the past year was the debut of Rüt (pronounced "root") on Spokane's lower South Hill. Offering a solely plant-based menu, Rüt is the culinary effort of chef-owners Justin Oliveri and Josh Lorenzen, both practicing vegans. It opened in spring 2019 in the space formerly home to Picabu Bistro, next to Rosauers.
Oliveri also co-owns Cascadia Public House in the Five Mile area, which serves a good selection of vegan dishes, though none are replicated at Rüt.
"We were going for a gastropub feel with the menu while still using solely plants and making it more approachable," Oliveri says. "It's not a place where you just go get salads. We still offer super tasty dishes that are appealing to not just plant-based [diners]."
Rüt's concise menu consists of less than 20 items, but offers a range of textures and flavors, including several dishes that convincingly mimic animal-based ingredient counterparts.
The comfort food-inspired truffle mac has coconut "bacon bits," Broccolini, bread crumbs and chili flakes. Two plant-based burgers feature two of the leading commercially available plant-based patties, the Beyond Burger and Impossible Burger. The latter is the star of Rüt's rich and savory jalapeno mushroom burger, topped with a spicy-sweet jalapeno relish, crispy onions, tempeh bacon, sauteed mushrooms and "cream cheese." (CS)
D'Bali Asian Bistro
Diners at D'Bali Asian Bistro in Airway Heights are warmly welcomed in a manner befitting friends and family of co-owner and chef Jeannie Choi, affectionately known as "Mama Jeannie."
The menu is a mix of Southeast Asian and Pacific Rim flavors and traditional dishes, all with Choi's personal touch. Though she's a native of South Korea, a previous career in corporate hospitality took Choi across Southeast Asia where she was introduced to a range of regional cuisines.
These myriad influences — traditional and contemporary Chinese, Malaysian, Indonesian, Balinese, Thai, Korean and Indian cuisine — are recognizable throughout D'Bali's menu in ingredients, flavors and preparation. There's fried rice, stir fry, spring rolls, satay, soups, ssam-style lettuce wraps and more. Choi's famous chicken wings recipe is also featured as an appetizer after friends and family begged her to put it on the menu; wings are tossed in a caramelized sauce and topped with garlic chips, cilantro and lime.
Located just off of Sunset Highway's main drag through Airway Heights, D'Bali has quickly become popular with West Plains locals and foodies across the region seeking authentic flavors and homestyle preparation. Just a few months after opening in late 2018, D'Bali was named the region's best ethnic dining spot at the Spokane Culinary Arts Guild's 2018 awards gala. (CS)
High Tide Lobster Bar
It didn't take locals long to discover and fall in love with chef Chad White's new downtown Spokane lobster bar, debuting in March 2019. News of the new spot quickly spread across Instagram, where people saw photos of toasted, buttered rolls stuffed with chunks of lobster claw and knuckle meat in a tarragon mayonnaise sauce.
"The minute that door was open people were like, 'Oh my god! Lobster rolls!'" White says. "I own restaurants in two different countries, in two different states, and I've never experienced a, let's call it a 'lob mob,' you know what I mean?"
White's menu for High Tide is intentionally short and sweet. There's the traditional lobster roll, served with 3.5 ounces of lobster meat, a surf-and-turf roll with beef short rib and lobster, a short rib roll and a mushroom roll. High Tide also serves clam chowder and wedge salads, with chips, drinks and ice cream also available.
White knows that some see the price tag (a lobster roll is $16) and think it's steep, but he's really tried to keep it affordable.
"Lobster's not cheap. It's one of the most expensive creatures in the ocean. So when people come here and they say 'it's expensive,' well yeah, it is expensive, it's a luxury item," he says.
The skywalk-level lobster bar has already proven so successful, White is next planning to open a second location in the newly restored Wonder Building on the north bank of the Spokane River. (SW)
Fresh Soul
An authentic taste of the deep South has arrived to the Inland Northwest. Fresh Soul, opened in July 2018 in East Central Spokane, is serving up traditional Southern comfort food staples that are often hard to come by in this part of the country: fried chicken, ribs, catfish, fried green tomatoes, jambalaya, seafood gumbo, collard greens and more.
Operating as a nonprofit through the community-focused Spokane Eastside Reunion Association (SERA), Fresh Soul also runs a job-training program for youth ages 14 to 18 to gain skills and experience. Both the restaurant and training program are overseen by SERA founder and director Michael Brown. Most of Fresh Soul's menu, meanwhile, comes from the traditions and kitchen of his wife, Lorrie Brown.
"It's all passed down, all things we ate and things we enjoy — the spice, the intermingling of everything... all those good flavors that come together in one pot," Lorrie says, referring to her already locally famous seafood gumbo.
There's also jambalaya, which rotates weekly with the seafood gumbo due to each dishes' time-intensive preparation. If it's not cooked in a pot at Fresh Soul, it's probably fried or barbecued. Ribs are offered in varying quantities, from a single to a full rack. Meal combos let guests sample a variety of sides and proteins, including Southern-fried chicken legs, thighs, wings and breasts. There's also pulled pork, catfish and fried green tomato sandwiches, and all the classic sides to pair with: baked beans, collard greens, red beans and rice, potato salad, cornbread and corn on the cob. Don't forget dessert; Lorrie makes a to-die-for peach cobbler, and pecan brownie supreme. (CS)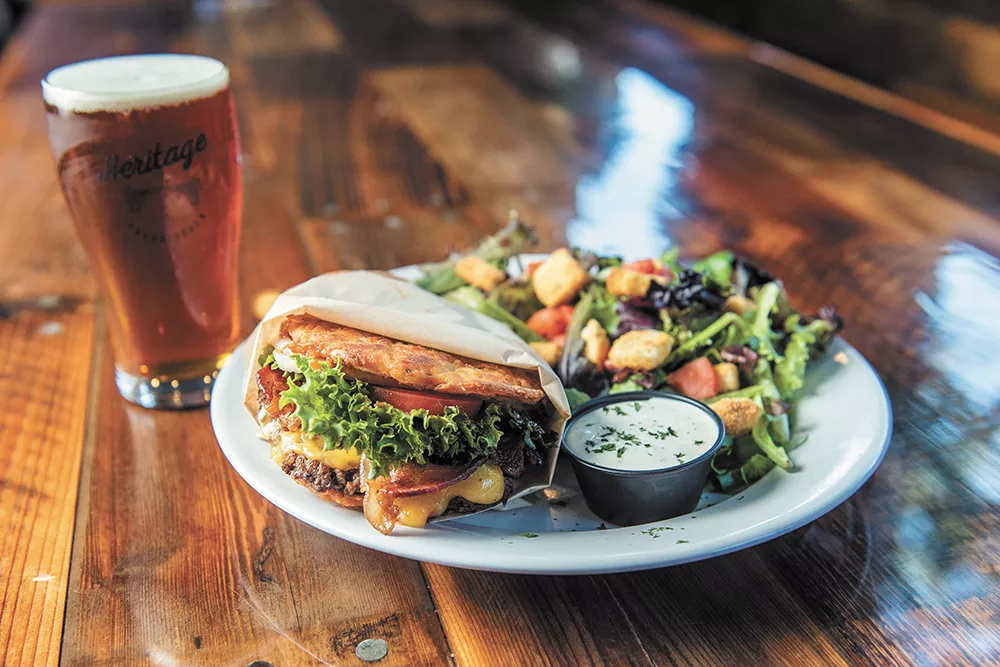 Heritage Bar & Kitchen
Heritage Bar & Kitchen is steadfastly loyal to two overarching themes: family and the city it calls home.
The downtown Spokane's restaurant's logo prominently features the nearby Monroe Street Bridge. That landmark's iconic arched motif is also featured in a custom, decorative frame around the bar, which serves only beer brewed in Spokane County and Washington-made wines, and has a large focus on spirits from Spokane's Dry Fly Distilling.
On the restaurant's concise pub food menu, tributes to the region and family of owners Gabe Wood and Alex King continue. The "Fancy Nancy" is a childhood favorite that was often prepared by King's mother, consisting of two handheld meat pies; essentially soft pockets of pastry dough stuffed with a mix of seasoned ground beef, onions, tomatoes and cheese, and served with a side of salad, curly or sweet potato fries.
To that end, Heritage also put its own spin on a few classics, including the hash brown burger, a smashed beef patty served between two ultra crispy (yet not too greasy) hash brown "buns." For dessert, there's deep fried peanut butter and jelly, a concessions-inspired creation dusted with powdered sugar and served perfectly crispy on the outside, encasing a delightfully gooey filling.
Continuing Heritage's nod to all things Spokane, the bar's signature cocktail list features mixed drinks named after longtime local television news anchors. (CS)
More new-ish places to dine, opened in 2018-19:
The Crown & Thistle, 107 N. Fourth St., Coeur d'Alene
North Hill on Garland, 706 W. Garland Ave., North Spokane
Ladder Coffee & Toast, 1516 W. Riverside Ave., downtown Spokane
Austin's Live Fire Barbecue, 421 W. Main Ave., downtown Spokane
TT's Old Iron Brewery & Barbecue, 4110 S. Bowdish Rd., Spokane Valley
Mango Tree Indian Kitchen + Taphouse, 401 W. Main Ave., downtown Spokane