Twenty-four years ago, a young girl's dream of joining the U.S. Ski Team was redirected by an injury.
"Somehow I went into surgery a ski racer and came out a volleyball player. I didn't look back," says Desiree' Leipham, who stands 6-feet-1 and has competed on an elite level for most of her life. Now in her early 40s, she's stepped gracefully into the world of professional ski model.
Growing up in the small farming community of Reardan, Wash., in a houseful of boys, Leipham became competitive by nature. At 3, she started skiing at nearby 49° North, and it wasn't long before she and her siblings were skiing all over the mountain. By 11, the tallest kid in her class, she was a member of the Forty-nine Alpine Ski Team (FAST) where she excelled; by 13, she moved to Bend, Ore., for the winter months to train with the Mt. Bachelor Ski Education Foundation.
She was able to stay on top of her school curriculum through correspondence courses. "It was a fun juggling act," she says. "I would attend Reardan High School in the fall and spring and play volleyball and track to keep in shape for skiing. Our volleyball team was 93-1 and we won three state championships. I also set the state B Track record in high jump at 5-4 back then."
After graduating from Reardan in 1989, Leipham was on a track to make the U.S. Ski Team. She spent much of that summer ski-race training on the glacier at Mt. Hood trying to improve her skills and attain her goal. That August, everything was falling into place; at the U.S. Ski Team Trials held on the glacier, she was given an opportunity to earn a spot on the U.S. Developmental Ski team. If selected, she would be leaving for Las Leñas, Argentina, later that month to train with the team. All of a sudden, the world seemed a whole lot smaller.
On one of her final training runs, Leipham crashed. As she puts it, "I blew out my knee. It was over in one split second, which seemed more like an eternity." With a torn ACL, her dreams of making the U.S. Ski Team were on hold for a little while longer. Her parents wasted no time and set up her surgery with renowned U.S. Ski Team orthopedic surgeon Dr. Richard Steadman, who had performed successful surgeries on hundreds of professional athletes. Steadman was on the cutting edge of new surgical procedures for their profession.
"Dr. Steadman put me back together and changed my life forever," she says. "He talked to me about getting my education, and how ski racing would only take me so far in my future. He also pointed out that the top ski racers in the world at the time were all under 5-5. [Towering at 6-1], he suggested I consider playing volleyball in college."
Leipham had to take a big step back and consider the advice. Though painful, she set out with a new mission to find a college volleyball program and get an education. Just like she did through the slalom gates, she charged hard.
"I put together a promotional package and shopped myself to the top 10 colleges in the U.S.," she says. "To everyone's surprise, I was recruited and obtained a full-ride scholarship to the University of the Pacific [in Stockton, Calif.]; they were a Division I school, at that time ranked No. 2 in the country behind UCLA. Somehow I went into surgery a ski racer and came out a volleyball player."
Leipham played college volleyball and received her BA in Liberal Studies. She went on to play professionally on the Federation of International Volleyball beach doubles tour for five years, until 1999. Her beach volleyball matches took her and her partner to sandy beaches all over the world in countries like like Brazil, New Zealand, Australia and Japan, and all over Europe. She competed in the 1996 Olympic trials, placing fifth, and in the 1997 Beach Doubles World Championships in Espinho, Portugal, placing ninth. With the 2000 Sydney Olympics in her sights, Leipham and her partner competed in the Olympic trials but again placed fifth, falling short of her goal of representing America.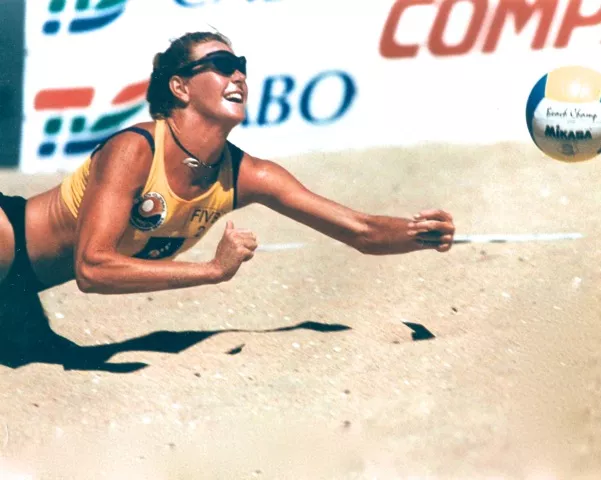 As her volleyball career came to an end, Leipham settled into the next stage of her life. She moved back to Spokane and started working a job as a salesperson for medical devices, which she's done for the past 14 years. Like everything else she does, she was determined and worked hard at her job, building her business.
The winter of 2007 was a big snowfall year for the Spokane area; more than 92 inches was more than double our normal average. It had been 18 years since Leipham slid down a slope on a pair of skis. But that winter, things changed.
"With all the snow in Spokane, I felt like it was my calling to go skiing again. I went out and tried some of the new fat skis; I felt something I hadn't felt in a long, long time. I was hooked again. I felt like I had missed an entire lifetime of skiing," she says. "I had no idea of the changes that occurred in the ski world, like the evolution of skis from skinny to fat. Straight to shaped. Long skis to short skis. There was so much to experience again, and discover people with the same passion for skiing that I had."
Leipham has jumped back full-bore into the ski world. She takes every chance to ski at a local resort or travel to some remote backcountry lodge to indulge her newest addiction, powder skiing. Her skills have opened up another set of doors — she's a regularly featured skier on the Freeride Chronicles, which airs locally on KXLY and nationally on the Ski Channel. She's also the face behind numerous print ads for Northwest resorts and backcountry operations. In a world that seems to be dominated by male athletes, she's getting her fair share, and backcountry operations and resorts are loving it.
On a TV shoot with Monashee Powder Snowcats in British Columbia, owner Carolyn Morgan was impressed: "Desiree' arrived at our lodge as a ski model. After a few minutes we were impressed with her warm personality and charm, especially our 6-8 chef who was mesmerized by Des! At 6-1, she was the first woman who could look him in the eye! At the end of the first day of shooting, we were blown away by her skiing ability. That first video displayed it as her great smile lit up the screen."
With social media like Facebook, it's become apparent how big Leipham's presence has become in local ski circles. Recently, I was looking at dozens of images on Mt. Spokane's Facebook page. The images were from their photo booth, which the resort used at November's Inlander Snowlander event. The photo booth was set up so you could get your picture taken in the newly proposed Red Chair. Looking at dozens of images, it became evident that she was a presence in the Spokane ski world; a life-size image of her skiing was in the background of hundreds of photos. Talk about the ultimate photobomb.
As a kid in pigtails, this was sort of a childhood dream: "When I was young, my parents used to take our family to see the Warren Miller films," she says. "It was a big deal for us kids; a lot of seeds were planted by watching those movies and listening to Warren narrate. It was a pretty neat experience being at these movies — you could feel the excitement in the Opera House from everyone ready to go skiing. Half the fun was walking around the lobby and visiting the ski resort booths, listening to everyone talk about skiing, checking out brochures and the new ski gear. I remember as a little girl looking at the ski posters dreaming to myself: 'One day.'"
That day arrived, and a childhood dream is now reality. Twenty-five years later, her ski life has come full circle as she prepares for another winter filming skiing, the sport she's loved since childhood.
Even with life's constant changes, dreams still do come true. ♦