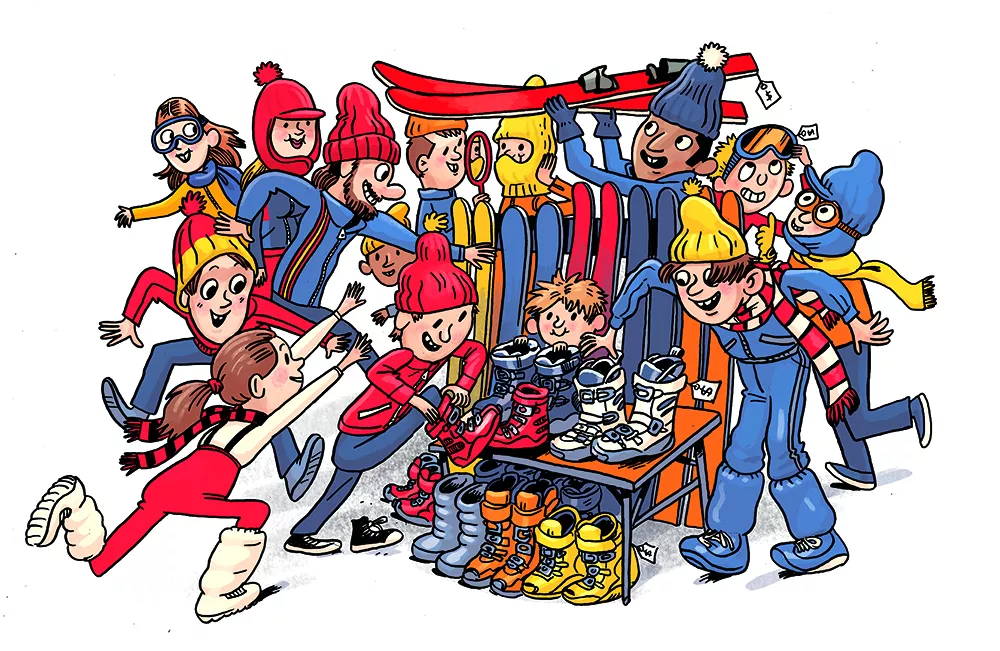 If you've never been to a ski swap, you're in for some real excitement. Here are some insider survival tips for making the most of your day. While some seasoned skiers and boarders may believe the best way to survive these annual events is not to go at all, other equally savvy folks disagree, saying this is a core component of the ski industry. And if you don't buy any gear, it's a way to support the fundraiser associated with it, and also to catch up with winter friends.
First, don't think you can roll in two hours after the door opens and think you'll find exactly what you're looking for. Veterans of the Mt. Spokane Ski Patrol Swap, the Inland Northwest's biggest, suggest arriving no later than 5:30 am to start waiting in line — as a ski-swap newbie, you should know that all the good stuff goes within the first hour. Think of the time in line as tailgating, ski-industry style. Bring a tent, food, thermos, chair, sleeping bag and football for passing the time until the swap opens. You could probably make lots of friends by bringing a fully charged iPad with some of the latest ski movies loaded on it. Make friends with your neighbor — you never know, you may need a wingman once inside.
You've waited, and they're about to open the doors. Don't forget why you're at the swap. Are you buying skis? Boots? Outerwear? Prioritize what equipment is a must-buy, and go for those items first. Don't lose focus. Personally, one retro one-piece and my attention deficit disorder kicks in, and I'm trying on ski suits from 30 years ago, possibly losing the deal of a lifetime on those new sticks I was hoping to buy. Instead, I have yet another retro-onesie for my costume box. Not a complete loss, but neon clothing is definitely not worth the early-morning effort.
One ski-swap regular, who shall remain nameless, suggests using the "guarding" technique, grabbing everything off the wall you might want. Once the situation — and more important, the cash flow — has been assessed, you keep them, or put back what you want but can't afford.
The moral of the story? Come prepared. Bring food, hydration and appropriate footwear. Know your boot size, what length of ski would be best for your weight and ability, and the type of ski you want — powder, all-mountain, groomer or one to make into a Shotz Ski. This will help narrow down the "kid in a candy store" options, and also get you through the madness that some have likened to the midnight deals on Black Friday. ♦