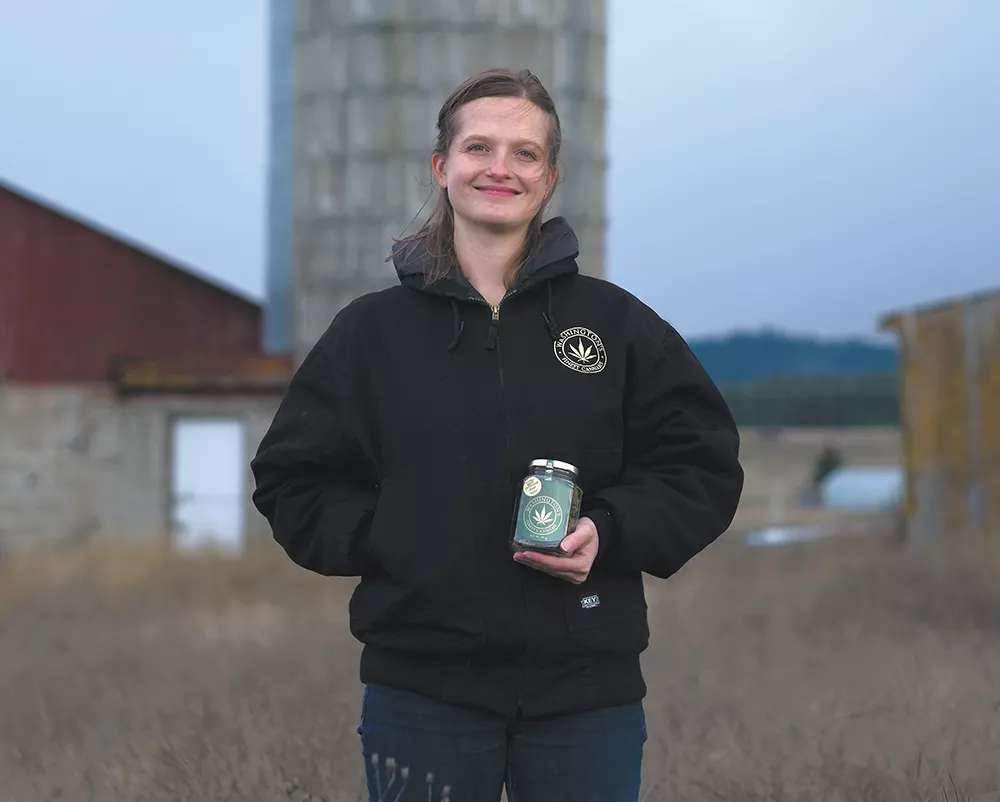 Anthony Birch and his wife have lived in their rural home southwest of Spokane, near Cheney, for a decade. But in the past couple of years, Birch says they can't enjoy it like they once did: The smell of the nearby cannabis farm is too strong.
"It permeates at times in our house, and we find ourselves on a warm night having to get up to shut our windows," Birch says. "I don't care what the smell is produced by. It's a nauseating smell. We don't like it. We don't know what it brings to us in the way of chemicals."
So Birch and other neighbors living near the pot farm, Bang's Cannabis, started filing complaints with the Spokane Regional Clean Air Agency in 2014.
"[The] odor is a constant reminder of what was an illegal activity which does NOT belong in an area of private and expensive homes," says one of Birch's complaints.
In total, the Spokane Regional Clean Air Agency says it has received 203 marijuana-related odor complaints since July 2014. Ninety-two of those complaints are about Bang's Cannabis. The agency has issued only three notices of violation for excessive odors.
The complaints were apparently enough to convince Spokane County commissioners to pass a six-month ban on new outdoor cannabis farms last week. Yet the Board of Commissioners never gave any public notice about the moratorium, leaving a Spokesman-Review reporter as the only person there to witness the vote.
Though the moratorium will not shut down existing farms or affect producers with pending applications, nearby cannabis farmers are concerned. The county, they feel, would never have imposed a similar surprise ban on another industry.
"As tax-paying, legitimate small business owners who are employing several hundred people in the county, it was frustrating to have this action taken without notice," says Crystal Oliver, who owns an outdoor cannabis farm north of Spokane with her husband. "Had the commissioners approached us beforehand, we could have come up with a more reasonable approach to begin with."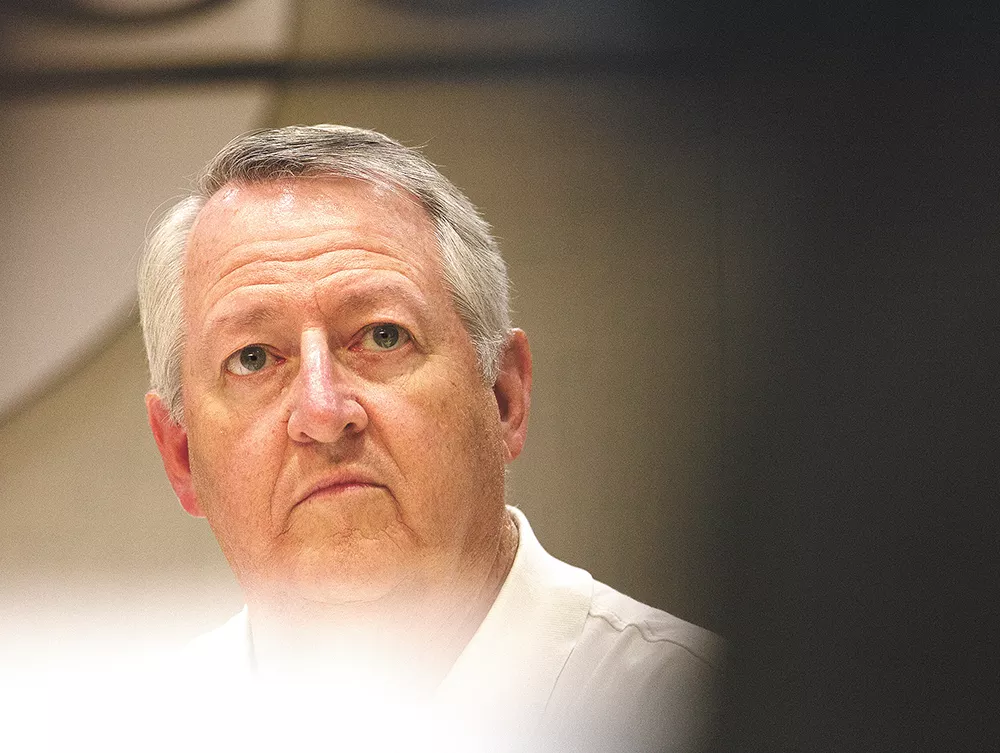 McLAUGHLIN'S SWAN SONG
Spokane County commissioners knew weed farmers would oppose the move. They suspected that growers would try to stop the county from imposing a temporary ban on new outdoor marijuana farms, or that aspiring farmers would rush to apply for permits before the ban went into effect.
That's why they made sure the public didn't know about the proposed resolution.
"Let's say we publish a notice saying we're going to put in a change to the marijuana ordinance in two weeks," Commissioner Al French says. "What do you think is going to happen with all the people thinking of applying for a permit, and knowing there might be a suspension? They'll rush to the permitting counter and get applications in before the ordinance takes effect."
French says it would have been similar to the rush for building permits in October following the state Supreme Court's Hirst decision, a ruling stating that water must be legally available before drilling a well, in part to prevent property owners from having their wells dry up. But county commissioners, including French, actively encouraged the rush for permits then, whereas they purposely avoided the chance of it happening for marijuana growers hoping to expand or start a farm. This time, French says, commissioners want to protect the rights of property owners.
"If I've got a problem that I already know about," French says, "why would I exacerbate that by getting a rush to the counter [for permits]?"
For Nancy McLaughlin, the vote on the six-month moratorium happened to be the last action taken during her time as a county commissioner. Hours after the vote, Josh Kerns was to be sworn in to take her seat on the three-person commission.
"I kind of decided it was something I wanted to go out of my office with," McLaughlin says.
She compares the odor affecting property owners in rural parts of the county to a neighbor McLaughlin once had who played music too loud. She adds that the smell of cannabis primarily impacts people who didn't want to legalize marijuana with statewide Initiative 502 in the first place.
"The most important thing to me is that we have to remember that even though this initiative passed in the state, it was passed by the majority of the people in urban areas," McLaughlin says. "But the grows are happening in rural areas. So it's the people that don't want to deal with legalizing marijuana [who are impacted]."
The commissioners' practice of hiding the action item on the meeting agenda by labeling it "miscellaneous" doesn't violate the state's open meetings laws. But Kerns suggests that he may have handled the moratorium differently than his predecessor. The public, he says, should be involved and engaged in the process.
"When we're making major decisions," Kerns says, "we need to make sure the community knows about it."
MAKING A STATEMENT
Crystal and Kevin Oliver's outdoor cannabis farm in Deer Park, called Washington's Finest Cannabis, typically releases an odor during a couple of weeks in October, according to Crystal Oliver. She only knows of one anonymous complaint about the smell.
Oliver, a marijuana advocate who recently served on the Spokane Regional Clean Air Marijuana Advisory Committee, says that people near outdoor farms may be smelling terpenes, or compounds found in plants. People may experience allergies to terpenes, Oliver says, just like they could have allergies to hay, for example.
Part of the issue with Bang's Cannabis, however, may be that it uses greenhouse cultivation throughout the year, so the odor is present more often. (Bang's Cannabis owners Lacey and Patrick Bang did not respond to a request for comment.)
The Spokane Regional Health District has found no proof to date that outdoor cannabis farms can cause negative health effects, says Kim Papich, SRHD spokeswoman, though she stresses that more research needs to be conducted.
The moratorium imposed by the county won't impact the current operations at Bang's Cannabis, and it doesn't impact pending applications. But if a farm wanted to expand, they would likely be subject to new regulations and blocked under the moratorium, says Spokane County Planning Director John Pederson.
The county isn't the only local government entity to impose a moratorium on pot producers. Spokane Valley passed a moratorium on pot retailers, producers and processors in 2014. The Valley council, similar to county commissioners, did not put the item on the agenda and cited a public health crisis as the basis for the moratorium. This year, Spokane Valley lifted its moratorium on new growers and processors — both indoor and outdoor — but capped the number of retail stores allowed.
Cannabis farmers like Daniel Harrington and Josh Zaretsky, co-owners of Kush Comfort Farms on the West Plains, question whether people would be making complaints about odor or their health if the product was something other than marijuana. They worry about how the county's moratorium will impact business for farmers.
Zaretsky says Spokane County is perhaps the best area in Washington for outdoor cannabis farming because of the high amount of sun it gets. Outdoor farming, he adds, is better for the environment than farming indoors. He argues that if pot producers rushed in to get permits before the county passed a moratorium — as commissioners feared — that wouldn't be such a bad thing.
"The people to rush in are business owners who employ people, who have paid people," Zaretsky says.
Carl Caughran, one of the Bang's Cannabis neighbors who filed complaints about the farm, insists the opposition to the farm has nothing to do with any moral issue against marijuana. He says the county is "finally looking out for the thousands of residents affected by the smell, instead of the 100-and-something people who have chosen to move into residential areas" and start grow operations.
Caughran, previously part of Clean Air's marijuana advisory committee, says he would file complaints if the smell was coming from any other type of farm as well.
"I'm not the marijuana watchdog. I'm looking to recover my property rights," he says.
Crystal Oliver suggests that a more appropriate way the county could have dealt with the high number of odor complaints in concentrated areas would have been to set a minimum parcel size for any new outdoor farms, and setting a cap on farms permitted per parcel.
But French resists the notion that commissioners are handling this differently than they would any other industry. He says the county went through a process to eliminate odors with rendering plant Baker Commodities after numerous complaints more than 10 years ago. He says the clean air agency has engaged marijuana farmers locally regarding the odor of outdoor farms, and that they shouldn't see the moratorium as a surprise.
"We've been wrestling for almost a year now on how to respond to the impact of property owners who have complained about the odor [from outdoor marijuana farms]," French says.
Commissioners will hold a public hearing within 60 days of when the moratorium was adopted. French says that will give those displeased with the decision a chance to have a conversation with county officials.
"This is not a social statement about whether we like or do not like marijuana," French says. ♦