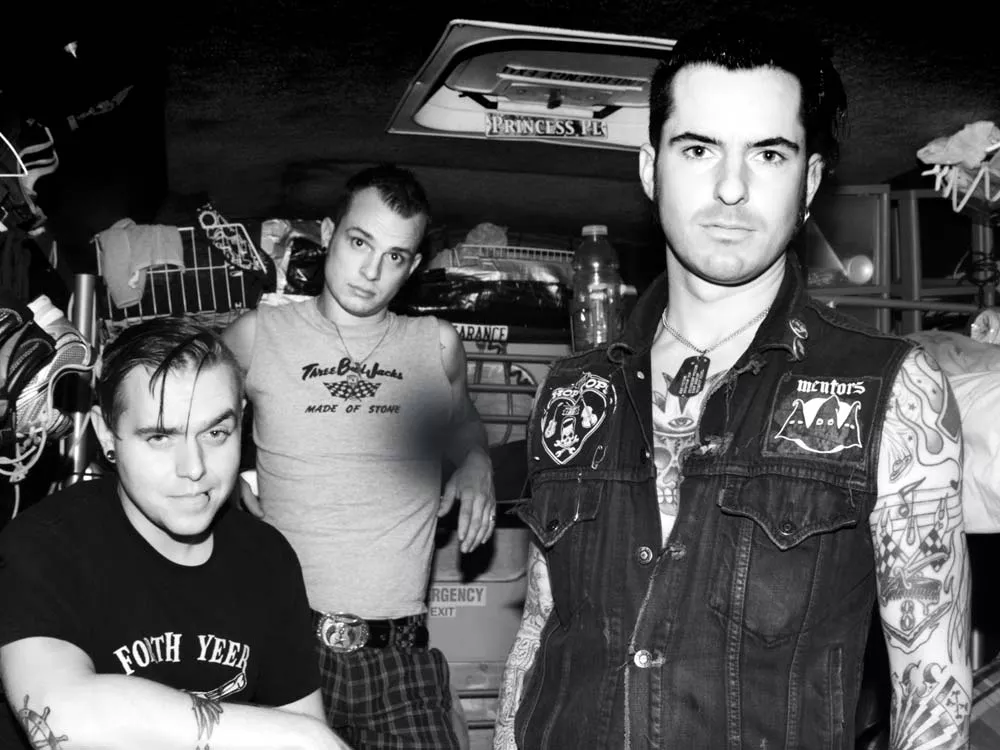 You can thank Beavis and Butt-head for producing the punkabilly-proficient band the Koffin Kats. Without the animated works of Mike Judge, the band might not exist.
"I was watching Beavis and Butt-head one day and saw Reverend Horton Heat on one of the music videos, and just thought the upright bass was cool and that band was cool," says Vic Victor, the Koffin Kats vocalist and upright bass player. "And one thing led to another."
Victor had been a punk kid since his preteen days, listening to Bad Religion and the like. But that small glimpse of psychobilly hooked him for the long haul. From there it was a matter of acquiring the defining tool of the sound: an upright bass. But being an aspiring bassist wasn't exactly easy — or financially practical. So Victor worked a crap job until he could finally secure enough funds to buy his first upright.
After being active in Detroit's punk scene for years, Victor and guitarist Tommy Koffin formed the Koffin Kats in 2003 and hit the road. The group's music blends rockabilly flair with Misfits punk-creepiness. Since then, the band has cranked out three albums led by Victor's bass slapping and deep, smooth vocals drenched in the sinister. Songs like "I Saw My Friend Explode Today" feature dark lyrical images: "I saw my friend explode today right before my eyes. I wear his blood impatiently as if I'm waiting to die. Brain matter chunks upon my face. And the blood in my mouth is an awful taste."
It may not be music for those with weak stomachs, but their sound has attracted attention in the rockabilly scene. This summer, the band goes on tour with beloved rockers, Nashville Pussy.
But keeping such a rigorous schedule and pace — darting across the country and around the globe — is not for everybody. Last year, Tommy Koffin left the band in order to settle down and gain some stability at home. The rest of the band understood, but knew they weren't about to slow down. At Tommy's suggestion, the band tapped long-time friend of the band Ian Jarrell to be the group's new guitarist.
"There's certain people you know that you could be out on tour with and not want to kill after a week or two, and Ian was one of them," Victor says.
Having solidified their lineup, the Koffin Kats show no signs of taking their foot off the accelerator. Who knows? Beavis and Butt-head is returning to the airwaves this summer. Maybe someday the duo will riff on a Koffin Kats video and inspire some more young punks to do some stand-up slapping.

Koffin Kats play with Reason for Existence, Hotbox and Our Truest Fears • Monday, April 18, at 6 pm • The Hop! • $5 • All-ages • 368-4077