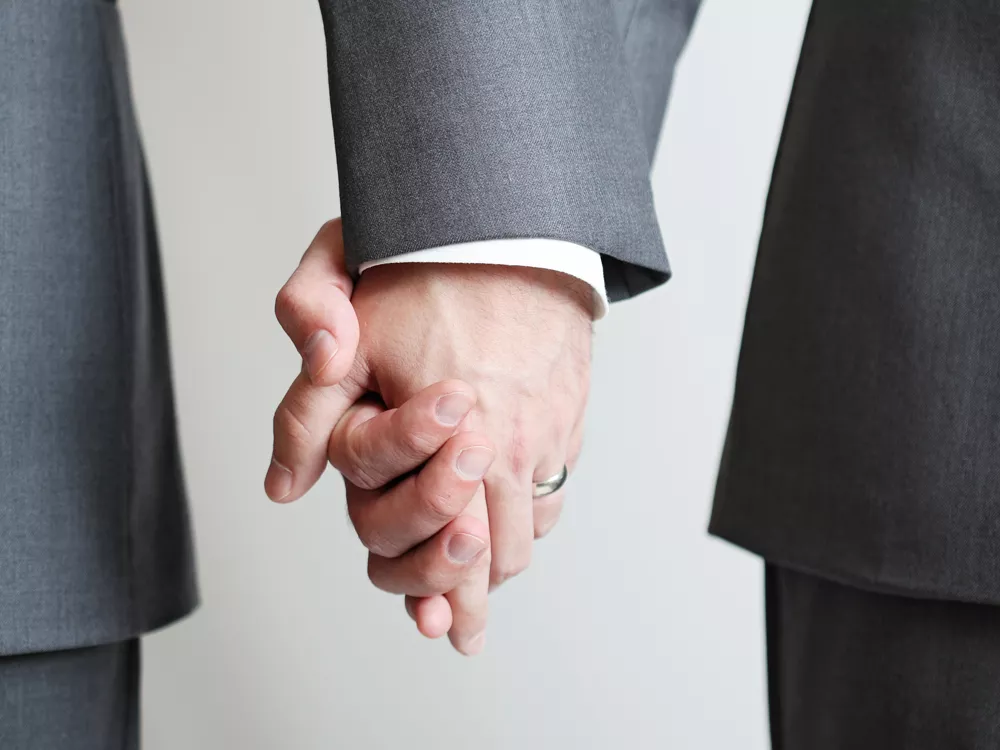 'Til Election Day Do Us Part
The fight over Same-Sex Marriage is getting dirty in the last week before Election Day.
Referendum 74, on the ballot in Washington, would uphold a law passed by the Legislature earlier this year allowing same-sex couples to marry. Preserve Marriage Washington, the main group working against R-74, has issued statements about its volunteers being attacked and its signs being vandalized. The group has a new Facebook photo album called "Vandalism, Vulgarities and Violence," showing spray-painted and torn "Reject R-74" signs and R-74 supporters counter-protesting at Preserve Marriage rallies.
"The gay marriage campaign says they are about tolerance, fairness and kindness," the campaign's Communications Director Chip White says in a press release. "But there is nothing tolerant, fair or kind about stealing, vandalism and harassment."
Andy Grow, spokesman for Washington United for Marriage, the group working to pass R-74, says attacks are not coming from campaign staffers and that Preserve Marriage is blowing them out of proportion.
"This is a political tactic they use consistently to say they're the victims," Grow says. "We've had some vandalism, some signs ripped off or taken and replaced with reject signs, people yelled at. It happens. We don't make a big deal of it because it's not a campaign tactic for us. We have our noses to the grindstone to make sure we get the vote out."
Meanwhile, polls show the race tightening, with 45 percent of likely voters in opposition and 49 percent in support, down from 51 percent in September, according to Elway Polls.
— HEIDI GROOVER
Police Justified in Shooting
Authorities have cleared a Spokane Police officer of any wrongdoing in the non-fatal shooting of a young Spokane man who had allegedly aimed a rifle-like BB gun at another man earlier this year, saying the officer believed he was preventing a potential murder.
Spokane Officer Ron Van Tassel reportedly found Jesse Johnson, 24, holding what appeared to be a rifle over another man during a late-night dispute along the 1900 block of East Mission Avenue on June 17. The Spokane County Sheriff's Office, which investigated the shooting, reports Van Tassel shot Johnson once in the leg when Johnson leveled the BB-gun rifle toward the other man.
Johnson survived the shooting and faces several charges stemming from the confrontation. Spokane County Prosecutor Steven Tucker recently ruled the shooting justified and cleared Van Tassel of any wrongdoing.
"[Van Tassel] was sure in his own mind that [Johnson] was going to shoot," Tucker says.
The prosecutor argues a neighbor had also warned police Johnson might have a shotgun, so Van Tassel had carefully approached the scene with a police rifle drawn. When he saw Johnson raise his weapon, Tucker says, the officer fired first.
"That one looked pretty clear," Tucker says of the incident. "The officer thought it was a shotgun and thought he was saving a life."
— JACOB JONES
Energy Surge
For low-income Spokane residents, a Winter Heating Bill can be devastating. They can get financial help to pay for those bills, but only if they can get them in time.
This week, Spokane Neighborhood Action Programs (SNAP) temporarily opened the gateway for emergency energy assistance appointments, doling out small personalized grants to alleviate energy bills.
They only have 6,500 slots total available — 4,000 emergency slots for on the web appointments, and an additional 2,500 over the phone. But as the gateway opened this week, the demand was too much for their computers handle. A small glitch, preventing the web cache from closing, multiplied the strain on SNAP's servers.
"[Users] were hitting refresh, refresh, refresh to get the page to work," says SNAP Communications Manager Tricia Ovnicek. "We ended up with a million hits in two hours."
— DANIEL WALTERS