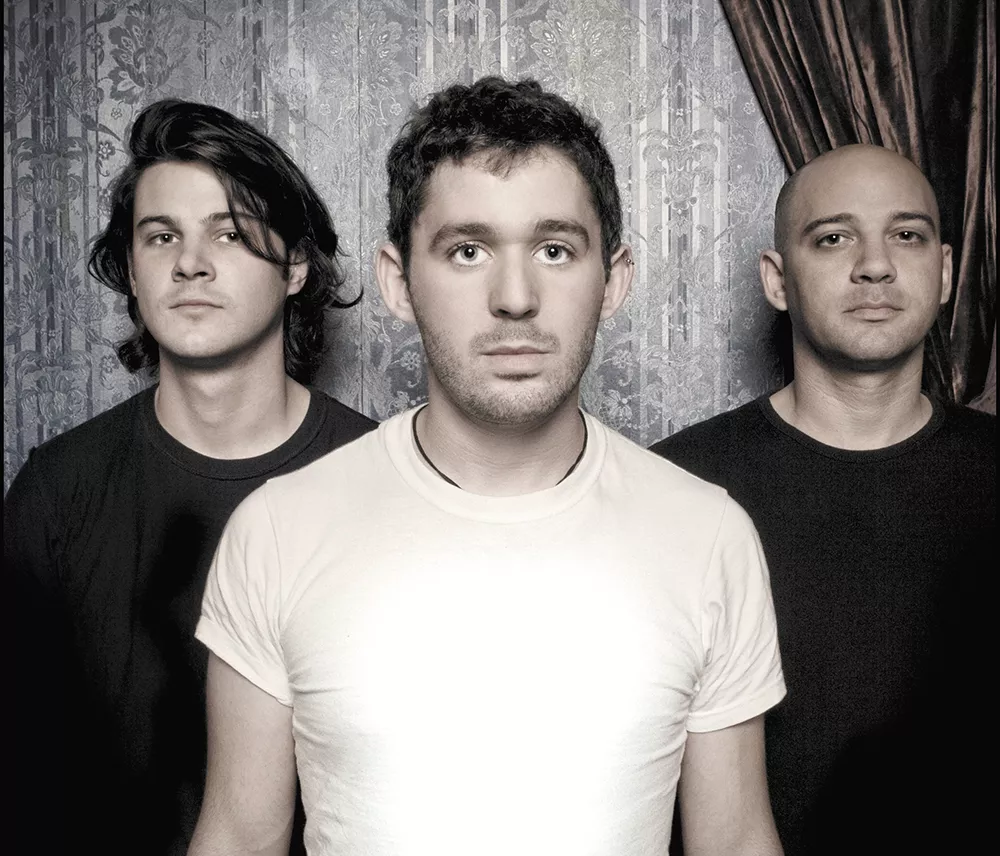 For a band that's been dependably depressing for five straight years, the Antlers finally seem ready to come to terms with their sadness. Their poignant, detailed lyrics and orchestrated indie rock have racked up quite the fanbase, namely one that clings to 2009's Hospice, the band's third album, like a hollow bedside bible hiding their most personal trinkets. But frontman Peter Silberman, multi-instrumentalist Darby Cicci and drummer Michael Lerner aren't just taking time to self-reflect; they're taking time to help fans do the same.
On their new album, Familiars, the Brooklyn trio find themselves transitioning into a different sound. Lush, dark folk and gloomy guitar melodies are replaced by jazz-tinted trumpets and slow moving keys.
"People have been misusing horns since the '90s when it left pop music for rock bands and electronic music," Cicci explains over the phone. He's been spending more time spinning bebop, Jamaican dub, and long-form Indian music than the Western tracks he's heard for the past 30 years. It makes sense considering Familiars ditches the whole singer with a backing band format for an even interaction between sounds.
"The world doesn't need more of that. It was important to me to bring some personality to a horn arrangement and make it listenable as a textural thing."
This goes hand in hand with the new understanding of patience. With Hospice and 2011's Burst Apart, there was a tendency to rush things. The decision to slow the tempo overall on Familiars allows arrangements, lines, and melodies to breathe on their own without feeling too claustrophobic. But Cicci, who's responsible for adding the songs' main layers by way of keys, horns and electric synths, creates this by writing his parts quickly despite the infinite possibilities of production looming over him.
Perhaps the best addition to Familiars is the upright bass. "You press your body against it as you play, so when you do your whole body vibrates with low frequencies and woody resonant. It's very visceral," he says, referring to "Doppelganger" and "Revisited." "Without sounding creepy, it's a special experience. It feels like there's a person there with you."
It should be mentioned that this is the first time Silberman has liked his own voice. Much of the new record plays with tone, relationships and nostalgia, and the Antlers are looking to contribute to the experience of revisiting, both in memory and self. After five years of being haunted by "morose," "sad" and "heartbreaking" labels, the band decided to make them indirect musically.
The mixed feelings Familiars has drawn is inescapable. With a changed sound comes changed opinions, and many need time to adjust. Despite the spaciousness, however, fans are still able to locate the open shadows and connect on an intense level. In that way, little has changed.
"I see people crying in the front row and I kind of want to tell them, 'It's OK. You don't have to be sad. We're all hanging out,'" he laughs. "I understand it. I feel like I want to help them or change the experience for them, but I think they're experiencing it exactly how they want to," he pauses and seems to shrug, content. "You can't really argue with that." ♦
A version of this story first appeared in DigBoston.
The Antlers feat. Yellow Ostrich • Mon, July 7, at 8 pm • Sold-out, limited tickets released Friday • All-ages • The Bartlett • 228 W. Sprague Ave. • thebartlettspokane.com • 747 2174