When this feature was planned and I set out to recruit writers to eat and discuss a few widely recommended, house-made tomato soups at restaurants around the Inland Northwest, I was met with some unexpected resistance.
"Tomato soup is not my favorite," a few writers said. "It's just so basic," was another sentiment shared.
Who knew tomato soup was so... polarizing.
I, on the other hand, love a good, hearty tomato soup and believe it's one of the best fall and winter meals, whether at home or dining out. Especially when there's cheese, toasty bread or a combo of both involved. But it wasn't always like that.
Growing up, I absolutely loathed Campbell's canned tomato soup concentrate, as well as any canned food with tomato sauce, like SpaghettiOs and Chef Boyardee ravioli. That overly sweet, watered down, ketchup-like sauce is seriously nasty. At some point in my adulthood, however, I discovered that fresh-made tomato soup is actually nothing like these stale, canned counterparts. You can add other stuff, like carrots and red peppers and onions and garlic and basil!
A grilled cheese or panini with a side of tomato soup is now one of my favorite cold weather meals. It's cozy and classic. So to both my fellow tomato soup lovers and the unconvinced haters, please settle in and discover where to warm yourself from the inside out. (CHEY SCOTT)
Soulful Soups & Spirits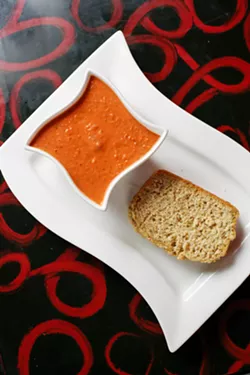 117 N. Howard
What we got: House tomato basil, topped with parmesan, $8
This cream-based hearty tomato soup is seasoned with basil and a generous amount of an Italian seasoning blend that gives it a homestyle flavor with just the tiniest hint of peppery spice. It's pureed, but not to the point of being smooth: With parmesan cheese sprinkled on top and mixed in, this one's got a chunkier texture. By the end, you'll be figuring out new ways to use your spoon to dig into the corners of the stylized bowls to get every last bit.
If you belly up to the bar or a table at dinner time, a bowl of the tasty soup comes with a perfectly sweet, dense slice of beer bread, making for a filling meal. Word on the street is you can also mix the house tomato with the house beer cheese soup for another tasty combo. Or, if you don't want to mix but can't decide between the tomato basil and some of the other delicious sounding soups of the day, why not get a three-soup sampler, which also comes with bread. Most evenings during the week, as the later hours bring out the "spirits" part of this eatery, you can find lots of fun, from musicians' open mics and trivia, to Taco Tuesdays and live performances. The cozy restaurant has a little something for everyone. (SAMANTHA WOHLFEIL)
Tomato Street
6220 N. Division and 808 W. Main
What we got: Tomato basil soup, $3.69/cup, $5/bowl
I'll admit, I've never had tomato soup before, or at least had the desire to try it. My first thought of tomato soup is watered down soup from a can. This tomato basil soup from Tomato Street made me a convert. You would expect a place called Tomato Street to at least have a good tomato soup and I was not disappointed. Paired with a basket of bread dripping with garlic and butter, which I had no issue polishing off by myself, a bowl of tomato basil soup is worthy of being a main dish on a cold day.
Chunks of celery, carrots and onion peek through the light red, creamy soup without making it too chunky. Upon digging my soup spoon into the bowl and mixing in the grated cheese on top, I could clearly taste hints of basil mixed in the tomato base. This soup is on both Tomato Street's lunch and dinner menus, with cup and bowl portion options available. You can order it as either a starter to accompany any of Tomato Street's Italian main dishes or as a main dish on its own. I left feeling full and satisfied, so much so I went home and had to lie down to digest my meal. (MICHAELA MULLIGAN)
Cafe Nordstrom
828 W. Main, third level
What we got: Roma tomato basil soup, $4.50/cup; $6.50/bowl
While normally we wouldn't feature a chain restaurant here, we've heard that the hype around Nordstrom's tomato basil soup is legit, so we had to see what the fuss was about. On a recent overcast day, several customers in line in front of me ordered this soup, and on a shelf nearby was a display of large jars for purchase to take home. Further proof of this soup's cult following is evident with a quick Google search, pulling up tons of recipes to recreate it at home. Nordstrom itself has even shared the secrets behind the soup's success on its blog, stating "it's our most asked-for recipe and our most ordered dish."
A bowl of this vivid orange, pureed soup comes with a small slice of parmesan-garlic crostini for dipping, though it definitely won't last with the entire bowl. The soup is ultra creamy, as all restaurant-quality tomato soups should be, with a hint of sweetness and a nice velvety texture. The added sweetness here is thanks to the addition of a generous amount of carrots, which balance well with the acidic tomatoes and notes of garlic, onion and basil. While one bowl is filling, eating that alone for lunch left me hungry again an hour or so later. Next time, I'll definitely order something extra, like the cafe's rustic cheddar chive biscuit or a sandwich. (CHEY SCOTT)
My Fresh Basket
1030 W. Summit Pkwy.
What we got: Tomato basil soup, $3/12-oz. cup, $4/16-oz. cup
The hot bar at My Fresh Basket on the edge of Kendall Yards is a hugely popular lunch spot for good reason — it's fast, affordable, tasty and full of options. Now that fall's set in, it's likely you may be waiting behind a couple other folks ladling one of the store's three daily soups into a to-go cup. My Fresh Basket's tomato basil soup is available daily, and is a favorite for its hearty, thick texture. We recommend ordering it with a side from the salad or hot bars. Or, grab a bagel from the bakery to toast and spread with cream cheese to dip into your bowl, serving as a great on-the-go substitute for buttery, toasted baguette slices or a grilled cheese sandwich, which are sometimes available here.
This soup is pretty standard fare, and more on the savory, salty, garlicky side versus sweet. Made with just a few basic ingredients — plum tomatoes, cream, basil, garlic and olive oil — the resulting concoction is a creamy mix that also hides the occasional tomato chunk. Pro tip: When filling up your bowl, scoop from the bottom of the pot to get as many of those tasty chunks as you can. (CHEY SCOTT)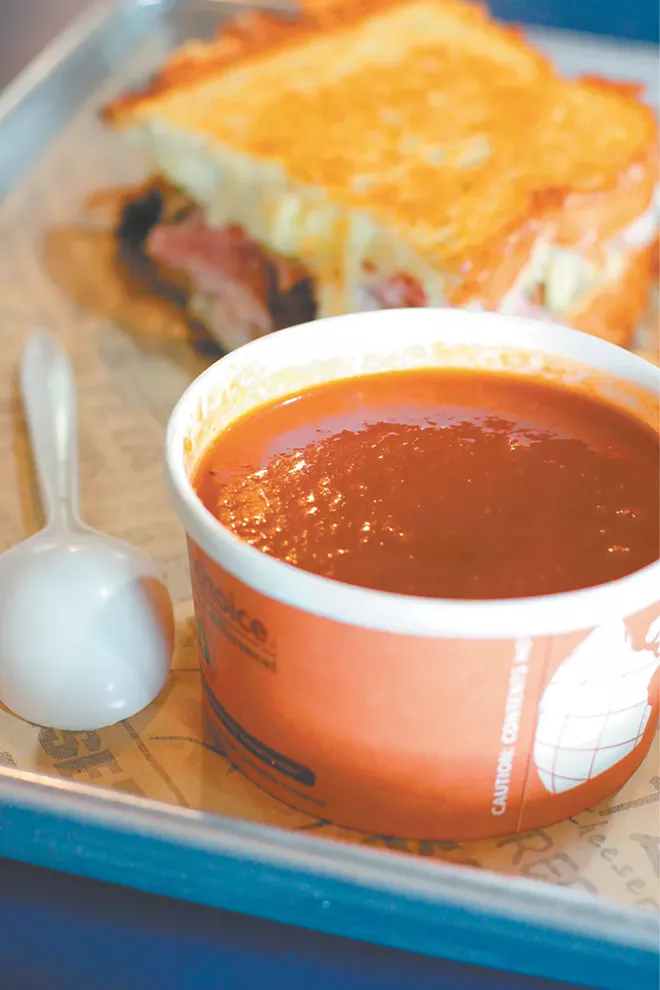 Meltz Extreme Grilled Cheese
1735 W. Kathleen Ave., Coeur d'Alene
What we got: Xtreme tomato soup, $2.95/cup, $4.25/bowl
Cheese and tomato have been best friends since long before cheeseburgers, nachos and pizza, so it makes sense that a place serving grilled cheese sandwiches would also serve tomato soup year-round, and not just as a side. It can be ordered as such, in either a cup or bowl-size portion, or as a combo meal that includes any half sandwich and a drink ($11). The little "dipper" portion is great for those who like to emphasize the sandwich over the soup. And, because this is a place that thinks in terms of extremes, you get two choices of tomato soup: "Xtreme" tomato, which is vegan and nondairy, and tomato basil, with a creamy texture enhanced by the addition of parmesan cheese. Even without the sandwich, Xtreme tomato is a hearty, filling soup with a strong tomato flavor, followed by strong onion and garlic, but not a lot of salt (thank goodness). It's just thick enough, with occasional bits of tomato and the acidity is just enough to help cut the heaviness of any accompanying sandwiches, such as the Cubano with Swiss, pulled pork, dill pickle, smoked ham, roasted garlic and Dijon mustard mayonnaise ($7.25/$12.25). (CARRIE SCOZZARO) ♦