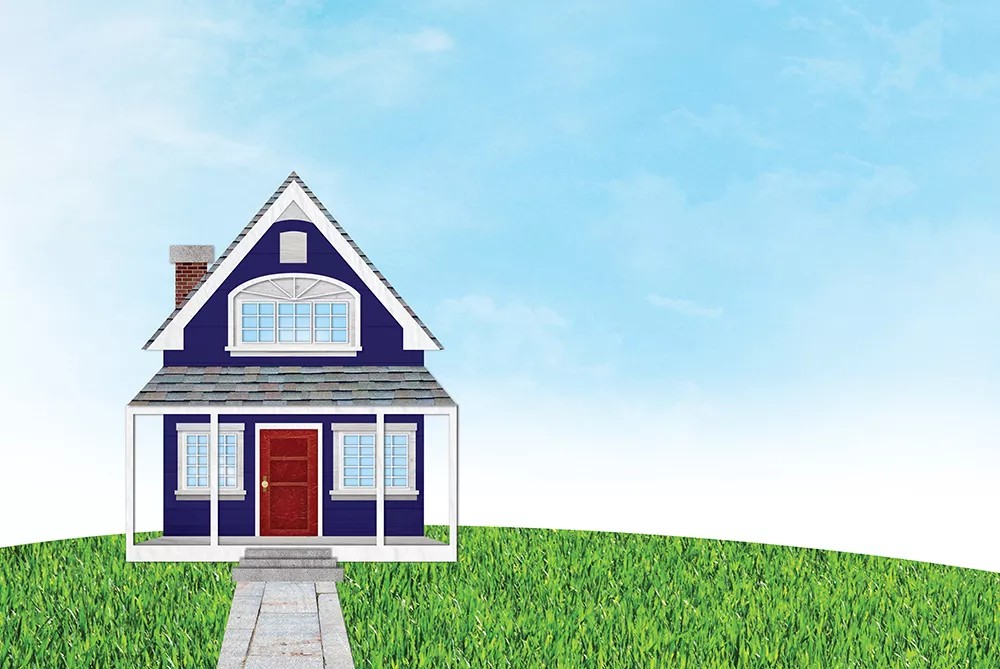 Living closer to amenities, enjoying less upkeep, taking pride in a smaller carbon footprint and lower energy bills, or just enjoying more family camaraderie. Whatever buyers of smaller homes have in mind, developers and realtors in the Inland Northwest are ready to make those dreams a reality.
Prominent local developer Greenstone, responsible for Kendall Yards, is already catering to those downsizing into new homes, but realtor Randy Wells notes that local demand — fueled in part by younger families — for more adequately-sized residences that are also near amenities like shops and parks, is continuing to outpace supply.
On a regional level, some developers have created unique brands that directly address the myriad ways that individuals, couples and families might downsize into new or custom builds. WiseSize, for example, is part of the Simplicity division of Hayden Homes. It specializes in kit homes that come in various sizes — 400, 680, 880 and 1,064 square feet — and can be placed on existing parcels of land. Depending on location, the house prices start at just $47,990 — less than the average down payment on a conventional home.
"We build traditionally constructed structures, but we make them small, compact and efficient," says Amanda Lenke, marketing manager for Simplicity. She points to their single-level starter model as an example of how radically they can shrink the footprint while retaining archetypal house features: "It looks just like a little cottage house with Craftsman trim on the outside, traditional roof, stem wall construction, the whole nine yards. You get a living room, kitchen, bedroom and bath with utility hookups. We make it feel as spacious as possible with tall ceilings, and by offering room for a king-sized bed and two nightstands, which you're never going to get with a tiny 'tiny' house."
WiseSize's scaled-down houses have piqued the interest not only of downsizers, but also of buyers looking for investment opportunities such as vacation rentals. In 2016 the company sold a modest 70 homes, yet that number represents year-on-year growth that Lenke anticipates will continue as the niche market expands.
"Our motto is 'Live big in a tiny house.' Basically, by downsizing, you can live better and in more quality ways. A lot of people's self-worth is wrapped up in how many things they have. What I see our customer appreciating is that once you get rid of the stuff and you switch your paradigm to the quality of the life you're living, it just makes for a happier person. You're saving tons of money on utilities, which means you probably have to work less, which means you can enjoy life more. You can spend your time, money and energy doing other things," she says.
Andrew Morrison echoes those sentiments. A leading proponent of the 'tiny house' movement, he's representative of what is perhaps the terminus of downsizing: compact 200- and 300-square-foot homes capable of being towed and outfitted for off-grid living. Not quite RVs, not quite miniature cabins, his high-quality hOMe models are sold as plans that buyers can then customize according to their needs and tastes.
At the workshops he hosts to provide information on building, financing and siting hOMes, Morrison says that he's seeing a "very diverse group" and attendance that is "growing exponentially."
"We have students who are just coming out of college, or in some cases are still in college but don't want to pay for housing ... all the way through to families and retirees. It really covers the gamut," he says, while admitting that he would prefer to see a broader spectrum in terms of ethnic diversity, because the major factors behind downsizing are so universal.
"Everyone's challenged by housing. The cost of housing in the U.S. is out of control, and the size of housing is out of control. In the last, say, 40 years, housing has gone from fairly reasonably-sized houses to the point where we have the highest square-footage houses in the world on average: 2,600 square feet," says Morrison.
"The cost is off the hook in most places. The average down payment for a house is $50,000, and then you get to pay for it for 30 years. The average American spends 27 percent of their income on just the cost of paying for their mortgage or their rent. And then you get into at-risk populations where you're looking at lower-income families, and they spend up to 50 percent of their income [on housing]. Which leaves nothing for food and clothes and education and anything else you might need."
As housing costs become a "catalyst" for downsizing, according to Morrison, the tiny home movement is seeing an explosion of choice and creativity, best showcased in enthusiast publications like Tiny House magazine. Even in a 250-square-foot home, it seems, there's ample room for imagination.
"What they provide is a fierce simplicity. It meets all of our needs, in a very small space at a very low cost and hardly any upkeep. Tiny houses on wheels have the same benefits, but they also provide flexibility of movement," Morrison says, which satisfies the needs of the emerging gig economy, changing costs of living and basic wanderlust.
While quick to highlight the benefits, both Morrison and Lenke aren't afraid to note that there are caveats to downsizing. Some of these — like where to store the Christmas decorations or camping gear — are obvious from the outset, whereas others, like a new addition to the family or a change in health status, might only become apparent over time.
However, for those who accept that even large houses come with their share of compromises, embracing downsizing could lead to a healthy shift in priorities that allows for more free time, more disposable income and less stress.
"I've never had anyone come back and say, 'Oh, gosh, this was way too early for us to do this.' I don't remember anyone expressing regret," Spokane Realtor Randy Wells says. "Everyone has been happy. It's just what you become used to. If they have the mindset of simplifying, they just go, well, that's part of downsizing." ♦