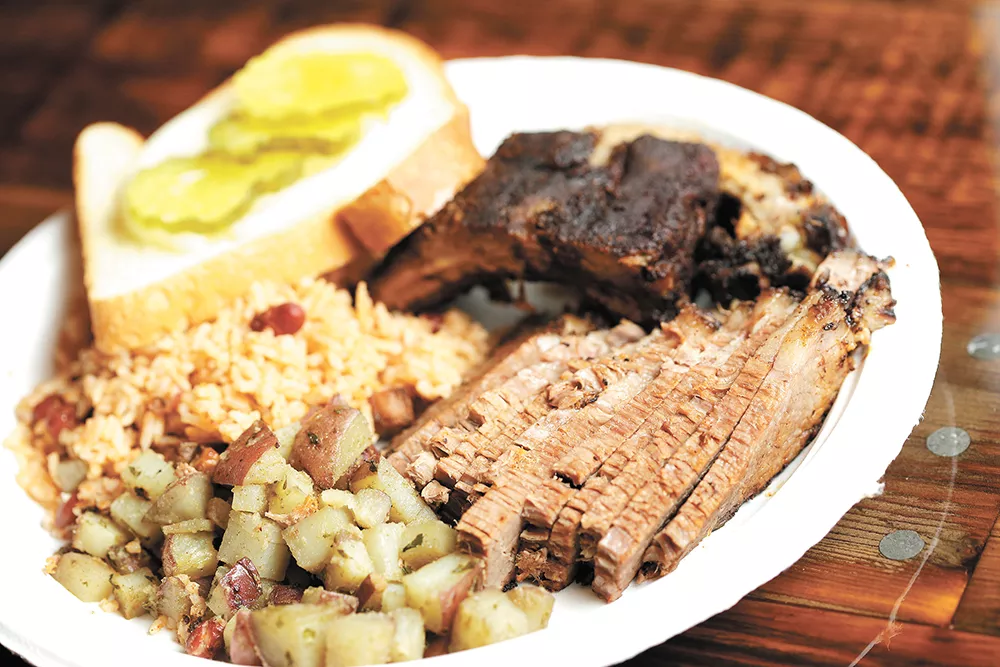 Peter Grundhauser says that the smoker never stops at his Texas True Barbecue in downtown Spokane. He means that literally — he has an employee tending to the meats around the clock, ensuring that his brisket and ribs will be on time, at the right temperature and juicy enough when the lunch rush begins.
The new Texas-style barbecue spot opened last week and has stuck out in the downtown dining scene for a few reasons, namely because it's one of the only places open until 3 in the morning. With someone on the smoker anyway, they might as well be open, Grundhauser says.
The new restaurant, in the space formerly occupied by Brooklyn Deli before it moved a block to the north, was a byproduct of Grundhauser's time in the Houston area, doing catering for church events and weddings. When he returned to Spokane again in 2015, his backyard hobby was starting to become a business.
"I got asked to do a few nonprofit events here and some weddings. The guests at the events would come up to me and ask where they could find my restaurant. When I told them I didn't have one, they'd say that it was a shame," says Grundhauser.
Texas True serves brisket, ribs done Texas-style (no sauce), German sausage and ham. They also do a chopped beef sandwich. A plate with six ounces of meats (you can mix and match), a side (go for the potatoes) and a drink is $11. A Texas Plate is double the meat and sides with a drink for $17.50.
"The Texas brisket is the star [of the menu] and it's done in the style of competition barbecue, with the dry rub and the slow smoke," explains Grundhauser.
If you come in after midnight, you very well may benefit from the "midnight must-go" special, which is $5 of whatever they have left, because at the end of the night, none of the meat is held over for the next day.
"Last night we didn't throw any food away. We did 23 must-gos and had a lot of happy, hungry people here," Grundhauser says of a recent late-night rush after a show at the nearby Knitting Factory. ♦
Texas True Barbecue • 112 S. Monroe, Suite 100 • Open Mon-Sat, 10 am to 3 am • facebook.com/texastrueBBQspokane • 822-7895