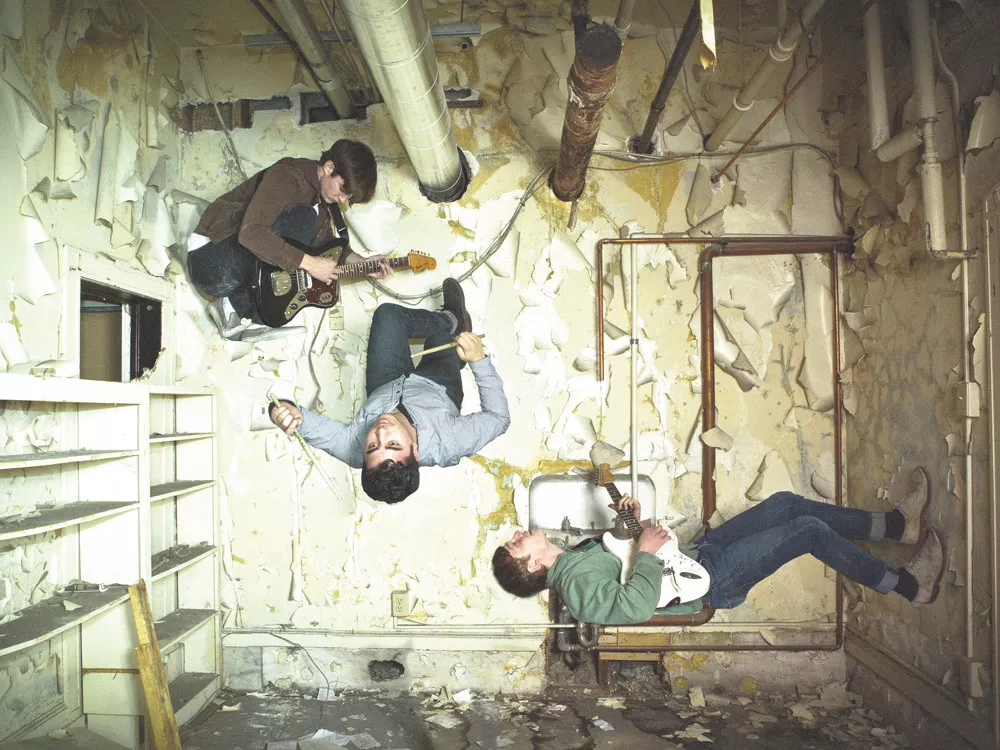 It was all on the edge of falling apart. As Jeff Bass crouched in front of his amp — waving his guitar in such a way as to produce a droning, high-pitched squeal — he knew that this might be the end for his band, Nude.
In Nude's biggest moment — onstage in front of hundreds of watching eyes, a crew of cameras and a panel of judges in the finals of the Experience Music Project's Sound Off! competition — singer and guitarist Nathan Mead's amp, which had been on the fritz for the past two weeks, gave out altogether. It seemed sure that their entire performance would crash and burn.
"This is not happening," Bass recalls thinking. For years, Bass and Mead had fantasized about competing in the Seattle band battle. Then students at Whitworth University, they became fast friends because of music (Mead complimented Bass's Death Cab For Cutie tour shirt in class one day) and shared a love for the same style of angular math rock.
"Even when we were jamming in each other's dorm rooms, we would [say], 'Wouldn't it be so great to play in Sound Off! some day?'" Bass says.
And now here they were. And now everything was going wrong. As Bass stretched out the distortion coming from his amp — artfully, like it seemed planned — sound techs ran onto the stage with a spare amp. Bass, drummer Cody Thompson and bass player Mikey Farrow riffed off one another, hoping this wouldn't go on too long. They had no idea what they were doing.
When Mead's guitar — a bright, flitting sound now fully amplified — came out of nowhere, Bass bit back a smile of relief. And Nude was on its game again.
The four 20- and 21-year-old men did what they could for the rest of the set. They played their dreamy pop songs with fleeting smiles and a hard-nosed focus.
But the band was overwhelmed: The people, the cameras, the Japanese journalists standing just offstage ready to interview them. And that damn amp — the stand-in one made it hard to hear. They felt like they were limping.
"I think we all felt pretty weird up there," Mead says. "I wasn't happy getting off stage," Thompson says. "We definitely played very hard and were working hard up there. But it definitely was the most difficult performance I think we've ever had to do."


Before Nude was onstage in front of hundreds of people — even before they were Nude — they were Etcetera, an obscure little band that wasn't quite sure what it was.
"It never felt like something I could really get behind," Bass says. "People would be like 'What's your band called?' Etcetera? Question mark?" Back then, for live performances, Mead, Bass and bass player Jackson Cate (who is currently studying abroad in Australia) would write simple beats in ProTools, load them onto an iPod, hit play and hope not to get off-track.
"Which is really scary because if you mess up, you're done," says Thompson, who plays an electronic drum kit in the band now.
After Bass met Thompson on a grounds crew, mowing the expanses of green lawns at Whitworth, he brought him to jam with Etcetera. Thompson soon suggested the name Nude.
"It's catchy. It's a little bit provocative," Thompson says. "But it's also… it can mean a clean, beautiful thing, too. There's a lot of cool connotations for Nude."
The name gave the foursome a confidence they didn't have before, and they soon found a fan base in the fledgling Whitworth house-show scene, playing in front of their friends and, occasionally, alongside popular dark folk band Terrible Buttons. They'd only just started playing at local venues when they heard that their application had been accepted into Sound Off! Of more than 140 applications, they were one of a dozen 21-and-younger Northwest bands accepted into the competition.
"We started practicing every single day then," Thompson says. After the band breezed through the semifinal round, they had two weeks to prepare for the final show, in EMP's massive Sky Church.
"We weren't even talking about winning," Mead says. "It felt really kind of serious and heavy. We just didn't even talk about that very much."
"It was such a big deal that we didn't even want to get our hopes up — like at all," Thompson says. Up against three other bands that they admire, Mead says, the competition "looked pretty stiff."
So when they walked offstage — leaving that faulty amp behind — Nude just felt happy to have been there.
Chelsea Chamberlain, who is friends with members of Nude, was in the crowd at EMP, watching her friends nervously stand onstage waiting to hear the winner.
She'd traveled there with a group of fans from Whitworth for the semifinals, too. And at the final, she and the rest of them stood in a huddle near the stage.
"All the fans, we gathered together and we're all just like, 'I'm gonna puke!'" she says. "We were holding onto each other, waiting. [We were saying] 'Just say it! Just say it!'" The emcee announced third place. Not Nude. Then second. Not Nude. "He did a huge pause for first place," Thompson says. "And then when they said 'Nude,' it was just like 'Ahhhhhhh!,'" Bass says, shaking his hands over his head. "I was just dazed."
"He said it, and it was like my spine exploded," Thompson says.

Begin! feat. Nude with DJ Audio Affiliated • Fri, April 13, at 6 pm • Northwest Museum of Arts & Culture • 2316 W. First Ave. • Free • All-ages • northwestmuseum.org • 456-3931