The latest issue of the Inlander is hitting newsstands today. Find it at your local grocery store and hundreds of other locations; use this map to find a pickup point near you. You can also read through the entire print edition here.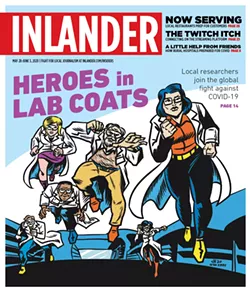 HIGHLIGHTS
This week, we're telling the stories of our own local, lab-coat-wearing heroes — researchers and academics who are working on a coronavirus cure, fighting misinformation, unlocking the secrets of the coronavirus and trying to suppress the worst reactions to it.
• Also this week: local restaurants prep for returning customers, artists and gamers find inspiration and community on Twitch and rural hospitals figure out how to do a lot with very little.
WHY I'VE MISSED COFFEE SHOPS
For local writer Josh Johnson, coffee shops have been a source of inspiration, insight, love and perhaps even salvation. More >>
UNSEEN GEMS
Ryan Murphy's miniseries Hollywood, a revisionist historical drama that imagines 1930s Tinseltown with more racial diversity and queer representation, has been one of Netflix's more divisive and buzzed-about shows of the year. If you've already burned through it all but are still jonesing for stories of sex and scandal in old-timey Tinseltown, we have some suggestions. More >>
THE SHOW GOES ON
A little pandemic isn't going to keep this music festival down: FarmJam, a three-day celebration of up-and-coming country artists held in Stevens County, is back for its sophomore year this Sept. 4-6, and tickets are on sale now. More >>
ROLLER COASTER RIDERS, REJOICE!
While the summer at Silverwood Theme Park and Boulder Beach Water Park had been in doubt, owner Gary Norton announced recently Silverwood would open May 30 under phase 3 of the Idaho Rebounds Plan, and Boulder Beach will follow on June 6. The Silverwood RV Park opened May 16. More >>
GONE FOR GOOD
While some local restaurants have begun to reopen, others have been lost for good. More >>
MAKE UP FOR LOST TIME
When public spaces were closed back in late March to slow the coronavirus's spread, the Northwest Museum of Arts & Culture lost more than a month from its already short run of the traveling exhibit Pompeii: The Immortal City. The exhibit, originally scheduled for display from Feb. 13 to May 3, has now been extended through Labor Day weekend. More >>
LAST WORD
The Inlander recruited Tom Pettoello, a Rogers High School art teacher, to commemorate 2020's class of graduates by spray-painting a logo in the Clock Tower Meadow in Riverfront Park. Get a free poster of this design by picking up the June 4 issue of the Inlander. And if you're in the park, be sure to get your selfie! More >>