The latest issue of the Inlander is hitting newsstands today. Find it at your local grocery store and hundreds of other locations; use this map to find a pickup point near you. You can also read through the print edition here.

HIGHLIGHTS
This week we're profiling Travis Chapman, a roofer by day, a local artist by night, whose work we've long admired. And when the pandemic hit and we suddenly saw it reflected in his fun, whimsical style, we figured now was the perfect opportunity to highlight him. Turns out, though, Chapman isn't the only artist finding new inspiration in this strange moment we're living in.
• Also this week: We look at the expanding army of contact tracers, frustrations among shut-down businesses, the 40th anniversary of The Shining and how local farmers markets are adapting to a new reality.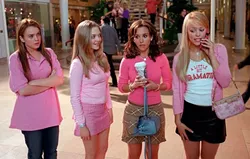 POP-UP MOVIES
Moscow's Kenworthy Theater and the University of Idaho are using the parking lot of the school's activity center as a
temporary drive-in theater
and are hosting free film screenings. Up next: The beloved high school comedy
Mean Girls
(May 23), 1992's period sports film
A League of Their Own
(May 30) and the action spectacle
Mission: Impossible — Fallout
(June 6).
More >>

MASS MIGRATION
If the climate continues warming at an alarming rate over the next 50 years, how many people might be forced to move? A Washington State University professor worked on this groundbreaking study. More >>

DRINK IT IN
Environmental groups lauded Washington state for issuing conditions under the Clean Water Act for the first time this month that will ensure pollution is reduced from eight dams along the lower Snake and Columbia rivers. More >>

LAST WORD
In other news, the Inlander learned this week that we've won a grant from Google News Initiative's Journalism Emergency Relief Fund. Google says it received more than 12,000 applications from more than 100 eligible countries and that as part of its first wave of awards, the Inlander would receive a $7,000 grant to support our local journalism. Readers, by the way, can also support our mission by becoming Inlander Insiders. Find details at Inlander.com/insiders.