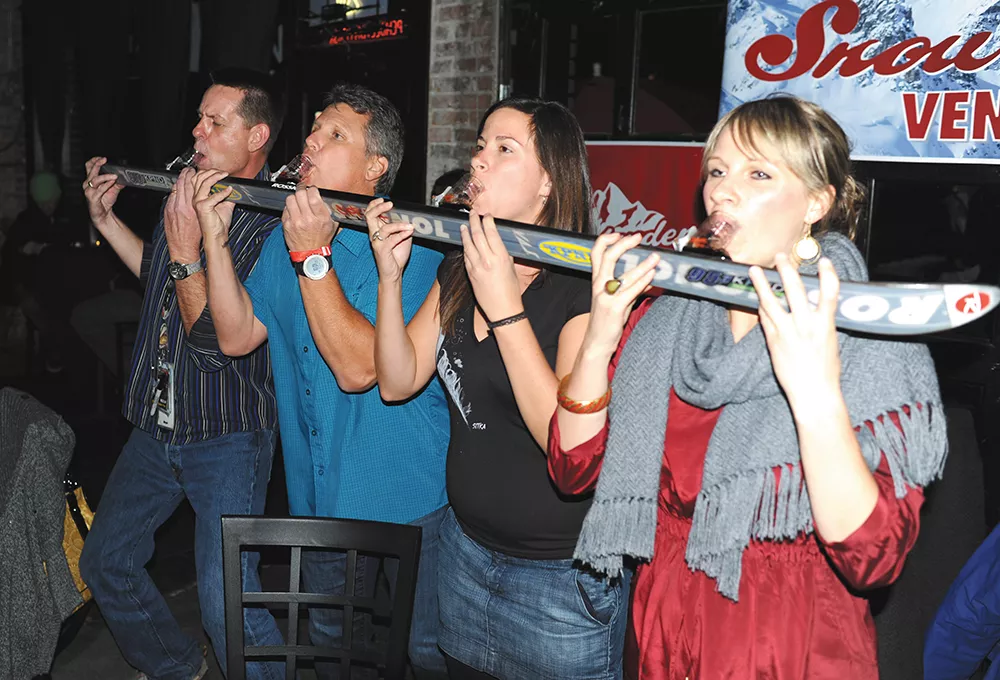 After a successful turnout of local snow lovers last year, the Snowlander Expo is back and looking to be even bigger the second go-around.
The most notable change to the Inlander-organized event for 2013 is the introduction of the PowderKeg Brew Festival, running through the duration of the Expo. Nearly 20 local and regional breweries and cider makers will fill part of the Convention Center, offering some of the first chances to taste their new, seasonal wintertime creations. Local industry stalwarts like No-Li, Orlison, Iron Goat and many others from near and far plan to be there, along with a few Inland Northwest cideries, including Mead's Twilight Ciderworks.
Each of the breweries and cideries at PowderKeg will bring two selections, including a seasonal brew. Tasting packages offer the option to go for a smaller, 6 oz. tasting glass, or a full-size, 16 oz. pint glass, with packages ranging from $15-$25. Additional tasting tokens are available to purchase at the event.
While the indoor beer garden area offers comfortable seating in a cozy, lodge-like setting, PowderKeg attendees also can roam the Expo floor, checking out vendors' booths and shopping as they drink their beer and cider.
The new features planned for the 2013 Snowlander Expo aren't limited to PowderKeg. Free winter safety clinics on avalanche survival and backcountry safety know-how are being presented by experts with Panhandle Backcountry. Part of the draw for many of last year's Snowlander Expo attendees were the deals offered by the event's vendors, with discounts billed as the best prices offered on new gear through the winter sports season. The same discounts and retailers return this year: Spokane Alpine Haus, Tri-State Outfitters and Wintersport, alongside newcomer the Ski Shack.
Keeping with the one-stop-shop approach, the Snowlander Expo again hosts ski resorts from around the Inland Northwest and beyond, giving attendees the chance to buy season passes and get their pass photos taken. In addition, several major ski and snowboard factory reps are also on-site, offering product demos and answering questions.
For some, the many chances to win free gear and prizes may be the biggest incentive to come to Snowlander this year. For those who still may need convincing, both 49 Degrees North and Red Mountain Resort are giving away free lift tickets (randomly distributed and on a limited basis) on both days to people just for walking through the door.
Snowlander Expo and PowderKeg Brew Festival • Nov. 8 and 9, Fri from 4-9 pm, Sat from 10 am-6 pm • $7 event admission, PowederKeg tasting packages $15-$25 • Spokane Convention Center • 334 W. Spokane Falls Blvd. • snowlander.com/expo