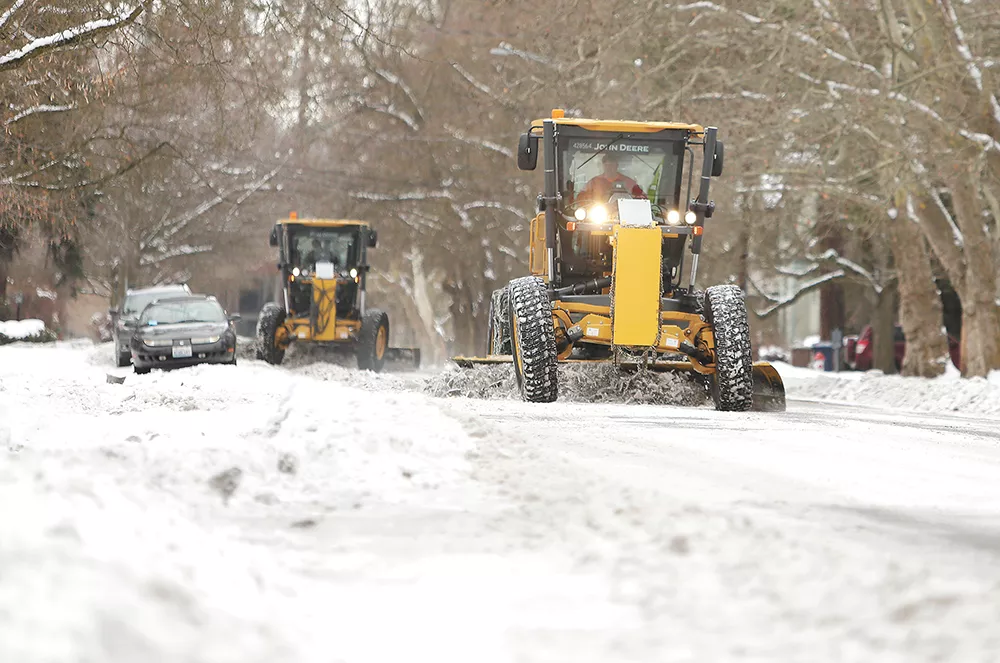 I heard a snowplow on my street last week. The scraping of the blade moving along the road surprised me. Fresh flakes had only fallen that morning. Was the truck in my lower South Hill neighborhood on purpose? Was the driver lost?
After living here for more than three years, I'd gotten used to unplowed streets. Yet, having come from the blizzard-prone Midwest, I've always wondered about the city of Spokane's snow removal strategies. Sometimes they're a mystery.
DEFINITION OF SUCCESS
Last week, the city declared a Stage 2 snow event, which occurs only when 6 inches or more piles up. Only then are neighborhoods tackled, hence my lower South Hill drive-by. In a Stage 1 snow event, drivers in residential areas are generally left to fend for themselves.
Spokane Streets Director Mark Serbousek says that arterials (high-capacity urban roads) are the No. 1 priority. These streets are not only plowed, they're deiced using mag (magnesium) chloride deicer with a rust inhibitor. (Salt, which is much cheaper, causes far more erosion.)
Neighborhood residents should never expect to see entirely clear roads, Serbousek says. Even in a Stage 2 event, a thin layer of packed snow is always left behind. When a particular spot proves pesky, trucks lay down sand — never chemicals — on non-arterial streets.
A snow removal budget of $750,000 this season means that the city can't afford to deice every area road when it only snows a few inches, as it did last week.
DAMNED IF THEY DO
Julie Happy, the city's Communications Manager of Business and Developer Services, points out that Spokane has about 2,200 lane miles to plow.
"That's like driving from here to Detroit, and we make every effort to attend to every mile," she says.
Serbousek confirms that when necessary his 46 plows are out 24 hours a day, seven days a week.
"As soon as snow hits, we're out," he says.
While it takes an estimated four days to plow all of Spokane — which averages about 47 inches of snow every winter — last week took a little longer, as snowplow drivers went back over half the residential areas when it snowed again. The delays brought in complaints.
Residents who'd already shoveled their front sidewalks, only to them it filled up again by snowplows, also weren't pleased.
"We did put more snow through their walkways. We're mindful of that, but if we don't do that, then we get complaints of going too slow," Serbousek says. "We're doomed no matter which way we go. We have to create balance."
Serbousek says that residents have to work with the city. That means slowing down early at intersections, and moving parked cars when plows need to come through.
"We're going to continue doing the best job we can," Serbousek says. "We're trying to have a good partnership. We rely on Spokane citizens as much as they rely on us."
FUTURE SNOW
For people like me, who prefer that snow stays in the mountains, none of this will get any easier. The Pacific Northwest, thanks to La Niña, is predicted to get slammed with colder temperatures and even more of the white stuff this winter, says meteorologist Bryce Williams of the National Weather Service in Spokane.
"It's going to be very cold and dry," Williams says. "And we're thinking about the next three months here, so it's not as cut and dry, there is variability, but that means colder than normal."
"That sounds terrible," I tell him.
"It is terrible," he says. ♦
---
SNOW CONTACTS
• Check on Spokane's snowplow progress at my.spokanecity.org.
• For those financially or physically unable to remove snow or ice, call 2-1-1 (or 1-866-904-9060) for assistance
• Spokane city snow hotline: 625-7737
• Report a Spokane snow concern: 755-CITY (2489)
• Coeur d'Alene Street Department snowline: (208) 769-2233