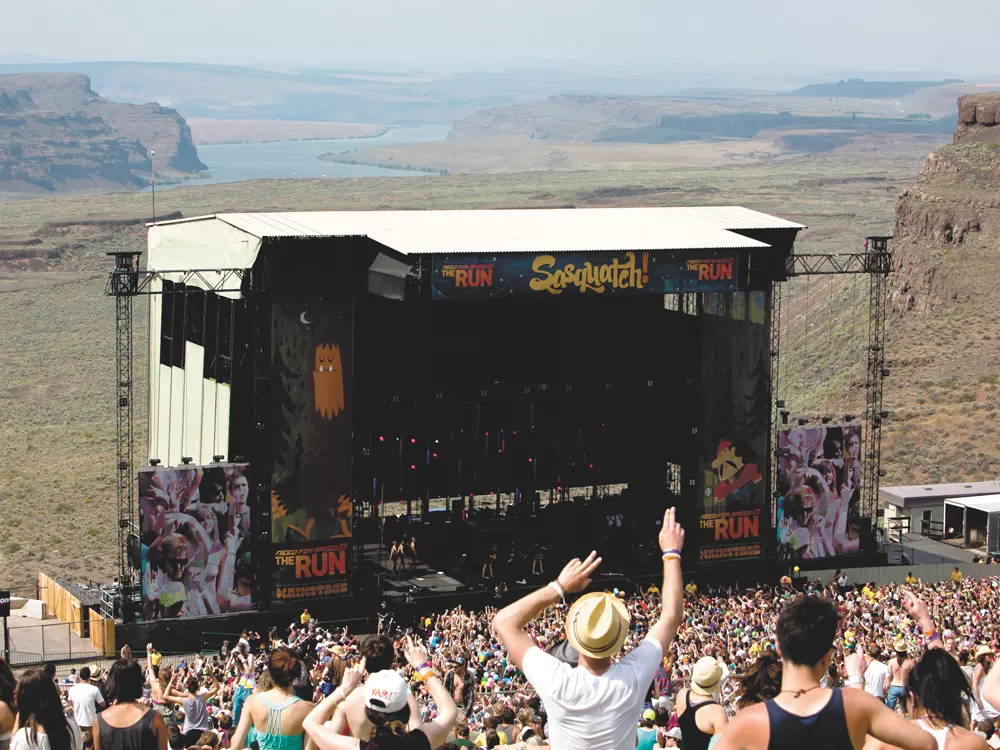 You're going to Sasquatch! That exclamation point is actually part of the music festival's name, but we're nevertheless excited, too. If you're one of the many, many people who didn't get a ticket to the long-sold-out 11th installment of the Northwest's biggest outdoor music event, well, we're sorry. There's always next year.
But if you are going to this weekend's four-day celebration of independent-minded music at the Gorge Amphitheatre, we figured we'd at least give you a few tips, whether you plan on hammering Bud Lights in the bed of your bro's F-350 while waiting for the headliners or if you're there to scour the scores of lesser-known bands on the bill. And if you just want to dance, we're cool with that too.
SO, YOU WANT TO SING ALONG?
THE HEAD & THE HEART
6:40 pm Sunday, Sasquatch Stage
Judging by this Seattle group's 2012 Coachella performance, there aren't too many of you out there who don't already know all the words to this folk pop group's songs. Even at last year's Sasquatch Festival, those shouting out lyrics to cuts like "Lost in My Mind" and "Ghosts" outnumbered the too-cool-for-schoolers. It's the infectious energies of lead singers Josiah Johnson and Jonathan Russell that draw people in, and have taken The Head & The Heart from their days playing Spokane coffee shops to headlining big festivals like this. (EM)
THE SHINS
8:10 pm Saturday, Sasquatch Stage
You'll want to stick around for Jack White, of course, after this performance by the reborn Shins, but don't discount Mr. James Mercer, a proven Sasquatch alumnus. The Shins — which features Mercer as the only current member who was there the last time the band appeared at the festival — have been reincarnated, having recently released Port of Morrow, a disc that proves this is still the indie band of record. But you can go ahead and admit that you'll mostly be waiting to hear the sounds of "So Says I" ricochet off the canyon walls. (MB)
TENACIOUS D/BECK
8:30 pm/10 pm Monday, Sasquatch Stage

What the hell, Mr. Sasquatch? Why do you have to always put some mega headliner late on Monday when we're all but Sasquatched out? We're not going to bitch too much this year, thanks to your back-to-back hilarity-meets-legendary pairing of Tenacious D, fresh off the release of their kinda funny Rize of the Fenix, with the pure musical brilliance of Beck. The D should be in full dirtyjoke finest, hopefully playing "Wonderboy" as they warm the stage for Beck. But will it be the folksy Beck with a modest backing band, or the white leisure-suit version, equipped with an eight-piece horn section? OK, it totally makes sense that these two acts are rounding out the festival. (MB)
SO, YOU WANT TO DANCE YOUR ASS OFF?
WOLFGANG GARTNER
9:30 pm Saturday, Banana Shack

Go ahead. Embrace the back sweat. Welcome the soreness from that knee you sprained while tripping over your tent last night. It's time to get down and California DJ Wolfgang Gartner's blend of hip-hop and grinding electro beats will make for one of the most dance-worthy acts this year's Sasquatch has to offer. Likely to deliver an explosive set that will see hands bouncing in the air, Gartner may just bring the Banana Shack — the fest's tent of all things electro — crashing to the ground. Don't worry though, your mangled body will still be compelled to dance. (EM)
JAMES MURPHY
9:30 pm Sunday, Banana Shack

James Murphy of the groundbreaking (and sadly no longer together) electronic group LCD Soundsystem will reprise his act's amazing 2010 Sasquatch performance with a DJ set Sunday night. Murphy is one of the more creative cats mixing music today and you never know what you're going to get, so it's best to let him take control of your dance moves for as long as your legs allow. (EM)
LA RIOTS
6:45 pm Monday, Banana Shack

Relax. There won't be any torched overturned cars or looting at the performance by Los Angeles group LA Riots, just new-wave electronic music with a touch of '80s greatness (think Knight Rider). If you still have energy in your tank by Monday evening, check this show out. Just leave your Mortal Kombat, dance moves at home. We don't care if the LA Riots theme song for Johnny Cage is your favorite. We'd all like to finish the festival in one piece. (EM)
SO, YOU WANT TO FIND YOUR NEXT FAVORITE BAND?
THE STAVES
12:00pm Sunday, Bigfoot Stage
One of the best parts about getting into the festival early each day is having the chance to see some lesser-known, but still excellent, bands. The benefit of getting in early on Sunday will be the ability to hear beautiful and sometimes haunting music from English trio The Staves. With songs bathed in soft acoustic strings and delicate harmonies, The Staves are the perfect afternoon show for the midpoint of your festival experience. (EM)
GREYLAG
12:15pm Sunday, Yeti Stage

Portland's Greylag has been working hard this year. Fresh off a trip to Austin for SXSW and now appearing at Sasquatch, this band is poised to capture a slice of the popular indie folk genre with their heartfelt music. Released earlier this month, their EP The Only Way To Kill You contains emotional lyrics and shadows of country, blues and R&B vocals. Greylag's music is fortified by the bond between founding members and best friends Andrew Stonestreet and Daniel Dixon. They've been making music across the country for years now, and it perfectly translates into their output. (EM)
ELECTRIC GUEST
2pm Saturday, Bigfoot Stage

If there is one band performing at this year's Sasquatch that might be hard to nail down, it would be Los Angeles duo Electric Guest. Their debut album, Mondo, is rooted in the current fascination with mid-century R&B, but brings so much else into play that this act cannot help but stand out from the crowd. If a dose of easy groovin' is what you're looking for in your next favorite band, then check out these guys. (EM)