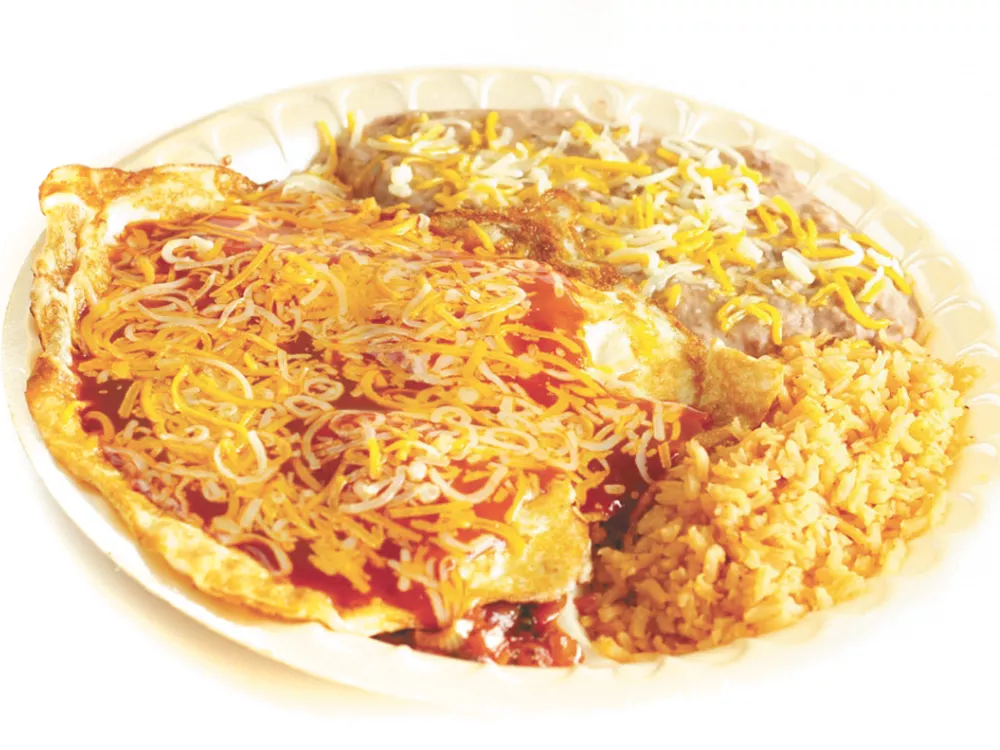 F
rom Southern California come stories
of transcendent cuisine that could bring even the heftiest of appetites to its knees. Humbly served on a thin paper plate that bows under its sheer weight, SoCal dive Mexican food is the stuff of legend. And Abelardo's lives up to the legend.
"Oh sweet Jesus," I hear myself say as the server at Abelardo's hands me a tray supporting what cannot possibly be a veggie burrito. I guess its weight at two pounds and further investigation proves it to be just shy of that estimate.
Much in the vein of its downtown counterpart, Atillano's on Third, Abelardo's occupies a former fast-food restaurant in Spokane Valley, operating pretty much in the same fashion. It's a bit of a blink-and-you-miss-it location sandwiched between another, nearly identical fast-food building and the eye-catching frontage of HuHot Mongolian Grill. Yet Abelardo's services many a late-night muncher, operating just shy of 24 hours each day. Festive decorations are strung haphazardly over the dining area, and twirl at the slightest breeze, while the buzz of sassy housewives telling off the pool boy in the latest Telemundo soap opera provides entertainment.
What places Abelardo's in the upper echelons above many other joints is their lack of cutting corners. Chips and a salsa bar tide you over until your food arrives. The veggie burrito ($4), like everything else on the menu, is deceptively cheap, not too heavy on the rice and has a generous helping of creamy guacamole.
Their huevos rancheros ($5.45), which beat out all area competitors in The Inlander's ranchero throwdown back in February, rests on a bed of sautéed peppers and onions. Those with a more simple palate can easily be tied over with a basic bean and cheese burrito ($2.99), which forgoes rice altogether, loading a mega-sized tortilla up with a light sprinkle of cheese and a pile of their ridiculously delicious refried beans.
If you're in with a group of friends after a particularly long night, I recommend the super fries ($7.69), a veritable gut bomb that takes everything you'd find in or on a burrito or taco (including fixin's) and heaps it on a pile of shoestring fries. Wash it all down with an icy, cinnamon-y horchata ($1.79) or go the hair-of-the-dog route and swill one their surprisingly impressive selection of bottled beers, and you'll be ready to conquer the world, or just take a nap. n
Abelardo's âeuro;¢ 11519 E. Sprague Ave. âeuro;¢ Open Sun-Sat, 8 am-midnight; Drive Through Sun-Sat 8 am-2 am âeuro;¢ 924-7485