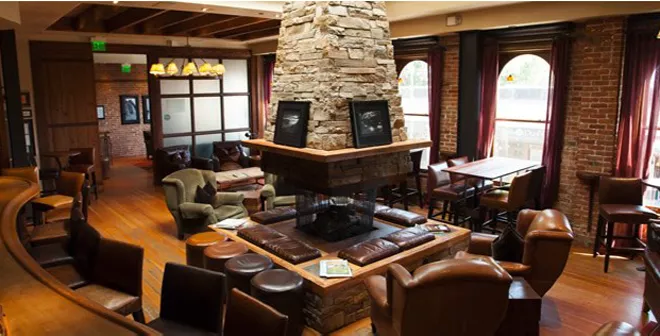 Back in 2007, Sandpoint was awash in wine bars, including Coldwater Creek's second-floor sanctuary located above its downtown retail space. Shoppers could pop up to the sleek room, renovated to the building's near-original 1900s brick-and-timber quality, order a glass of excellent wine, and enjoy the upper-level view.
Eight years later,. Coldwater Creek is gone and that wine bar with it, yet the historic Bernd building in which the former clothing giant was housed still stands. But owner Chris Galle couldn't bear to leave the place sitting empty, says Denise Alveari, who manages the Bernd Barrel social club.
In some ways, it looks like its former wine-bar self: massive stone fireplace surrounded by comfy chairs, original brick, framed artwork by local artists throughout the year.
The wine list is abundant. Punctuated with personality, it's loaded with descriptors to help you select the perfect pour, like "semi-sweet and succulent" Chateau Ste. Michelle Cold Creek Vineyard Riesling ($5/$20) or a "luscious, flavorful & funky" Zinfandel from 7 Deadly Zins ($32).
Beer is also bountiful at Bernd, with choices numbering near 40, including six rotating taps, plus ciders and mead. Bernd Barrel deliberately drew from a range of regions so as not to compete with local breweries like MickDuff's, says Alveari.
Besides, she says, "we send people [to the popular brewpub] all the time."
Bernd Barrel, she says, is more about a casual place to just relax and visit, maybe over a bite to eat. The cheese plate, for example, features four artisanal cheeses, homemade jam (from Pend d'Oreille Winery), olives, Marcona almonds, dried fruit, sliced baguette and Lavosh crackers ($20).
Although they're considering booking live music — especially from acts not typically heard on the Sandpoint circuit — they've forgone the boisterous environment of big-screen televisions or rock bands.
"We wanted a place where people could actually talk," says Alveari. ♦
Bernd Barrel Social Club • 311 N. First Ave., Sandpoint • Open Tue-Thu, 3-10 pm; Fri, 3-11 pm; Sat, 1-9 pm • Facebook: The Bernd Barrel • 208-263-1596