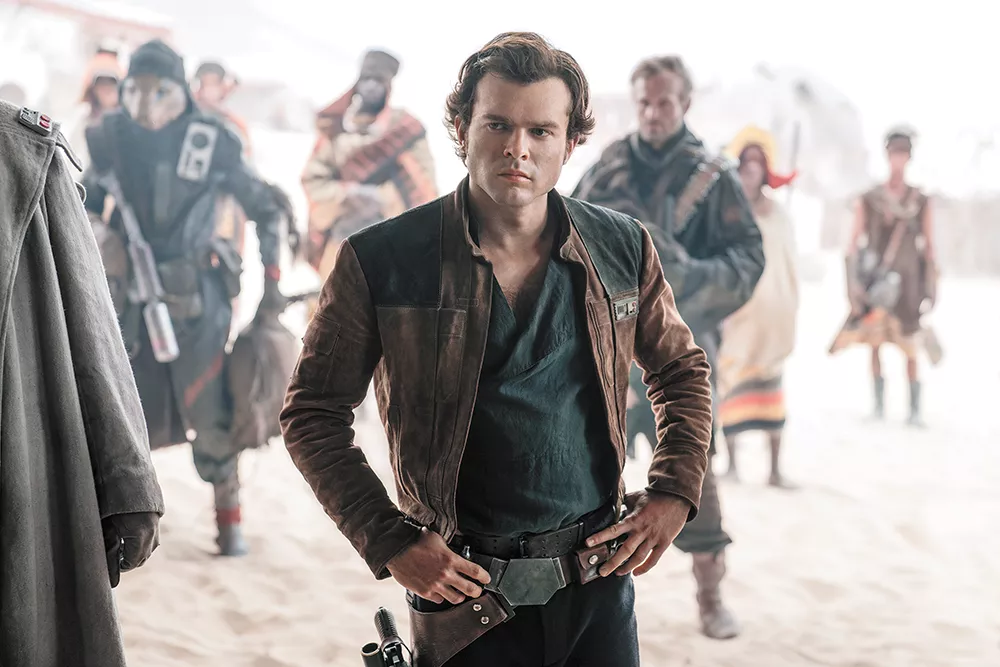 ★★★☆
Alden Ehrenreich is not Harrison Ford. Understanding and accepting this is key to enjoying Solo: A Star Wars Story, a mostly entertaining and rollicking adventure set some time before Ford's Han Solo shows up in the previous Star Wars movies. Ehrenreich more or less looks like the Han viewers know (in that he has the same haircut and many of the same outfits), and he's written with similar swagger and charm and hidden integrity.
But Ehrenreich's delivery and way of carrying himself never quite connects with Ford's existing performances, and it can be hard to imagine the star of Solo turning into the character seen in the original Star Wars trilogy within just a few in-continuity years. That doesn't mean that this movie's Han isn't a strong protagonist, or that his adventures aren't fun to watch. If anything, the movie is more fun to watch the less it concerns itself with detailed connections to other Star Wars movies.
When Han is introduced here, he's a street urchin on the dingy planet of Corellia, a member of an Oliver Twist-like gang of young thieves, led by a Fagin figure who resembles a giant slug. He dreams of escaping his dreary circumstances and becoming the galaxy's best pilot, alongside the love of his life, fellow urchin/thief Qi'ra (Game of Thrones' Emilia Clarke). It doesn't take long before he does just that, with the movie quickly jumping into a thrilling hovercar chase through the grimy Corellian streets. It's the first of many visually impressive scenes that uphold the franchise's tradition of creative world-building and inventive design sense.
While Han escapes, Qi'ra does not, and three years later he's still determined to save her, even if he's had to take a detour as a member of the Imperial Army in order to get there. He teams up with a group of outlaws led by Tobias Beckett (Woody Harrelson), who are working for crime boss Dryden Vos (Paul Bettany) on a scheme to steal the volatile and rare rocket fuel coaxium. This brings Han back in contact with Qi'ra, now one of Vos' top lieutenants, and also introduces him to two familiar faces: giant Wookiee Chewbacca (Joonas Suotamo, reprising his role from the recent Star Wars sequels, in which he took over for Peter Mayhew) and suave smuggler Lando Calrissian (Donald Glover, effectively channeling Billy Dee Williams).
Although the risks for the characters are appropriately high, since the job puts all of their lives in danger, the story is appealingly low-stakes in the larger, fate-of-the-galaxy sense, which sets it apart from all of the other Star Wars movies, even the previous standalone prequel Rogue One. If representatives of the sinister Galactic Empire appear, it's only as obstacles to the members of the crew getting where they need to go and obtaining what they need to obtain. Han isn't looking to topple an oppressive regime (although that will come later); he's just looking to make enough money to get his own ship.
As long as it sticks to that straightforward action-adventure premise, Solo is a blast, with two extended heist sequences that successfully combine the pleasures of sci-fi, crime capers and Westerns, and Ehrenreich makes for a dashing and charismatic protagonist. Harrelson's Beckett and Clarke's Qi'ra sometimes come off as stock characters, although their ever-changing allegiances make them a little more unpredictable.
There are so many amusing supporting characters that some of them are inevitably ill-served; in particular, Thandie Newton is wasted as Beckett's wife and fellow bandit, who gets very little to do. Disgruntled droid L3-37, played via motion capture by Fleabag's Phoebe Waller-Bridge, steals every scene she's in with her cranky passion for droid liberation.
L3-37 is perhaps the most obvious remnant of Solo's mid-production switch in directors, from comedy specialists Phil Lord and Christopher Miller (The Lego Movie, the Jump Street movies) to reliable journeyman Ron Howard, who ends up with the sole director credit. It's impossible, really, to discern which elements came from Lord and Miller and which came from Howard (who reportedly reshot up to 80 percent of the movie), but there are times when a looser, jokier version of the movie shines through.
Ultimately, though, Howard settles on just the right amount of comic relief, and the screenplay from Star Wars veteran Lawrence Kasdan (who worked on The Empire Strikes Back, Return of the Jedi and The Force Awakens) and his son Jonathan keeps things moving efficiently. That is, until the final act, when the movie strains for something larger, connecting itself to the wider Star Wars mythos in awkward, unearned ways, blatantly setting it up for a sequel. After watching Han and his crew bash around the galaxy in pursuit of a buck, it's disappointing to see them forced into serving a higher purpose. ♦