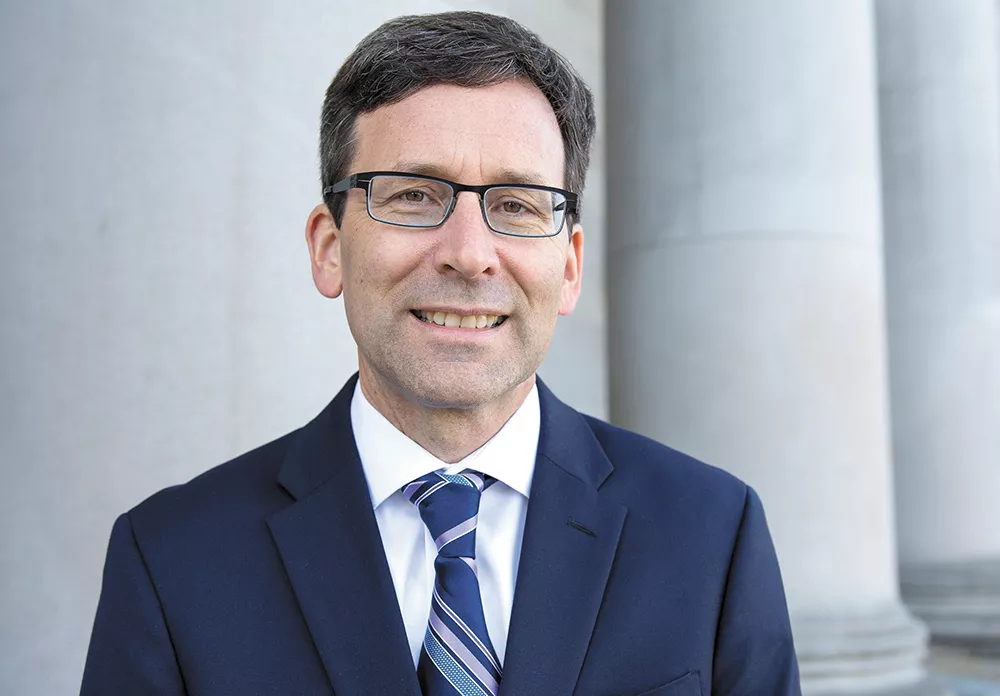 Five days after Washington Gov. Jay Inslee issued a moratorium on certain evictions last month, Michael Stockman got a letter from his landlord telling him he was being evicted.
"TERMINATION OF TENANCY FOR CAUSE," the notice read in bold letters.
The four-page letter cited 18 lease violations. Among the violations were years-old pay-or-vacate notices, a warning for not following parking rules, and a February allegation that Stockman stole gas from a neighbor's vehicle. (Stockman denies this.) It didn't mention that Stockman was late on rent the last two months, but days later Stockman says he saw another notice: an attempt to collect his remaining balance of roughly $800 — more than a month's worth of rent.
Now, Stockman, a veteran who receives military disability, worries he'll lose his apartment in the middle of a pandemic.
"I've been looking to try to find a place," Stockman says. "But with the income we have, it's kind of hard."
Despite local, state and federal orders halting evictions due to nonpayment of rent, some landlords keep issuing notices threatening evictions for other reasons. In a statement, the company that served Stockman's notice — Whitewater Creek Inc. — says generally that evictions for cause are continuing if they're in "the best interest and safety of our tenants."
But the Washington State Attorney General's Office says some of these letters may be an attempt to skirt the eviction moratorium. Colleen Melody, civil rights division chief for the AG's office, says evictions for other conditions besides nonpayment of rent are not barred by Inslee's proclamation, but landlords aren't allowed make an "end run" by identifying lease conditions they "never previously bothered to endorse" before COVID-19.
"That kind of conduct violates the letter and spirit of the governor's emergency proclamation because it is an eviction for nonpayment dressed up as something else," Melody says.
As of Monday, the AG's office received more than 400 reports of eviction moratorium violations, with roughly 30 from Spokane County.
Landlords, however, say those are outliers, not the norm. And they note that when the eviction moratorium is lifted, the debt is still there.
"We try to collect because we can't survive without our rents," says Alexander Scott, a landlord of seven properties in Spokane.
TRYING TO SURVIVE
During a telephone town hall last week, a caller had a question for Spokane Mayor Nadine Woodward. Except it was less of a question, and more of a call to establish rent control to deal with "these greedy landlords" taking advantage of renters.
When Woodward stepped up to answer, her facemask below her chin, she acknowledged it was a tough issue.
"We want to listen to our renters, our tenants, and we want to listen to our property owners. And there has to be a balance there," she said. "We can also acknowledge that we have some property owners in the city of Spokane — a very small percentage — that are problem landlords and we need to deal with those landlords, I believe, on an individual basis."
The city passed its own temporary ban on foreclosures and evictions through April. The Spokane County Sheriff's Office stopped endorsing evictions before that, and the federal stimulus bill also puts a moratorium on certain evictions.
But having all those jurisdictions with their own eviction ban can be confusing for landlords, says Steve Corker, president of the Landlord Association of the Inland Northwest.
"Our big concern is consistency in policies," Corker says. "We've been trying to get them consistent on dates and on conditions so we don't create pockets of confusion."
Scott, the landlord with seven houses in Spokane, says he was surprised to see that all of his tenants paid rent in April. But the longer the economy is shut down, the more he expects to be affected.
"Usually for the 'mom and dads' like myself that don't have a big capacity to weather the storm, anything two months late starts affecting us significantly," he says.
Corker says he doesn't know of a single case where one of his members has given a notice to pay or vacate. While he encourages landlords to let non-paying renters know the amount accruing, he says "90 percent of the relations between tenants and landlords are good."
"Landlords don't want to lose tenants, and tenants don't want to move," Corker says.
'KICKING THE CAN'
Tenants may be able to stay in their homes for now, but with so many people having lost their income, tensions with landlords keep building up. In an effort to collect rent, some landlords have resorted to threatening evictions or unreasonable demands of tenants.
A spokesperson for the AG's Office in Washington says some landlords are directly flouting the eviction moratorium by issuing pay-or-vacate notices to tenants. And some are taking different tacts: Reporting a tenants' unpaid rent to a commercial credit service; requiring tenants to prove that their inability to pay rent is due to COVID-19; or charging $50 per day for unpaid rent while promising that the accrual must be paid when the moratorium is lifted.
Similarly, Spokane Neighborhood Action Partners (SNAP) says they're hearing similar stories. One client they're working with, for instance, was served with a notice saying her belongings would be removed without court action if she didn't comply with a 20-day notice to vacate, says SNAP housing specialist Michelle Christie.
Terri Anderson, co-executive director for the Tenants Union of Washington State, says these notices can impact tenants even if they can't be legally enforced. That's because when you tell a tenant to pay or vacate, often — without knowing any better — they vacate.
"For a tenant who doesn't know, that's really threatening," Anderson says. "They don't know if a landlord is going to physically move them out."
In Idaho, Gov. Brad Little didn't issue a moratorium on evictions like Inslee, but the Idaho Supreme Court did halt evictions. While in Washington the AG's office says landlords must not serve pay-or-vacate notices, in Idaho, courts simply can't act on it. And that is still happening during the coronavirus crisis, says Ali Rabe, executive director of a nonprofit in Idaho working to prevent eviction called the Jesse Tree.
"Landlords can still file for anything, for any reason," says Rabe. "They just can't kick someone out."
That's why they're advising that, if possible, tenants keep up on payments.
"It's kicking the can down the road," she says. "It's kind of creating this backlog in the court."
Jose Trejo, attorney with the Northwest Justice Project, says he's been hearing reports about "bizarre" ways that landlords are trying to force tenants to pay rent locally. And many of these tenants haven't seen notices like these before.
"A ridiculous amount of people are finding themselves in this situation, and they've never paid attention to the eviction process of anything." Trejo says. "For a huge portion of the population, this is all new to them."
For now, much of it can be easy to handle. Without the ability to enforce evictions, tenants can stay.
The real question is: What happens when these eviction bans are finally lifted? Will there be hundreds of eviction cases filed all at once? Will tenants have a huge accumulation of debt?
That's a scenario Trejo, along with housing advocates across the region, are fearing.
"It seems like there's just madness that's coming," Trejo says. ♦