NANCE VAN WINCKEL, author of Our Foreigner
So many amazing writers whose work I admire I've been able to hear read and gotten to know a bit, especially Northwest writers such as Kim Barnes, Rick Bass, Denis Johnson, but also writers from farther off: Joyce Carol Oates, Colson Whitehead, Anthony Doerr, Jane Smiley, Major Jackson — even Kurt Vonnegut! I remember being with him at a pre-function at the Catacombs and a huge crowd of fans stood cued up for autographs. Vonnegut sat at his table, happily sipping scotch and signing books and napkins, seemingly content to greet everyone with that wide winsome smile of his.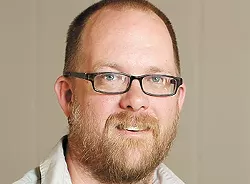 THOM CARAWAY, former Spokane poet laureate
My involvement with Get Lit! started in grad school, when the whole thing was a weeklong party. There was all the work leading up to it, but it was fun, and the payoff was huge. Getting to meet Kurt Vonnegut, Lynda Barry and other greats during my first years of involvement were just irreplaceable experiences. Get Lit! was one of the things that convinced me Spokane could be a great art town, and as it has continued to grow this belief has been confirmed.
JESS WALTER, author of Beautiful Ruins
Get Lit! gave Spokane its literary center. Spokane had great authors, great events, great college writing programs and a great indie bookstore, but from the moment Chris Howell, Christina Holbert and Scott Poole conceived of Get Lit!, they created that one week in April in which everything came together. ... For me, it was a chance to hear great authors and see old friends. I've been involved in most of them, so there are a lot of highlights: sitting on stage with Kate Lebo and Sam Ligon after the first Pie & Whiskey and looking at each other and thinking, "That was cooler than any of us deserved." Bringing my friend Richard Russo to town and seeing him double over in laughter on stage as I read a story about a wayward basketball team. Going out for drinks with ... well, everyone.
LEYNA KROW, author of I'm Fine, But You Appear to be Sinking
My first instinct is to say it's such a great festival because it brings writers from around the country to Spokane to talk about writing and share their work — authors who most of us wouldn't get the opportunity to hear from and meet otherwise. So, that's cool. But then, I remembered that it's been like four years since the last time I attended a Get Lit! headliner event, meaning I don't even actually go see the people who come from out of town. Instead, my Get Lit! experience is about going to readings and panels by my friends and favorite local writers. There are just so many people in Spokane doing great and fun and insightful literary work and Get Lit! jams them all together.
AILEEN KEOWN VAUX, author of Consolation Prize
There is the scene in Apollo 13 where the astronauts must use the moon's gravity as a slingshot to save themselves, to fly their broken ship back to Earth. Short on fuel, original plans gone awry, the moon was their only hope for survival. Writing can be a lonely activity, often performed with the hope that your little ideas will survive, but never with a guarantee. Get Lit! acts as this gravitational slingshot that brings authors together from across the country to celebrate their art. For me, the festival boosts my creative reserves, then launches me back home with more energy to write, grateful to have seen my town from a brand new vantage point.
STEPHANIE OAKES, author of The Arsonist
This year, I had the opportunity to serve as a teacher in three classrooms at Orchard Center Elementary as part of Get Lit!'s Writer in Residence program. Before being asked to participate, I hadn't been aware that, every year, Get Lit! places professional writers in classrooms across the area, allowing local students the opportunity to learn writing craft from someone who makes their living from writing. Needless to say, this is an incredibly cool program that benefits not just students and schools, but the writers themselves.
SHANN RAY, author of American Masculine
What I love about it is how it echoes the river, the mountains, the lakes, the sky, storms and fires of Spokane and the surrounding region: Get Lit! sings diversity, beauty, transcendence, friendship, fury, wilderness, our painfully fractured history and the hope for a less divided future, atomic and subatomic bodies in motion creating fusion, pie and whiskey and, ultimately, love. People, art, mystery and beauty are irreducible. I hope we hear that song, forever.
MAYA JEWELL ZELLER, author of Alchemy for Cells & Other Beasts
It's been like a microcosm of our PNW literary community — which, of course, goes beyond the PNW, but the strength of our Spokane literary family's relationships really show when we see folks coming in from across the mountains and scablands in all directions ... It was one of the first festivals in which I participated as an author, so it has a sort of hometown feel to it for me; it's when everyone in town has a sort of literary reunion of sorts — we're all busy, but it seems we all make time for Get Lit!, because we value the way it feeds our Spokane literary culture.
TOD MARSHALL, former Washington state poet laureate
Get Lit! has given me a chance to hear many writers whose works I admired ... Those encounters are important — and we're talking internationally famed voices like (Salman) Rushdie and (Kurt) Vonnegut, (Rita) Dove and (Joyce Carol) Oates. Further, the festival has brought in many emerging authors, those voices that are about to get well-deserved attention; this sort of support is also important — we get to chew on the delicious sentence that begins, "I knew so-and-so's work back when she read at an open mic at the Bartlett for Get Lit!" ... I've been continually impressed at how Get Lit! evolves and tries new things, new venues, new ways to bring literature to our city. And heck, there's even Pie & Whiskey ... We have a strong literary community in the Inland Northwest and Get Lit! helps remind us that Spokane should be proud of that energy, should support that energy, should celebrate that energy as much as Zags' basketball, Bloomsday or, ahem, even Pig Out in the Park. ♦
Some responses have been edited for length and clarity.