L
ike most business owners
along Division Street, Northtown Auto Liquidators' Kim Arrotta has had a tough time. For weeks, by Gov. Jay Inslee's order, she was almost entirely banned from selling cars — with dealerships that violated the order risking a $5,000 fine and nearly a year in jail.
Considering that inmates were being released from jail due to prevent the coronavirus spread, the bitter irony wasn't lost on Arrotta.

"How is it that selling a car you go to jail and stealing a car gets you out of jail?" Arrotta asks.

And even though restrictions on dealerships have been loosened recently, she's taking a loss for the first time in a decade, watching as the cars on her lot rapidly lose value, unsold.

By contrast, the business next door — the business she's been complaining about for over 10 years, about everything from the syringes in the lot, to their previous "DevilsDick" WiFi router name?
"Even during the pandemic, they were open the whole time," Arrotta says.

But they don't sell cars — they sell sex toys, porn and novelty lingerie.
The sign out front of the sex shop next to Northtown Auto Liquidators was recently changed to read Zone d'Lemon, but the Google listing, the
website
, and the name the employees use when they answer the phone remains "Zone d'Erotica."
And Channa Chick, the employee on duty at Zone d'Erotica's front desk, says that during the pandemic they've actually seen an
increase
in sales —
an uptick in customers who stop by looking for lubricant, condoms, sex toys and penis pumps.
"We've got pretty low on our pump selection there," Chick says.
Since the pandemic, customers can even buy blue paper disposable medical masks for $4, stacked in a neat pile by the Crazy Girl body wash, erectile dysfunction drinks, the Hitachi Wands and a power drill.
The drill is just a regular power tool, Chick clarifies when asked.


"Not a 'Drilldo,'" she says. "We do sell a Drilldo, but we don't have any in stock."
In Spokane, some adult-oriented retailers like Lovers and Castle Megastore appear to be closed. But a recent public records release of COVID-related complaints revealed a number of complaints about local sex shops, like Zone d'Erotica, Adam and Eve, and the Hollywood Erotic Boutique in Spokane Valley.

"I reported them a couple of times," Arrotta says.
Chick says she did receive a call from local law enforcement about them remaining open and passed them along to her superiors.
"It's funny, they call about that, but when we need police reports about thefts and stuff, and they don't call us or follow up when we have all the paperwork," Chick says. "
Until I'm told to close, I've stayed open. I'm just a minion."



BARE NECESSITIES?
T
he view at Zone d'Erotica
isn't that they were defying the governor by staying open. It's that they're an essential business, able to operate under Gov. Inslee's orders.
"Sex is essential for mental and physical health," Chick says. "I mean, what else are you going to do when you're stuck at home?"
A notice taped to the rear entrance of the shop insists that the store is exempt from closing, noting they sell federally designated essential medical devices.
"Any government agency not following federal law will be sued for loss of income," the notice on the back door reads.

John Coil, the 78-year-old CEO of Harris News, the company that owns Zone d'Erotica/Lemon, Hollywood Erotic Boutique, and 69 similar shops across the country, makes a simple argument for why his stores should be able to remain open:
Vibrators, condoms and penis pumps are all essential medical products.
Vibrators, he argues, were once used to treat sinus infections and headaches. He says he knows from personal experience that the Veteran's Administration has sometimes provided veterans with devices to deal with erectile dysfunction.

"When
I turned 55, the government just gave me a penis pump," Coil says. "They assumed when you turned 50 or 55 you needed one of those. They just gave 'em to everybody. We still sell that item."


Condoms are medical aids as well, he says. So are the paper masks and disinfectant they sell.


But does that mean that sex shops are "essential businesses" unlike clothing stores, barbershops or churches?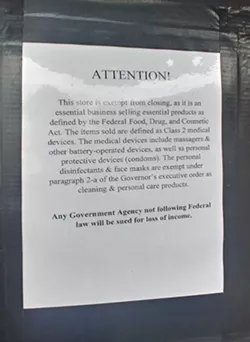 Alejandro Sanchez, special assistant to Gov. Inslee, is dubious. Asked if a sex shop would be considered an essential business under the governor's orders, Sanchez says "almost certainly not."
"Generally speaking, an adult sort-of-entertainment store would not be considered essential," Sanchez says.
Selling vibrators, massagers or a few masks is unlikely to change that. But condoms and other contraceptives?

"That does start to tilt it more in the direction of being permissible," Sanchez says.


Family planning, including contraception, would be considered
essential. If someone claimed to be a "family planning" store that sells condoms and other over-the-counter contraceptives, the state very well might approve it, at least initially.


The state provides an online form that allows businesses to ask questions about whether they're considered essential or not.
Still, if the governor's office gave the green light to any sex shop to open, Sanchez says he hasn't heard about it — and he's pretty sure he would remember it if they did.
"I think our team would have reviewed that with some scrutiny," he says.
Coil doesn't know of any attempt to get a green light for his company's sex shops in Washington state.
But he says that in Dallas, Texas, his attempt to argue that his company's "Condom Sense" store was allowed to continue to operate during the shutdown as a store selling essential medical devices ran into skepticism from local authorities.
"They say, 'It just said 'Condom Sense.' It doesn't say you're medical,'" Coil says.
"We took part of the sign down and changed the name of the store to 'Condom Medical Aids.'"
In Indiana, where Coil's company is headquartered, he says, his shop was allowed to stay open, but only under heavy restrictions. Customers were only allowed to be in a 25-foot-wide and 25-foot-deep area at the entrance, and they could only purchase medical devices.
"We don't let people walk around the store to buy videos or something of that nature," Coil says.
At Zone d'Erotica in Spokane, that's not the case.
Chick says they've shut down the clothing areas of the store, but still allow patrons to browse through their DVDs. Still, only one person is allowed to go to look at the DVDs at a time, she says — and the staff regularly disinfects any place customers touch.
"Anytime someone comes through, we watch what they touch and we go disinfect that," Chick says. "
We try to keep up on it to make sure people are healthy."
THE WAR ON 3813 N. DIVISION
T
he complaints against Zone d'Erotica being open, of course, were only a small selection of more than 450 complaints that streamed into the state about Spokane-area businesses allegedly violating the state's stay-home order.
Arrotta herself learned of an anonymous complaint against her own business,
Northtown Auto Liquidators,
charging that groups of people were "
on the lot and in the office that were not employees."
Arrotta says they immediately contacted their attorney to explain to the state that the people in the office actually were employees helping to remodel their showroom.


What's unique about the Zone d'Erotica property is that it's had people trying to shut it down permanently for
years.
The city of Spokane has been fighting over the "adult" nature of the building for nearly
two decades
.
Way back in 2001, when the building was an adult bookstore named "Hollywood Erotic Boutique," the Spokane City Council passed a zoning ordinance that banned such bookstores from being located within 750 feet of residential uses like
parks or schools or libraries. With Clark Park only 250 feet away, it was a clear violation.

But for years, the store refused to change their business model, despite a 2006 court order.

In 2013, the City Council expanded the restriction to also include "sex paraphernalia stores," officially adding a sentence to Spokane municipal code that concludes with "
dildos, vibrators, penis pumps, cock rings, anal beads, butt plugs, nipple clamps, and physical representations of the human genital organs."


"There's no First Amendment right to sell sex toys," former Assistant City Attorney
Milt Rowland
said at the time.

But the store still didn't budge, and continued to fight Spokane in court. It took a settlement in court that included a $50,000 payout, but Hollywood Erotic Boutique
finally closed by July 2017. But that, of course, wasn't the end of it.


An entirely new company, Harris News, Inc. — a company headquartered in an Illinois adult lingerie boutique — reopened the business in 2018 as
Zone d'Erotica.

And Zone d'Erotica, it turns out, was another adult business.


Arrotta was furious — from the outside it appeared that the old business had simply reopened a new name.
"We, the taxpayers, have spent too much money to allow them to just change their name, every time they get reported, and keep doing what they were ordered/paid to stop doing," she wrote in an email to the city last year. (And yes, she attached pictures.)
According to a November 2019 letter sent by City Attorney Mike Ormsby to
Arrotta
, a code enforcement inspection revealed that "
the volume of adult items had increased enough to be in violation of the Spokane Municipal Code."

Ormsby wrote that they were
working with Harris News' legal council to bring the store into compliance by reducing or removing the "adult inventory" and changing the name away from "Zone D' Erotica." Today, Spokane says that the store is in full compliance.

Coil says that his company has been happy to comply.


"We're there to get along with the city," Coil says. "We always try to get along with the city governments. I think we're getting along with them. If they have a complaint, they'll come to us and tell and we'll react to their complaint."
In 2019, in other words, "adult inventory" got
Zone d'Erotica in trouble. But in 2020? That same inventory is being used to justify keeping their doors open.