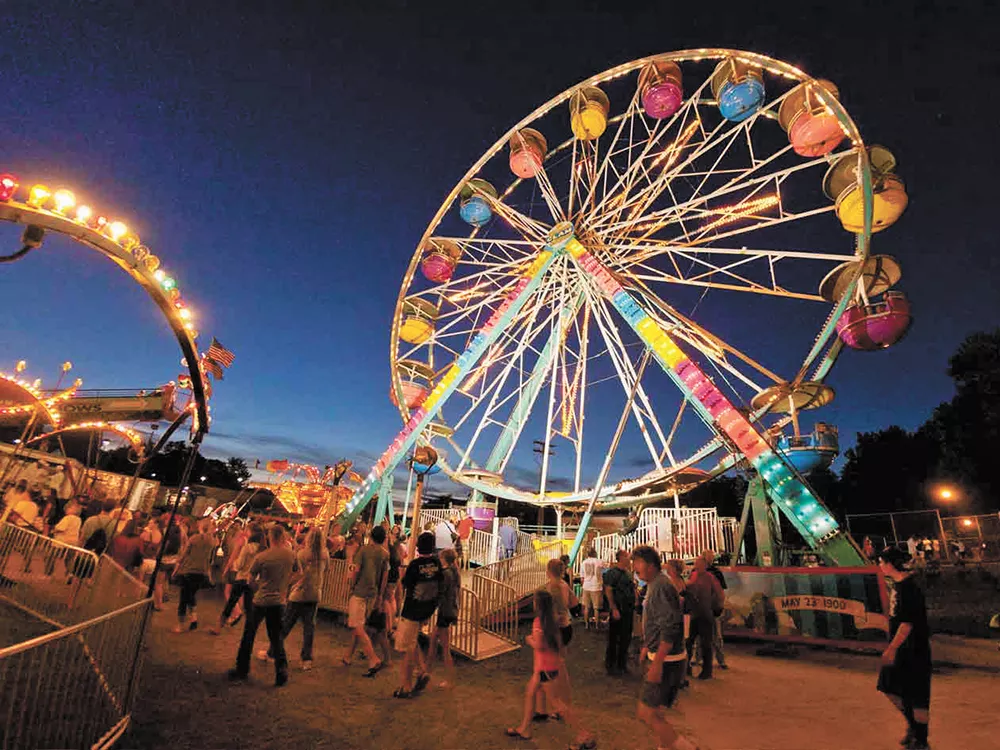 August is upon us and soon we'll be thinking about school starting, cooler weather and the transition from shorts and flip flops to sweaters and sturdy boots. Before we bust out the snow shovel, however, there's one more big summer celebration at the NORTH IDAHO STATE FAIR.
The Fair runs through Aug. 26 and hours vary depending on the day. Purchase entry tickets online ($8 adult, $6 ages 6-12 and 55 and older) or at the gate ($10 adult, $8 ages 6-12 and 55 and older). Parking is plentiful and there's even a drop-off area for those arriving by taxi or Uber. Visit northidahostatefair.com or call 877-840-0457 to order tickets by phone.
Where to start? Are you hungry? In addition to classic FAIR FOODS like elephant ears, kettle corn, curly fries and hot dogs, check out specialty treats from 25 different vendors positioned throughout the fairgrounds: chocolate-dipped cheesecake, teriyaki chicken, lamb gyros, fajitas, smoked turkey, shaved ice and, of course, huckleberry ice cream.
Interested in CARNIVAL RIDES? Find one to fit your groove: go up, down and spin around, or opt for a gentler ride on the All Aboard Train. And yes, there are plenty of rides for the kiddos, too. Save on an all-you-can-ride pass online ($25) or on-site ($30).
What to see? Stroll through VENDOR AND EXHIBITION BUILDINGS to see local art, lots of animals, like llama, bunnies and the majestic draft horses, which will be performing several days during the Fair.
CHECK THE SCHEDULE and event map for where to find the live pony carousel, petting zoo, and numerous events included with admission and located throughout the fairgrounds like the magician's show, acrobatic high diver performers, pig races and more.
Findlay Arena is the place to be for special attractions. Whoop it up at the PRCA RODEO featuring bull-riding, calf-roping, and amazing horsemanship (Free general admission; Reserved seating $6-15, depending on event and date). If you prefer your horsepower inside an engine, check out the always raucous DEMOLITION DERBY for smash-em-up, high-octane fun (free general admission; reserved seating $5-$10). Settle in for a COUNTRY MUSIC CONCERT (Tickets: $20-$45) headlined by Randy Houser (How Country Feels, Runnin' Outta Moonlight). New this year is a FREESTYLE EXHIBITION of X Games competitors doing their best to impress on BMX bikes, snowmobiles, ATVs and more (tickets: $15 adult, $10, ages 12 and under).
Come early, stay late… it's the North Idaho State Fair.
---
Upcoming Events
Antique & Classic Boat Show
AUGUST 24-26
Ooh and aah as you stroll the Coeur d'Alene Resort's boardwalk, where more than 60 restored antique, vintage and classic boats are on display, as well as a large selection of vintage Woody cars from car clubs in the Pacific Northwest. Free; Coeur d'alene Resort Boardwalk.
Legally Blonde, the Musical
AUGUST 2-26
This award-winning musical follows the transformation of sorority girl Elle Woods as she follows ex-boyfriend to Harvard Law and tackles stereotypes, snobbery and scandal in pursuit of her dreams. Tickets $49 adult; $42 senior; $27 child; 7:30 pm Thursday-Saturday; 2 pm and 7:30 pm Sunday; Salvation Army Kroc Center.
The Fab Four
AUGUST 30
The Beatles are back! Catch the next best thing when The Fab Four – the Ultimate Tribute to the Beatles takes the stage at Coeur d'Alene Casino. The Fab Four will transport audiences with their uncanny, note-for-note live renditions of Beatles songs from every era including "Can't Buy Me Love," "Yesterday," "A Day In The Life," "Twist And Shout," "Here Comes the Sun" and "Hey Jude." Tickets $25-$40; 7-9 pm; Coeur d'Alene Casino.