If it ain't broke, don't fix it. That's the theme of this year's ArtFest, which builds on the foundation of 30 years supporting the arts in Spokane.
"We're sticking with the original concept of ArtFest being a community gathering, and a chance to see a lot of great arts and crafts, a chance to see and touch art, and be engaged in the process of art-making," says Alison Highberger, spokeswoman for the Northwest Museum of Arts and Culture. "Add a bunch of good food, good wine and beer, and some excellent music, and you can see why we have a tradition that's easily lasted three decades."
The music lineup, for example, blends old favorites like Sammy Eubanks, An Dochas, and the drum-and-fife sounds of Robbins' Rebels with the Gypsy jazz sound of Seattle-based Ranger and the "Re-Arrangers."
Look for new visual artists, too, like Colten Tippets, from Hidden Springs, Idaho. He makes custom knives — blade, handle and sheath — using designs he's developed over the past 20 years or so.
"I think knives are the perfect example of functional art," says Tippets.
With a background in boatbuilding, ArtFest newcomer Brian Casey makes pieces with personality from local wood and found objects. A cast-iron pan or 78-rpm record becomes a clock face. Turquoise-glass insulators become globes on light fixtures. A door salvaged from the 1930s high school near Casey's Kingston, Idaho, home turns into a rustic hall tree with old-school hinge pins.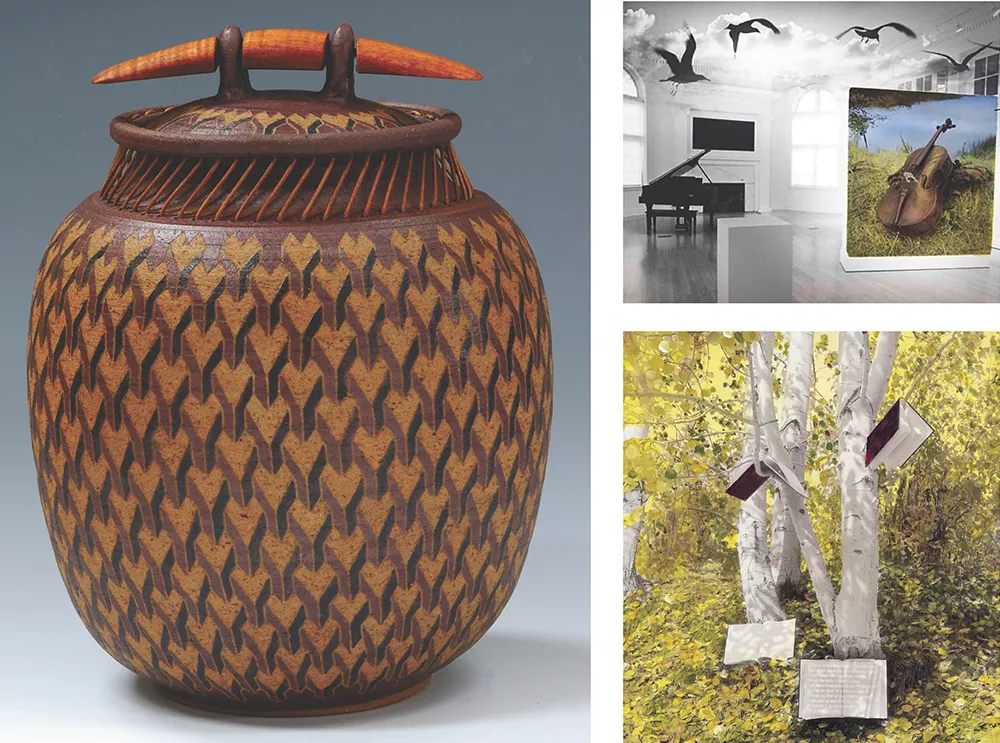 Photographer Barbara Kline has shown plenty at Art on the Green, but this her first ArtFest appearance. Her work is ethereal: a door emerging magically from the trunk of an ancient, moss-covered tree; an old piano set amidst a rainbow-colored waterfall; a glowing nautilus shell levitating above an azure-colored sea.
Kline not only still uses traditional film, she does all her photomontage work in the darkroom. She further enhances her gelatin silver prints with photo oils, sometimes saturating the image, other times working with dream-like pastel tones.
While there are plenty of new artists participating this year, painter Stan Miller isn't one of them. "If the first ArtFest was on the streets of downtown Spokane," says Miller, "I think I was there."
Back when the MAC was the Cheney Cowles Museum, before ArtFest relocated to Coeur d'Alene Park, this MAC fundraising event featured 50 or so artists, or about a third of its current lineup. Miller says it had "the feeling of a small English fair, with the beautiful, old, architecture surrounding us [and] perhaps some of the music was Celtic to complement the surroundings."
In between ArtFests, Miller paints, teaches classes and travels and was one of only four Americans invited to Vietnam by their International Watercolor Society this spring. In addition to his booth full of classic watercolors and egg tempera paintings, this year one of Miller's paintings graces a wooden birdhouse for the MAC's silent auction taking place during ArtFest.
Miller is one of nearly a dozen regional artists in the auction, along with Mel McCuddin, Harold Balazs, Tiffany Patterson, Melissa Cole, Tim Lord and John Richardson, who prepared the exhibition for the MAC and cut enough of the donated pine wood to create 400 birdhouses for the weekend event. That means plenty of kids will also get to assemble and paint their own birdhouse in the Make It Art Kids area (relocated to the tennis courts this year for improved security) for about $4.
Miller isn't the only recognizable artist to participate in ArtFest. Darlene Hardenbrook, who shows in town at Pottery Place Plus, turns polymer clay into wee little whimsies, many with steampunk accents of gears, monocles and metal findings. Look for jewelry, like a set of Wizard of Oz earrings or "Spirit Guide" pins barely larger than a dime, as well as framed figures — angels, bugs, fish, birds — in low relief.
Bellingham artists Peggy Kondo and husband Larry Richmond return to ArtFest with their unique form of pottery that incorporates woven material. Most of the wheel-thrown wares are of high-fired stoneware, burnished to a sheen and decorated with naturally occurring oxides.
Kondo, who studied at Southern California's prestigious Chouinard Art Institute, also will exhibit something called Russian punch needle embroidery. It's similar to a hook rug, but denser in texture, like Huichol Indian yarn painting.
Richmond, a former UC Davis ceramics instructor, draws from his experiences on the Huichol Indian yarn painting, where he also taught for several years.
"Using contemporary interpretations of traditional basket shapes and designs," writes Richmond in his artist statement, "I am searching for a balance between woven materials and clay that is both natural and pleasing. Each of these mediums has a unique beauty that can hopefully be blended into something totally new and unexpected." ♦
ArtFest • Fri, May 29, from noon to 10 pm; Sat, May 30, from 10 am to 10 pm; Sun, May 31, from 10 am to 5 pm • Free admission • Coeur d'Alene Park • 2195 S. Chestnut • northwestmuseum.org