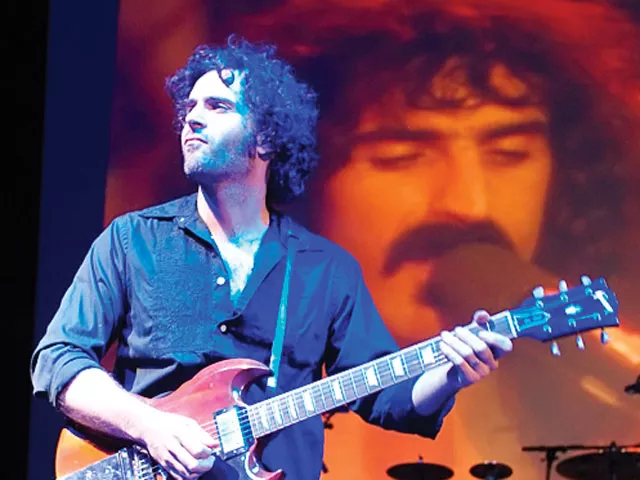 Frank Zappa was famous for being a weirdo: an outsider artist whose outspoken disdain for all things conventional eventually eclipsed his prodigious musical talent. His son Dweezil (the second of his four bizarrely named progeny) has taken on the challenge of reviving the elder Zappa's music and taking it on tour.
After he spent the '80s and '90s dabbling in television and movies, it seems Dweezil Zappa has finally found his true calling. It's a testament to his varied talents that he is able to pay tribute to his father while becoming a musical force in his own right. It's not Dweezil's first foray into music: he's released six solo albums (the first when he was only 13 years old) and two albums with his younger brother, Ahmet. But it's this project — with its special significance in the way of a son paying tribute to his father — that seems to have brought out the best in him.
Zappa Plays Zappa is the name of the band and the tour that Dweezil and a cast of musicians have been slogging away at since 2006 — touring the world and playing some of Frank Zappa's hardest-rocking tunes. Last year, the project won a Grammy for best rock instrumental with their version of "Peaches in Regalia," one of the most beloved songs in the Zappa canon.
Frank Zappa played alongside many other fi ne musicians in his time, including Steve Vai and Terry Bozzio — both of whom feature as regular guests on this tour alongside other blasts from the Zappa past. And get this: Frank himself even makes an appearance, playing alongside his son from beyond the grave with the help of some audio-visual magic (kind of like the famous performances of Natalie Cole singing duet with her late father Nat King Cole).
Zappa's music is an often-frenetic whirlwind of notes and time changes, usually accompanied by absurdist or abstract lyrics. Zappa Plays Zappa stays remarkably true to form in their reproductions of the songs, and the musicianship is just as outstanding as it was on the original recordings. So far the only reference available is the 2008 album Zappa Plays Zappa, a live recording that is energetic, loud, and full of the unexpected twists and turns that were Frank Zappa's hallmark.
Zappa Plays Zappa plays at the Bing Crosby Theater on Sunday, Nov. 29 at 8 pm. Tickets: $33 - $73. Visit www.ticketswest.com or call 325-SEAT.