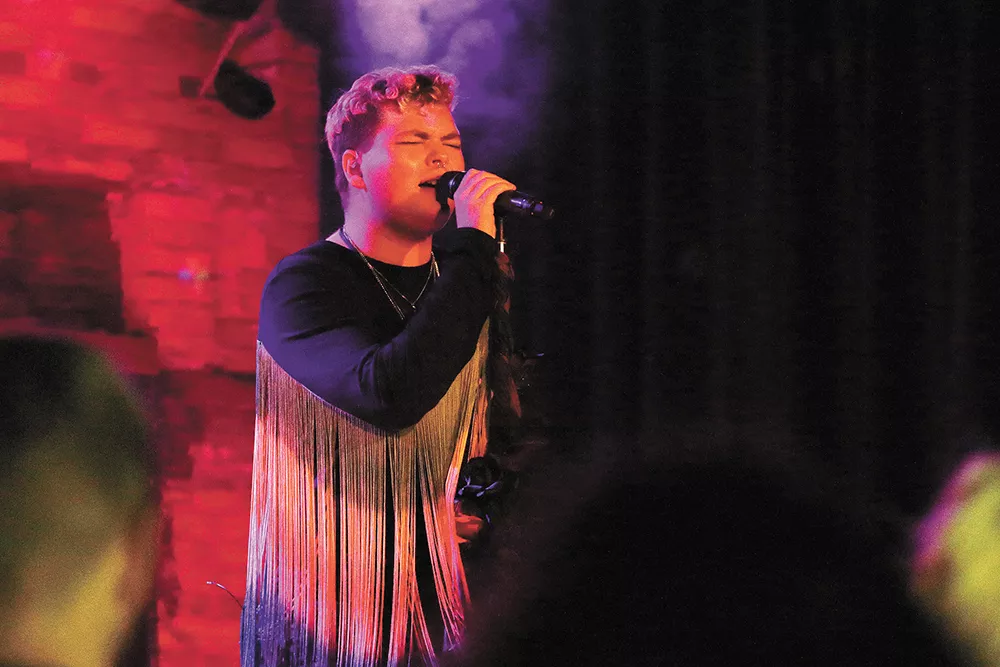 Dylan Black tends to think about the big picture first, then work backwards to iron out the tiny details. For instance, he was still in high school when he started telling everyone that he was going to become a glammed-up rock singer, and that he'd call himself Soul Man Black. He even got the planned title of his eventual debut album — Free Soul — tattooed on his right forearm when was 18.
That's commitment.
"Once I start something, I'm going to do it," Black says. It's just that sometimes grandiose ideas take a while to actually come to fruition: Now he's 24, and that album he's been promising for six years is finally finished.
For the last year and a half, Black — as Soul Man Black, of course — has enlivened the Spokane music scene with his dramatic, bleeding-heart electro-pop that takes influence from performers who are as defined by their recognizable visual aesthetics as their distinctive voices. Think Judy Garland meets David Bowie by way of Jim Morrison.
A typical live show involves Black alone on a stage, but you can expect glitter, eyeshadow, synchronized lighting setups, props and eye-popping costume changes.
"I like it when people tell me, 'I just came to see what you're gonna wear,'" Black says. "Which is great, but I hope you stay for the music."
It's no surprise that Black is a lifelong theater kid. He recalls being in first grade when he choreographed a dance number to "All That Jazz" from Chicago, which was deemed too risqué for the school talent show. (His teacher, Black says, let him put on a private show for his class anyway.) He went on to perform in several musicals while he was a student at Lewis and Clark — "all that shit that goes with being a little gay kid," he laughs.
But he also grew up in a musical household: Black's father Dan was part of the local scene for years, fronting the popular country-rock outfit the Big Bucks Band in the '80s. Just a day after performing a father-and-son showcase at the Observatory last year — Dylan singing with Dan on guitar — Dan suffered a stroke. This was a week before Soul Man Black's first set at Volume Music Festival, and Black admits now that he "walked through" his next few gigs, for understandable reasons.
But now he's focused again, and Free Soul is, among other things, the document of a songwriter growing up and learning the ins and outs of music production as he goes along.
"I didn't really know about electronic music, or how to go about writing things on my own," Black says. He worked for a bit with the guys in surf-rock duo Runaway Octopus before deciding he wanted to go forward as a solo act, making arrangements in GarageBand and Logic. "And then I started figuring out what goes into a song and the beat and melodies," he says.
Black wrote the first song for the album about five years ago, and he's been chipping away at the record's other eight tracks since. The album itself has morphed during that time, both in terms of its vision and its thematic content: Black says he originally envisioned Free Soul as a sprawling concept album that would empower outcasts and "liberate the masses," akin to what Lady Gaga has done with her devoted army of fans. But the final version, which will be released at the Bartlett this weekend, is more modest in scope, and more personal in approach.
"You're right out of high school and you think the sky's the limit, and everything just happens and you're the coolest person," Black says. "I had this grand idea that I was going to write this really big album. ... I thought it was going to be this whole collective movement, and that's not how life works. That seems really silly to me now."
The songs on Free Soul instead deal with all those defining early adulthood experiences — first love, heartbreak, the realization that the world isn't fair, finding the confidence to be your best self — that have long defined the pop pantheon.
"I've spent so much time with the music, because I've had it written for so long, that all of [the songs] now take on totally different meanings. They're little snapshots of those four or five years where I wrote it all," Black says. "It's about those things you learn. But some of it you just want to dance to." ♦
Soul Man Black album release with Mini Murders and Skelf • Sat, April 27 at 8 pm • $8 • All ages • The Bartlett • 228 W. Sprague • thebartlettspokane.com • 747-2174