It takes incredible strength to overcome life's challenges, and the many inspiring people featured in this year's Give Guide serve as examples of how the human spirit, kindness and hope can prevail even in the face of some of the worst hardships imaginable.
In the following pages, read about refugees who faced devastating violence in their home countries, persevering to create successful lives in the Inland Northwest where they now help others start their lives anew. Learn how our two Peirone Prize winners overcame the deaths of loved ones and a medical condition to put their hearts into suicide prevention and working with people with developmental disabilities. Learn what community health fully encompasses, see the dedication it takes to stay working at a nonprofit for more than a decade, and examine how to really make sure your actions and dollars can make the best positive impact in this community and beyond.
— SAMANTHA WOHLFEIL, 2018 GIVE GUIDE EDITOR
CAUSE AND EFFECT
Every year since 2010, we've been recognizing inspiring work here in the Inland Northwest's non-profit and charity world. For 2018, we have two more winners of the Peirone Prize, named for Joe and Alice Peirone, grandparents of Inlander founders Jer and Ted McGregor. Inside, you'll meet Lauren Schubring and Sabrina Votava and see that the Inland Northwest is powered by the compassion and hard work of amazing people like them.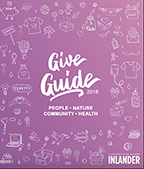 Here on our 25th anniversary year, it's also worth noting that we've been highlighting stories like the ones you will read here since 1993; in 2002, we made a special issue out of it and called it the Give Guide. It's part of our mission, we believe, to connect our readers with needs we see out there in our community. So as you read Give Guide 2018, we hope you find a cause to connect with and then take action.
— Ted S. McGregor Jr., Inlander Publisher

IN THIS YEAR'S GIVE GUIDE

2018 Peirone Prize winners

Nature

Community

Health