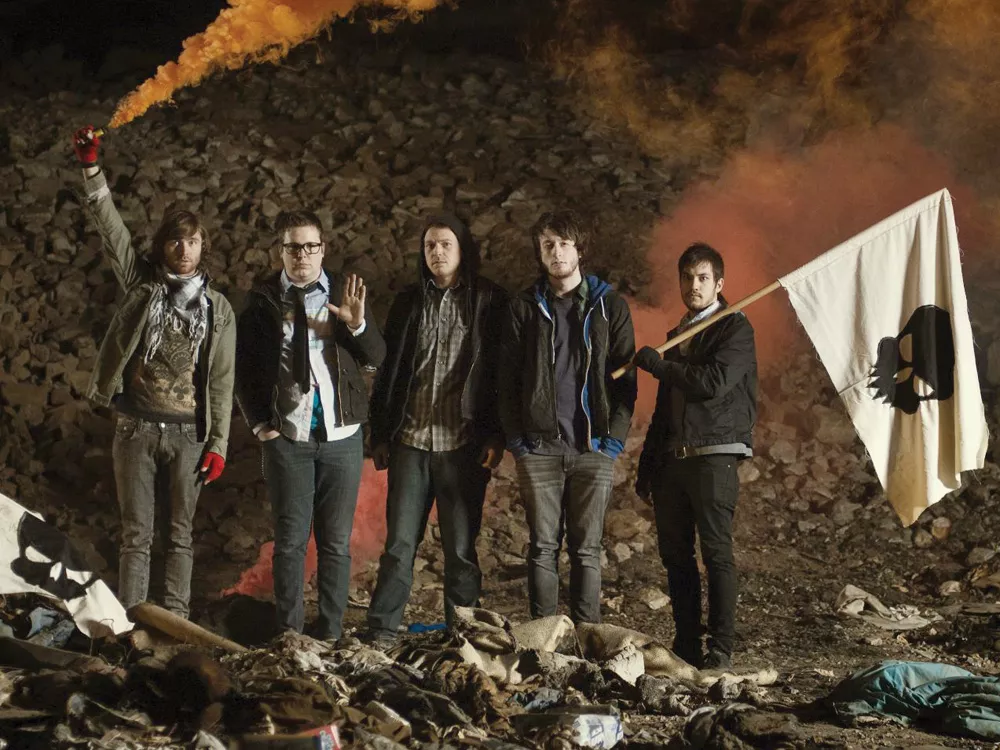 Among the hordes of sweat-soaked bodies at the Chariot's live show at now-closed Spokane music venue the Blvd., I saw the group's bassist prepare to heave himself into the crowd — directly at me — mid-song. Thankfully, I saw him coming, caught him, and pushed him back toward the stage, as any good concert-goer should.
However, I did not see Chariot frontman Josh Scogin. He came leaping off the stage from just outside my peripheral vision. A good portion of Scogin's body was kept from falling to the floor by one thing: the crown of my unsuspecting head.
Days of pain and limited mobility later, I was informed by my chiropractor that I had a compressed joint in my lower back.
But after the show the Chariot put on? The pain and doctor's bill was worth it.


The Georgia-based metalcore band has long been lauded for its intense live sets and with good reason — the Chariot is the best that the heavy "-core" (metalcore, hardcore) genres have to offer. But when the band is delivering its complex barrages of sound, Scogin says, they aren't doing it from a place of aggression. He says it's a physical release of their spiritual side.
"Our live shows are just an overflow of the passion within us," he says. "Some of the things we're saying in the lyrics and the reasons we're playing — it's more than 'Let's just go crazy!' It's a lot more about a bigger spiritual side."
The Chariot has always been forthcoming about the band members' Christian faith, and they have addressed it lyrically. At his core, Scogin is a nice, affable Southern Christian boy who just happens to make killer music to slam to. But a lack of belief in a higher calling shouldn't dissuade listeners — Scogin welcomes everyone.
"I'm not writing lyrics as a Sunday morning worship album, by any stretch, but they're things that I've been through that I can't deny. Everything from the questions I've had to the answers I've been given.
"At the end of the day, we're just very humbled and grateful that anybody shows up, whatever the reason," he says. "Whether they look really deep into the lyrics, or look at the guitar riffs and [say] 'Oooh, that's a tricky riff,' or they just think we're crazy. We're not really picky."
The Chariot tries to stay away from the sometimes-threatening aspects of heavy music without sacrificing the sound. Scogin explains that too many "–core" bands take things too seriously. As a result, the band tried to keep things light. Take, for example, the title of their first album — Everything Is Alive, Everything Is Breathing, Nothing Is Dead, and Nothing Is Bleeding — a clear humorous jab at the morbid imagery often associated with metalcore and similar sonic genres.
"The nature of the beast is so heavy and so aggressive that every now and then I think it's healthy for us to sort of throw something in that's sort of tongue-in-cheek in there to remind us we're having fun and to not take it too seriously," he says. "At the end of the day, we don't want anyone to feel like they can't come up to us at the end of the show and just chit-chat with us. I feel like there are a lot of bands out there that have such a darker overtone that it'd be hard to approach or hard to even relate to.
"Life's got enough serious stuff, enough trials for everyone. I don't want our music to be a burden of any stretch," he says.
"We all grew up in nice houses with nice families that loved us a lot. Even though some of us went through some trials and tribulations, we're all very grateful for that. To pretend otherwise would be a facade."
That good upbringing and the band's ability to musically pound fans into submission are not mutually exclusive. The Chariot is a must-see live. Just make sure to keep an eye out for a certain flying frontman.
The Chariot play with Vanna, The Crimson Armada, Former Thieves, and The Listener • Tues, Nov. 29, at 5:25 pm • A Club • $13 • All-ages • aclubspokane.com • 624-3629