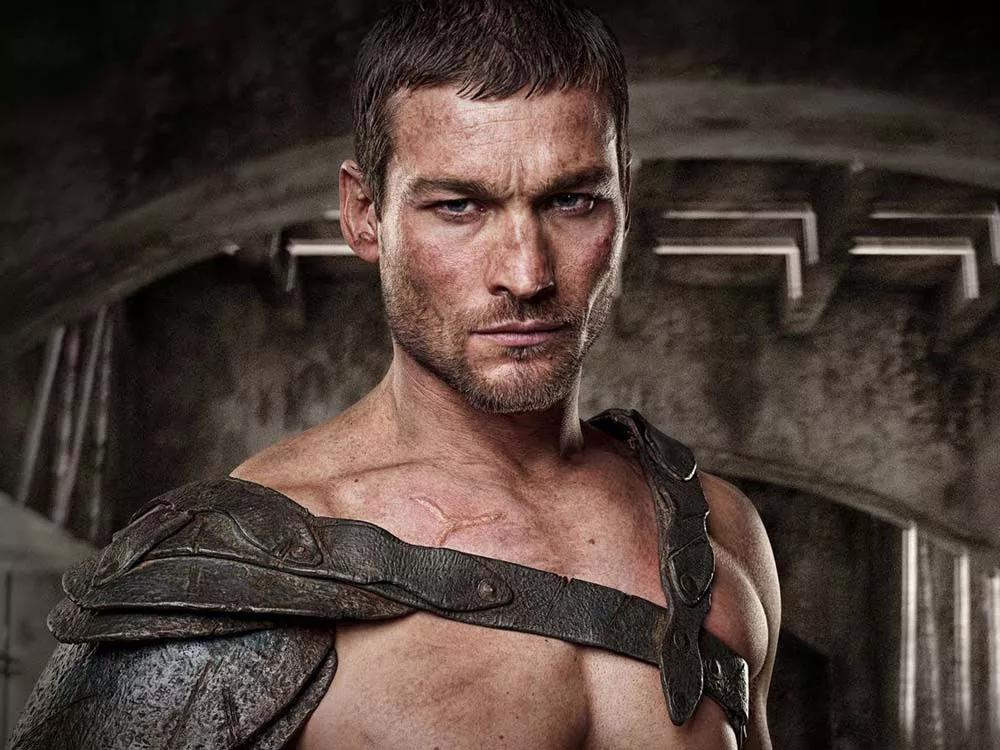 The first-season DVD of this Starz cable television series could be more aptly titled Spartacus: Blood and Porn. Sand? Who's looking at the damn sand when the screen is filled with ripped, naked gladiators and luscious naked babe-lets?
Once sci-fi geeks see Lucy Lawless in naught but a merkin, there is no going back to Xena.
Merkin?
"It's a pubic wig," Lawless helpfully explains in a hysterical interview (check it out on our blog) before last year's Comic Con.
There are enough of them in Spartacus that "they are like all these little beards [pinned to the wall] in the makeup trailer," Lawless laughs.
This, er, stripped-down version of the Spartacus story has about as much to do with slave rebellions and human rights in ancient Rome as Mad Max: Beyond Thunderdome had to do with the development of methane-derived fuels: not a lot of facts, but still a whole lot of fun.
In the pilot for Spartacus, we are introduced to Andy Whitfield as a nameless Thracian up-and-comer who convinces his leaders to help the Romans attack some local evildoers — the Getae. Thanks to a supercilious and selfish Roman commander (and, oh, aren't they all?), things go sideways. The Thracian's village is destroyed, his sweetie is ripped from his arms and sold into slavery, and he's tossed into an arena to be killed by four gladiators.
But guess what? with 12 more episodes coming, the lean and wolfish Whitfield rises from the verge of death to defeat — nay, slay! — the gladiators, dismembering them in great gory gouts of gruesome blood.
He is purchased as a slave by a gladiator trainer, played by John Hannah (the Mummy movies and Four Weddings and a Funeral), and named Spartacus. Lawless plays Hannah's scheming wife.
It's a show that borrows heavily: there is CG and green-screen work that mimics the stylized 300 (stop-motion blood spray is as common as merkins), elements of Gladiator, all the treachery and backstabbing of Rome and enough "two men enter, one man leaves" scenarios to add another reel to Thunderdome.
Pollex sursum (thumb up)!