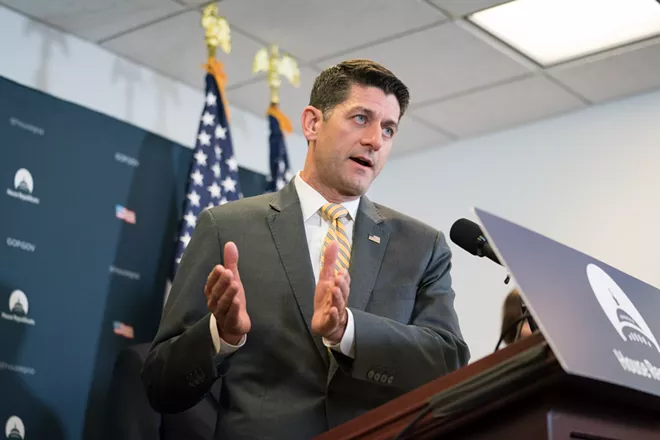 By NICHOLAS FANDOS
© 2018 New York Times News Service
W
ASHINGTON
— House Speaker Paul Ryan agreed on Wednesday that the FBI did nothing wrong by using a confidential informant to contact members of the Trump campaign as it investigated its ties to Russia, contradicting President Donald Trump's assertions of a broad conspiracy by federal law enforcement.
And he warned that Trump should not try to pardon himself, despite Trump's assertion two days earlier that the president has the power to take such a step.
"I don't know the technical answer to that question, but I think obviously the answer is he shouldn't," Ryan told reporters. "And no one is above the law."
Ryan's warning is another sign that the president is starting to face trouble on Capitol Hill with members of his own party. From international trade and China to immigration and the conduct of his Cabinet, at least some Republicans are beginning to dissent. Sens. Bob Corker of Tennessee and Patrick J. Toomey of Pennsylvania are vowing to attach legislation to a must-pass defense policy bill that would roll back tariffs on steel and aluminum produced in Canada, Mexico and Europe.
Iowa's two Republican senators, Charles E. Grassley and Joni Ernst, came out swinging this week against the Environmental Protection Agency administrator, Scott Pruitt, whom Ernst called "as swampy as you get."
But for Republicans, no issue is more divisive than the Justice Department probe into Russian interference in the 2016 election. Trump has seized on the disclosure of the use of an informant to claim, without evidence, that federal law enforcement officials had improperly placed a spy in his campaign "for political purposes." He demanded a Justice Department inquiry of the matter and dubbed the matter "SPYGATE" in repeated posts on Twitter.
Ryan became the highest-ranking Republican to throw cold water on that interpretation, which Democrats and former high-level law enforcement officials have claimed is part of an unrelenting effort to discredit the ongoing investigation into Trump and his campaign. Ryan backed Rep. Trey Gowdy, R-S.C., who led the House's politically charged investigation into the 2012 attack in Benghazi, Libya, but infuriated some Republican partisans by rebuffing Trump on "Spygate."
"Chairman Gowdy's initial assessment is accurate, but we have more digging to do," Ryan told reporters at a news conference Wednesday.