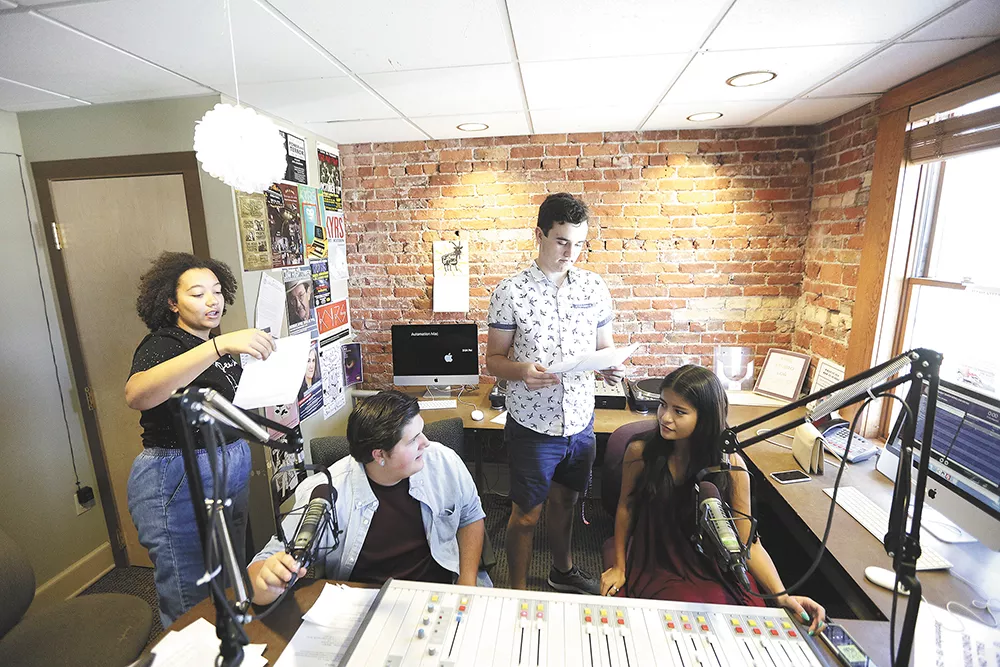 I t's a hot summer afternoon, and the Raise Your Voice teenage hosts have some guests in the studio as they broadcast their weekly show on KYRS radio from Spokane's Community Building.
That's not unusual. The hour-long show's seven rotating DJs regularly welcome community members to discuss a range of issues affecting teens in the Inland Northwest and beyond, as well as doing shows simply packed with music. These visitors, though, are 10 Italian exchange students in Spokane to learn about media and American culture.
The conversation doesn't come easy. The students are still polishing their English and the local kids have to go on the air between giving the Italians a tour and answering a few mumbled questions. A connection finally comes via the sounds of Italian-French singer Carla Bruni's "Quelqu'un m'a dit" wafting from the studio's speakers. Smiles of recognition cross a few Italian faces at a song they recognize from home. Just like that, strangers with little in common beside their ages have a bond through the power of radio.
Forging connections between teens, and with their communities, is the heart of the Raise Your Voice program, now in its 10th year, even if it typically doesn't have this day's international flavor.
Kimiko Hirota, a recent Shadle Park High School grad heading to Stanford in a few weeks, says the faith the station puts in the teens running the show translates into hosts being able to connect with different parts of Spokane.
"They're giving you so many opportunities and so much trust," Hirota says. "It exposes us to the community and Spokane, and gives us some kind of legitimacy to go out to other communities and say, 'Hey, we want to build that bridge with you.' As a teenager, I don't feel like you get to do that everywhere."
Hirota got involved with Raise Your Voice when some of the show's hosts saw her performing poetry a couple of years ago at what is now Spark Central and approached her about applying. She wasn't particularly interested in radio, but she visited and everything changed.
"They were doing a show right after Michael Brown and that whole situation (in Ferguson, Missouri), and I think they were expecting me to just sort of watch the show. I ended up taking over one of the mics and taking part. That's when I knew I wanted to do this."
That ability to engage on serious issues was part of the appeal of joining Raise Your Voice for Dylan Houghton, although the 16-year-old Shadle High junior admits with a joke, "I've always wanted to be a star." He and Hirota are part of the Raise Your Voice teen team that also includes Ben Read, Gavyn Fees, Monica Ionescu, Elle Collins and Raven Smith.
Together, typically working via text message, social media and shared Google docs, the hosts plan episodes and playlists, and do promotional work and odd jobs around the station like helping with fundraising and volunteering at events. The focus, though, is on that one hour a week when they go on the air to spin their favorite songs or tackle a hot-button issue with interviews and discussion.
"Whenever there's a big issue, we want to get people in and talk about it, and what they're feeling," Houghton says. There have been shows dedicated to Black Lives Matter and local gentrification in recent years, and guests including Black Lens editor Sandra Williams and local teen activist Ava Sharifi.
"It's good for us, because sometimes people are just like, 'Oh, you're just young. You're a kid. You don't have to worry about these things,' when really, this is the society we're inheriting," Houghton says. "We want to reach out and educate ourselves as well as our listeners."
Jeri Kopet was one of the first hosts when the show launched a decade ago before she took off for the University of Washington after graduating. When she moved back to Spokane in 2012, she was "so elated that it had stayed alive." Kopet now co-hosts a feminist-centric show on the station called "F Yes!" and credits her experience as a teen host with introducing her to Spokane people passionate about their community.
"The show really strengthened my burgeoning belief that you could make a difference as an individual," Kopet says. "And it really spurred me to become more active in movements I cared about, like supporting progressive sex ed and feminism."
For host Raven Smith, KYRS offered her a way to get to know Spokane when she moved here about a year ago. The Ferris High junior volunteered in the music library when she couldn't find a part-time job. Hearing Raise Your Voice on the air, she joined the crew and now has friends from different schools across the city.
"It was really cool to get those connections with other schools that I wouldn't have had," Smith says. "Before, my life in Spokane was at home on the South Hill, but now it's like I'm a downtown dweller."
While the hosts change regularly as they graduate and move on, the connections they make with each other, the community and teen listeners continue. And it might inspire them to keep doing radio; Hirota is going to visit Stanford's college station when she gets there, and Smith might pick her college based on its radio possibilities. But even if they don't ever do radio again, Raise Your Voice will stick with them.
"I'm going to miss it because it was a good release at the end of the week," Hirota says. "I get to be with my friends, and we're playing good music or having a good discussion. That's what's great." ♦
Raise Your Voice airs every Friday at 3 pm on KYRS 88.1/92.3 FM, and streams at KYRS.org.