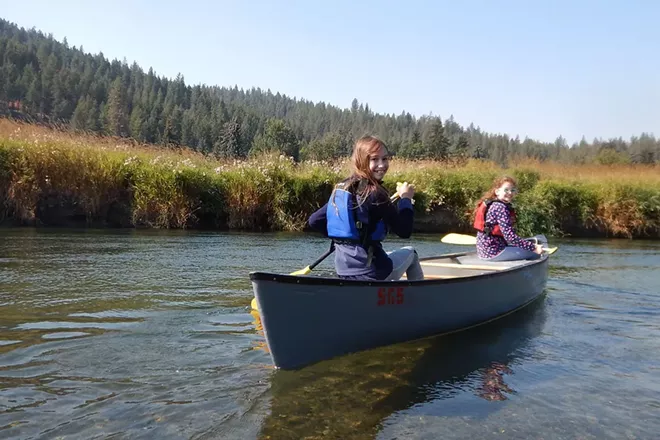 Lutherhaven Champ Camp
Kids and youth with special needs can experience traditional sleepaway camp activities including swimming, hikes, arts and crafts and more in a faith-based setting. Ages 8-21. June 23-28 (ages 8-21) and June 30-July 3 (ages 18-21). $284-$384. lutherhaven.com 866-729-8372
Stuttering Management Workshop
An intensive one-week treatment program for adolescent stutterers, designed to teach them how to manage and control stuttering and to manage the emotional response to stuttering. June 22-29. At EWU Spokane. Contact director Kim Krieger to register: KK505@AOL.com.
Camp STIX
Children and teens with diabetes enjoy a week of traditional camp activities including rock climbing, archery, zip-lining, swimming and more. Ages 9-18. June 23-29. At Camp Reed. $900 (scholarships available). campstix.org
Funshine Day Camp
A day camp for children and adults living with developmental and/or physical disabilities, offering recreational activities such as swimming, sports, games, field trips and more. Ages 6-21. Weekly sessions offered June 24-Aug. 9, meets Mon-Fri from 10 am-3:30 pm. Adult session (ages 18+) July 22-26. At Shadle Park. $199/week. spokanerec.org 625-6200
Camp Sweyolakan: You Bet I Can!
A traditional rustic resident camp for boys and girls on Lake Coeur d'Alene, accessible only by boat. Camper Buddies assist campers with disabilities in swimming, boating, outdoor activities, ropes courses, arts and crafts and more. Ages 6-21. Six week-long sessions (Sun-Fri) offered: June 27-July 2, July 7-12, July 14-19, July 21-26, July 29-Aug 2 (M-F) and Aug 4-9. Space is limited. $400-$475. campfireinc.org 747-6191
Adaptive Summer Adventure Camp
A three-day experience of outdoor recreation activities for youth with physical disabilities. Youth will learn to rock climb, play disc golf and kayak/paddle on flatwater. Ages 8-15. July 1-3. $149. spokanerec.org
Camp Goodtimes
A camp medically-supported by pediatric and oncology physicians and nurses for children affected by cancer. Highlights include college sports team visits, the tie-dye extravaganza, bass fishing day, and a host of typical camp activities. Ages 7-17. July 8-12; day and resident options. At YMCA Camp Reed. Free for qualifying children. ymcainw.org 777-9622
Camp Dart-Lo: You Bet I Can!
The wooded day camp on the Little Spokane River offering outdoor activities, swimming in outdoor pools and more. Camper Buddies assist campers with disabilities. Bus transportation is offered from four Spokane locations. Ages 6-21. Sessions July 15-19, July 29-Aug. 2 and Aug. 12-16. Space is limited. $225. campfireinc.org 747-6191
Camp No Limits
A traditional summer camp designed specially for children who have experienced limb loss, hosted at the Camp Cross facilities on Lake Coeur d'Alene. Ages vary. July 16-19. $500 (assistance available). nolimitsfoundation.org 207-240-5762
Camp Chmepa
A traditional sleepaway camp for children who are grieving the death of someone close to them, offering a safe place for openness, friendship and understanding. Hosted by Hospice of Spokane, at Camp Lutherhaven facilities. Ages 7-15. July 19-21. Free, space is limited; families must apply to attend. hospiceofspokane.org
Camp Journey
A sleep-away camp experience at Ross Point camp facility for children diagnosed with cancer (other criteria applies; see website), and offering traditional activities such as swimming, arts and crafts, archery and more in a medically-supervised environment. Ages 7-17. July 28-Aug. 3. Resident and day (July 29-Aug. 1; 9:15 am-4 pm; ages 5-7) options available. No cost. rosspoint.org/camp-journey
Camp TWIGS
A day camp for kids with diabetes, during which they'll participate in activities and meet other kids their age who also have diabetes. Ages 6-8. Aug. 2-4, at Camp Dart-Lo Spokane. Cost TBA. campstix.org
Beats and Rhythms Cardiac Camp
A medically-supervised resident camp for children with congenital heart disease, who can enjoy traditional camp activities, including outdoor activities, crafts, team building exercises and more, in a safe medically supervised environment. Ages 9-15. Aug. 8-11. At Ross Point Camp facilities. No cost. beatsandrhythms.org 474-6725
Lutherhaven Family Champ Camp
A weekend for families who have a child (or children) with developmental or physical needs. Activities including swimming, hikes, arts and crafts and more in a faith-based setting. Aug. 9-11. $70-$110. lutherhaven.com