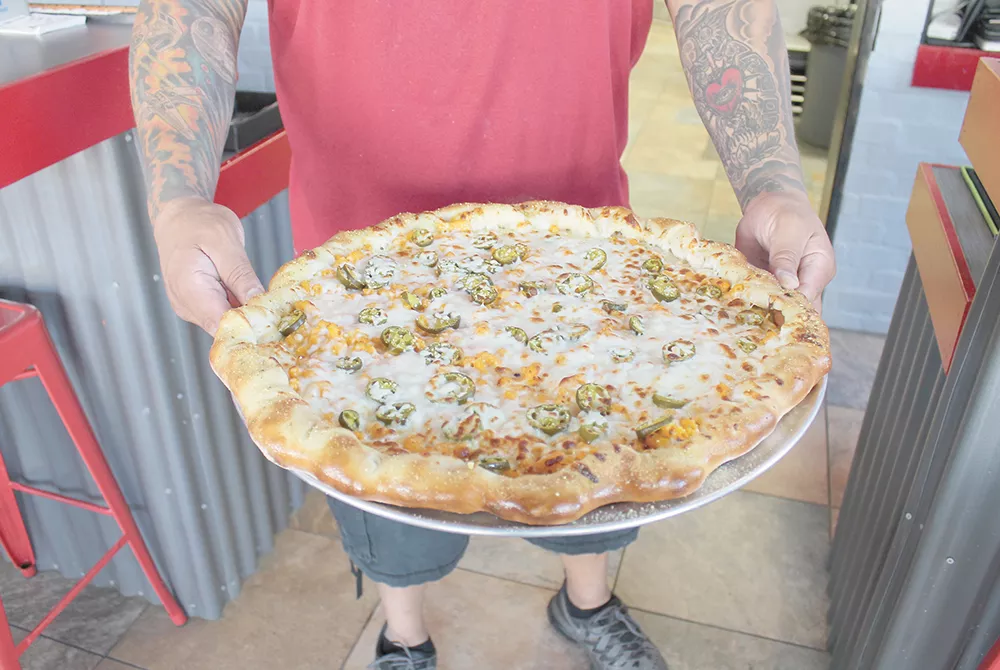 When you're near Gonzaga's campus, a new spot with blue walls, bright-red stools and a signed basketball above the bar can only mean one thing — a new place to watch Zags games.
Revolver Bar & Lounge owners Romeo Villaro and Amanda Haines are accustomed to heading into work when the bar opens at 5 pm, but having four kids, the couple wanted to open a place they could bring the kids in to visit. So a few weeks ago, they opened a family-friendly pizza place — Slice Pints & Pies.
"We want to support the community and the school," says Villaro. "And we also want to be a place where everyone can bring their families and enjoy food or a game together."
Slice serves wings, garlic bread, pizza by the slice, traditional pies and a list of specialty pies that Haines, Villaro and Josh Davies created. Wings and garlic bread are still available on the late night menu when Slice becomes 21 and over at 10 pm.
"We want to focus on food first, so we all made a list of specialty pies that are pretty unique," says Villaro. "Josh came up with this Return of the Mac covered in mac and cheese, jalapeños and a crust stuffed with Little Smokies sausages that a bunch of people have been ordering."
Other pies include an eggs Benedict-inspired pie and the Thai Breaker, a chicken, shrimp and onion pizza with peanut sauce, covered in crushed peanuts. Slice's happy hour (3-5 pm every day; all day on Sunday) offers discounted drinks, half-price pies, $1 slices and a $5 beer-and-a-slice special.
With covered umbrella seating, benches and large picnic tables, the patio will soon have a projector to show late night movies. There are also plans to add a projection screen inside to show games alongside the two TVs.
Slice hosted an Afroman concert in the parking lot to celebrate its grand opening last month. Villaro says they plan to host more events co-sponsored with the Viking, along with a DJ on the patio during weekend nights.
"Our four kids obviously can't come in and visit us at our other spots," says Villaro. "But they were actually able to come in and eat lunch here the other day. Now that was awesome."♦
Slice Pints & Pies • 829 E. Boone • Open Mon-Sun, 11 am-2 am • Facebook: SLICE Pints and Pies • 241-3001