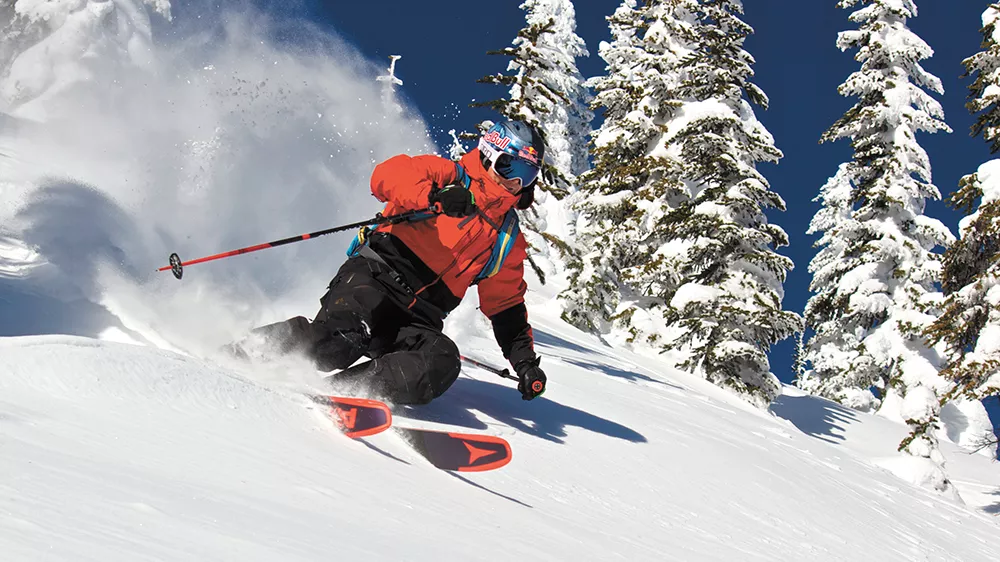 When it comes to going fast and putting it all out on the line, former American downhill skier Daron Rahlves comes to mind. To say this guy likes to go fast is an understatement. Retired from ski racing, Rahlves — or, as his friends call him, D-Money — is America's most decorated skier in Downhill and Super-G, with World Cup wins, World Championship medals and first- and second-place finishes at the legendary downhill race at Hahnenkamm.
Rahlves, his wife and two children live north of Lake Tahoe, California. Rahlves is hard to pin down as he's always on the go. If you want to find Rahlves, he can usually be found reaping the benefits of Tahoe's natural playground. Whether it's skiing at Sugar Bowl Resort, ski touring the backcountry on Donner Pass, waterskiing at 6am or racing his dirt bike in a hare scramble, Rahlves is out there pushing himself. Here's a guy who loves the feel of wind in his face.
After 12 years of ski racing for the US Ski Team, Rahlves stepped away from the competitive World Cup Ski Racing Tour.
"I had this great career in the ski racing world on World Cup. Traveled around the world, mostly in Europe as a downhiller, I ran some Super-G and GS. I was kind of getting burned out from the travel and just doing the same thing. I think over the years I made a transition, I wanted to find out more about the sport of skiing, the different aspects of it. I decided I wanted to walk away from ski racing at the top of my game, healthy, on my own terms."
Rahlves retired in 2006 but not long after, in 2008, he received an invite to participate in ESPN's Winter X-Games where he competed in and won X Games Gold in Skier Cross.
Starting back in 2005 Rahlves started filming with several ski film production companies like Warren Miller Entertainment, Teton Gravity Research and Matchstick Productions. Always pushing himself and wanting to experience new skiing challenges, Rahlves was introduced to big-mountain skiing, Alaska style. Rahlves ventured to Alaska with various film crews each spring and, as you can guess, he crushed it, taking on these Alaskan faces with power and precision. It was from Rahlves' 2009 Matchstick segment "In Deep" where Rahlves earned huge respect from the big-mountain community and was awarded, Powder Magazine's Line of the Year.
"I was pretty proud of getting the Powder Magazine best line of the year, up in Alaska," he says. "Just showed kind of my versatility I've taken from the racing world into some bigger mountain stuff."
I asked Rahlves how taking on a steep Alaskan face is similar to ski racing. "When I raced I always liked the more challenging tracks. It's a little more, I wouldn't say dicey, but just a little more challenging," he says. "I've got to be focused a little more like taking on an Alaskan line, when you have stuff that's higher consequences. I think it elevated my performance and focus where I'm firing on all cylinders."
Daron Rahlves TV Story from Bob Legasa-Freeride Media on Vimeo.
As a young ski racer Rahlves always pushed himself to be better and that has carried on with him today.
"I've always felt like being a versatile athlete is great. Just immerse yourself in different things, you know, and challenge yourself. If you're really good at one thing, it's always good to check your ego a little bit and try something new and try and learn a new skill. I've always had a love for pushing it more."
It's really no surprise that riding Moto-X bikes is right in Rahlves' wheelhouse: "I grew up riding dirt bikes in the summertime. To me, it's as close as I can get to downhill racing with that sort of rush. The start, blasting off the line, going for the first turn and chasing guys down. Scrappy and speed feels good, when you're going fast in anything you do, the more you have to be on top of your game and the hare scrambles or desert racing is awesome because it's really high-speed. There's technical sections, it's really similar to skiing."
At 43, Rahlves is still heavily involved in the ski industry, working closely with his sponsors as an ambassador for both Red Bull and Sugar Bowl Resort or designing and testing equipment for Atomic skis, Giro helmets and Reush gloves, where he has his own signature glove, The D-Money Glove.
Throughout the winter Rahlves can usually be found skiing with his family at Sugar Bowl Resort or in the Tahoe backcountry, enjoying his newly found ski passion: backcountry ski touring. "I still like to race gates, I still spend a lot of time inbounds, but I kind of like to go out and earn my turns a little bit and get a little more immersed in the feeling of being in the mountains. Tahoe has an incredible amount of terrain to ski and so backcountry touring has been a big kind of focus of mine the last couple of years. When you're hiking around and skinning you're able to look at everything and take it all in."
Skiing has been a generational thing for Rahlves.
"My grandparents were skiing, my parents were skiing. That's how my sister and I got involved in it," he recalls. "Now I have 9-year-old twins and have passed on that sort of love and passion for this sport I've been doing as a career. They were on skis at 3."
Last Christmas, Rahlves took his son Dreyson on a short inbounds ski hike at Sugar Bowl. "We hiked up and got some fresh tracks. He was a little bit like, 'Ah, we have to go that high?' We got halfway up and he was all pumped like, 'We're almost there let's keep going!' He got sick turns. It was just that moment that was really cool, to be able to share that with my own kids."
For a man that has always gone full throttle, it's nice to see Rahlves slow down and take in what's most important to him, family.
"I think after having kids it helped me open up and be willing to share more," he says. "Now I'm just kind of the mellow daddy skier out here finding fresh lines and skiing with my kids."♦