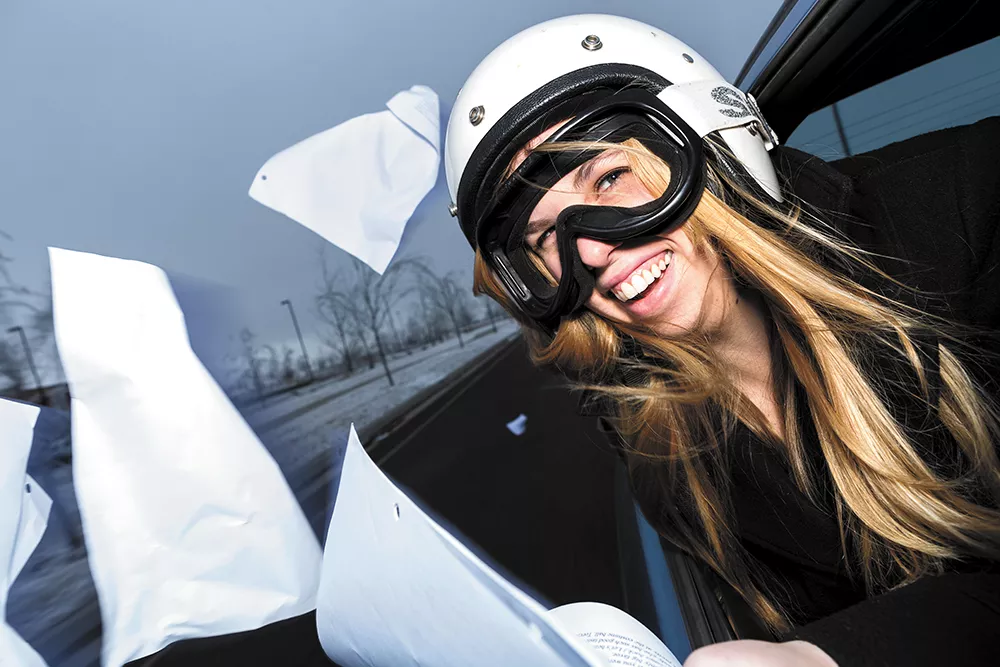 Every creative medium has a special place for brevity. Writing has its "micro-" forms, TV and cinema have their shorts, music its jingles and ditties, visual art its sketches. In theater, there's the one-minute play.
When it comes to consuming these bite-sized works, the play is the only one that presents any real hurdle. All the others can be enjoyed conveniently — on your tablet, in a magazine, over the radio. For the 60-second morsel of live theater, which would involve making your way to some performance space, the ratio of effort to entertainment would seem fairly disproportionate.
The solution, then, is to present one-minute plays as part of something larger. An opener for a conventional play, perhaps. Or better yet: a festival like Fast and Furious, brainchild of local playwright and director Sandra Hosking. Sixty roughly one-minute plays are set to be performed back-to-back.
"I've seen short, short theater done before through this thing called No Shame," says Hosking, who's also the playwright in residence at Stage Left Theater, where Fast and Furious will be held. "It started in Roanoke, Va., [and] it all began as staged readings of theater that was written on the spot in the back of a guy's truck in a parking lot. Some would be five minutes long, but most would be less."
This isn't Hosking's first experience with short plays or festival organization. In addition to having penned several short-form plays of her own, she led Hit and Run, an annual reading of 10- and 15-minute comedies, now in its eighth year. Hit and Run started in the mezzanine of Auntie's bookstore and has since grown in popularity, filling larger spaces like the Blue Door Theatre.
For its inaugural year, Fast and Furious will be limited to a staged reading, which means the cast will perform without many (or any) props and with scripts in hand. Hosking says there's a possibility that the festival will put more emphasis on full productions in the future, but that its presentation as a staged reading shouldn't diminish the impact of the performances, particularly given the quality of the 26-member cast.
"A lot of these people have been doing theater all around the Spokane/Coeur d'Alene area for quite some time, especially Ron Ford and Penny Lucas," she says. "A few of [the actors] are with the Blue Door ... so this will be interesting for them because it will be scripted material, not improv."
Some of this year's plays — culled from a mix of personal requests and a call for scripts that went out roughly six months ago — include submissions from as far afield as Wales. In addition to Hosking's own One Minute More and The Lye, two further plays from local writers will be among the mix: Writer's Block by Mike Noel and The One-Minute Life by Brian Cheney. Hosking is looking forward to Philip Kaplan's The Gatekeeper, a comedic monologue about a man on the phone with his boss' little daughter, as well as Shakespeare for Toddlers by Leon Kaye, which "somehow turns into a reenactment of Julius Caesar."
"I have no idea what kind of amazing things are going to come out of this event, but that's what I wanted to see — what would happen when you take 60 plays that are only a minute long. It's a great challenge for these actors," she says. "They're going to have to use all their acting skills, all of their repertoire to do this." ♦
Fast and Furious • Fri, Jan. 31 and Sat, Feb. 1, 7:30 pm • $5 • Stage Left • 108 W. Third • spokanestageleft.org • 838-9727