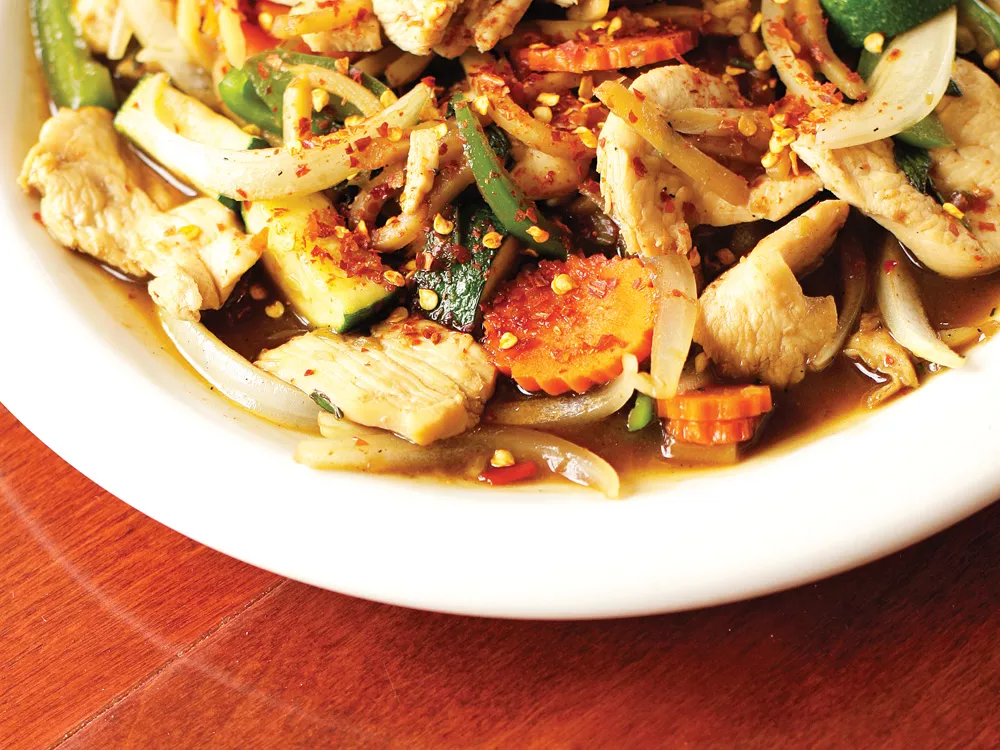 Turns out, spicy-food freaks are actually hooked on getting high.
NPR ran a story in 2006 called "Kids Love Hot Cheetos But Schools Hate Them." At first blush, the story is entirely laughable. The radio report explored "a red menace that is sweeping the nation," otherwise known as Flaming Hot Cheetos. Pasadena schools had been banning the spicy snack not out of concern for nutrition, but because of the disturbing behavior that had developed around the Cheetos — the kids had begun to use them.
"They're my favorite. When I eat Hot Cheetos, I get crazy," said an unidentified elementary school student in the broadcast.
The "I get crazy" part is what had adults wringing their hands. The children had created a pseudo drug culture, even proudly sporting the red powder on their clothing. Although Cheetos are hardly illicit, the kids' reaction to them actually has scientific merit. The spice in those Cheetos was literally making them high.
Consuming a hot pepper sets off a chain of chemical reactions in the body. According to the Chili Pepper Institute at New Mexico State University, peppers contain compounds known as capsaicin, which you recognize by the burning sensation it causes. The human body responds to that burning sensation by releasing endorphins, creating similar feelings to the ones you'd get from exercise or an orgasm. This is the high.
And I want it.
Overwhelmed with my own frustration and that of my spice-loving peers, I scoured the area to find spicy food. I tried all types of cuisine, looking for a place that could give us the heat we've been looking for, along with the flavor to match.
What I expected to be a simple journey to find the area's spiciest food turned into something else entirely. I walked away from it all with more than just a bottle of Maalox Advanced wedged in my purse.


"I cannot eat anything that's not spicy," says Rapeepun Smitamorn. "Let's say we go out to Italian food, and I end up having to go home and make something that's spicy … I'm so addicted on it. I can't live without it."
Rapeepun (Rah-pee-pune) and her husband, Pat Smitamorn, have owned Sala Thai (12924 W. Sunset Hwy.) in Airway Heights for five years. When they bought it from the previous owner, he gave them some well-intended business advice.
"What he told me was that American people don't like spicy food," says Pat. "I say, 'No, you got it all wrong. When they walk in here and they say they want spicy food, you don't water it down and make the assumption they can't eat spicy.'"
Rapeepun plops a pillow-sized bag of deep-burgundy dried chili peppers onto a table. Next to it she also places a much smaller baggy of bright red frozen chilis. These were the one change they made to the restaurant — using actual Thai chili peppers as opposed to the mild Chinese ones the previous owner used. They look identical, but the spice is different.
Each table has a small dish containing a powder and a spoon. Rapeepun and Pat say that this is the secret to their heat, although they add that customers often mistake the adjacent jar of bright red chili and vinegar paste as the spicier option. Pat makes the powder himself by roasting Thai chili peppers, known as phrik khi nu suan, for up to a week in the oven. He then grinds them into a powder.
Like many restaurants — Thai, Indian, Vietnamese — Sala Thai operates on a star system, with one star being mild and five being hot. One pinky-sized spoonful of Sala Thai's powder would equal one star.
Spicy food lovers have found some sanctuary in Sala. The couple have customers that come in and ask for 20, sometimes even 30 stars. While the star system is helpful for many, Rapeepun and Pat are fed up.
"In a way I'm kind of frustrated, too, because not everywhere uses it the same way," says Pat. "The other places they tone it down and they give people the wrong impression that they can handle spice. And we've got a pretty different standard.'"
Americans miss the point when it comes to balance. Thai food is simple, says Pat, but it is meticulously balanced.
"This is the uniqueness of Thai food, that it should have a combination of flavor," he says. "It's going to contain sweet, sour and salty. Those are the three main ones."


The second Sergio De Leon saw a woman fall to her knees at his Mexican grocery store, De Leon's Grocery and Deli (102 E. Francis Ave.), he burst out of his office and ran to her. The fallen woman's husband explained that she had dumped some of the store's infamously hot habanero salsa onto her food.
De Leon offered her water, but she said she'd already had some. It wasn't working. He ran to get her milk. When she got up to get some fresh air outside, De Leon sensed a problem. She immediately fainted. He called for an ambulance and thought about what he'd say to his brother Mario, who invented the recipe.
"I said, 'Please, don't make that salsa ever again,'" laughs De Leon.
The fresh habanero salsa is just one of the spicy dishes the store carries. De Leon uses family recipes to craft the cuisine they have in the deli. Spicy food addicts can pick up basic items like fried jalapenos, or more complex dishes like what De Leon describes as a "chicken fajita mixture" containing a multitude of peppers.
While the deli at De Leon offers up spicy options, the grocery side also holds a bounty for spice lovers. They carry over a dozen different kinds of dried chilies as well as Hatch chili, which is specially shipped in from its native New Mexico, making De Leon's one of the few places with it in the area.
De Leon peruses the bins of chilies and pulls out different kinds. The chipotle, he explains, is just a smoked jalapeno. Although they are commonly dried for easy storage, they don't have to stay that way.
"We boil them to hydrate them until they soften," says De Leon, adding that they frequently also use the boiled water to add additional spice to dishes.
Although he sells spicy food, De Leon himself isn't too much of a fan. In fact, he says the stereotype that Mexicans enjoy spicy food works against him.
"People assume that if you're Mexican, you like spicy food," says De Leon. Recently at a Chinese restaurant, he says his food was made extra hot because the cook made this assumption. The dish was so spicy he couldn't eat it.
Still, De Leon says Mexican cuisine and culture is ingrained heavily with spicy food. Children are introduced to hot cuisine through candy, which De Leon points out is usually fruit or tamarind-flavored and covered in chili powder. The combination is a huge seller at his store, and he says it's not just popular with Latino kids. All kids are into it.
It reminds me again of the grade-school Cheeto addicts in Pasadena.