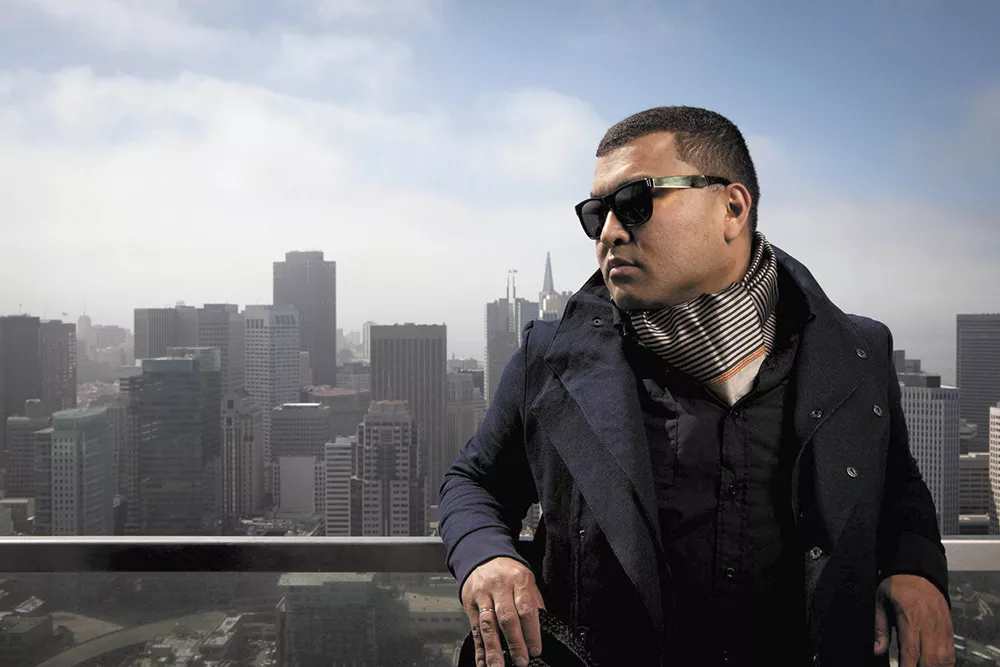 Even the most creative musical minds can find themselves searching for inspiration — and sometimes the hunt takes them really far from home.
For Lyrics Born, the Bay Area hip-hop maestro with a deep catalog of inventive songs and collaborations headlining Sunday at Elkfest, his latest effort led him to the Deep South. To make Real People, his first new solo album in five years, the man born Tsutomu Shimura recruited some of New Orleans' finest in Trombone Shorty, Ivan Neville and members of Galactic and the Preservation Hall Jazz Band to bring his new songs to vibrant life.
New Orleans has long attracted musicians from outside the Big Easy, artists hoping to tap into the musical and cultural crossroads as a means to spice up their own music with the city's zesty blend of soul, blues, funk and R&B. For Lyrics Born, the "informal, quirky, collaborative nature of the music scene" was just what he needed.
"As I make more and more albums, the challenge always becomes, 'What do I do that I haven't done yet, and nobody else has done'?" Lyrics Born says. "I knew I wanted to do something organic and live-sounding and feeling, and funky and folksy, but I've done that before. The answer was to do it with a New Orleans lean."
He already knew some of the Galactic guys and Neville, and met Preservation Hall's Ben Jaffe and Trombone Shorty through a process he says included almost instant chemistry in the studio.
That chemistry is obvious all over Real People, an album that defies easy labels. It's not purely hip-hop, but Lyrics Born's rapid-fire rhymes dot most of the songs. It's not straightforward funk or soul, although it's easy to imagine the songs going over great among fans of James Brown or the Stax Records sound. Essentially, anyone who can get into horn-heavy jams at a dance party — and that's most of us — will find a lot to love.
The challenge for Lyrics Born now is taking the sounds of Real People to the stage. Of course, for two decades he's been recreating and reimagining music he's made with artists like Blackalicious, Lateef the Truthspeaker, DJ Z-Trip and others in live shows that never fail to move a crowd.
While he obviously can't take all his Real People guests on the road — "Wouldn't that be just the dream band?" he says — Lyrics Born brings either a five-piece or 10-piece backing band with him, and prides himself on having a new spectacle every time an audience sees him: "I don't ever want anyone to come to a Lyrics Born show and think, "Aw, you've seen one show, seen 'em all."
Given that it's been a few years since Lyrics Born hit Spokane, those still standing for the last show of Elkfest will definitely get a whole new show compared to his last visit.
"I come out and play hard every time," Lyrics Born says. "I definitely always bring the same energy. I don't look at club shows or festival shows as different. But I love playing the big stage. And I love playing outdoors."
Sounds like Elkfest could offer as perfect an environment for Lyrics Born's new live show as New Orleans did for his new album. ♦
Lyrics Born at Elkfest • Sun, June 7, at 9 pm • Free • All-ages • 1931 W. Pacific • elkfestspokane.com • 363-1973
---
ELKFEST SCHEDULE
More than a decade in, this year's Elkfest once again brings three days of local and West Coast acts to the revitalized Browne's Addition for one of the most thrilling block parties around. While you may be tempted to simply show up in the afternoon and drink with your bros, realize the free festival is all about the celebration of music, and this year's lineup is no exception. For newbies, remember to bring plenty of cash (for food trucks and beer) and sunscreen, and to look out for people who want to crowd-surf to all the wrong music. (LAURA JOHNSON)
Friday, June 5
4 pm: Bossame (Spokane)
5:30 pm: Hey! is for Horses (Spokane)
7 pm: Rust on the Rails (Seattle)
9 pm: Robert Jon and the Wreck (Orange County, California)
Saturday, June 6
2 pm: Folkinception (Spokane)
4 pm: Pine League (Spokane)
6 pm: Megan Wilde (Seattle)
7:30 pm: Ayron Jones and the Way (Seattle)
9 pm: The Grizzled Mighty (Seattle)
Sunday, June 7
2 pm: Crystalline (Spokane)
4 pm: Left Over Soul (Spokane)
6 pm: Flying Spiders (Spokane)
7:30 pm: DJ Ahem (Sandpoint) w/ Don Da Vinci (Seattle)
9 pm: Lyrics Born (Berkeley, California)