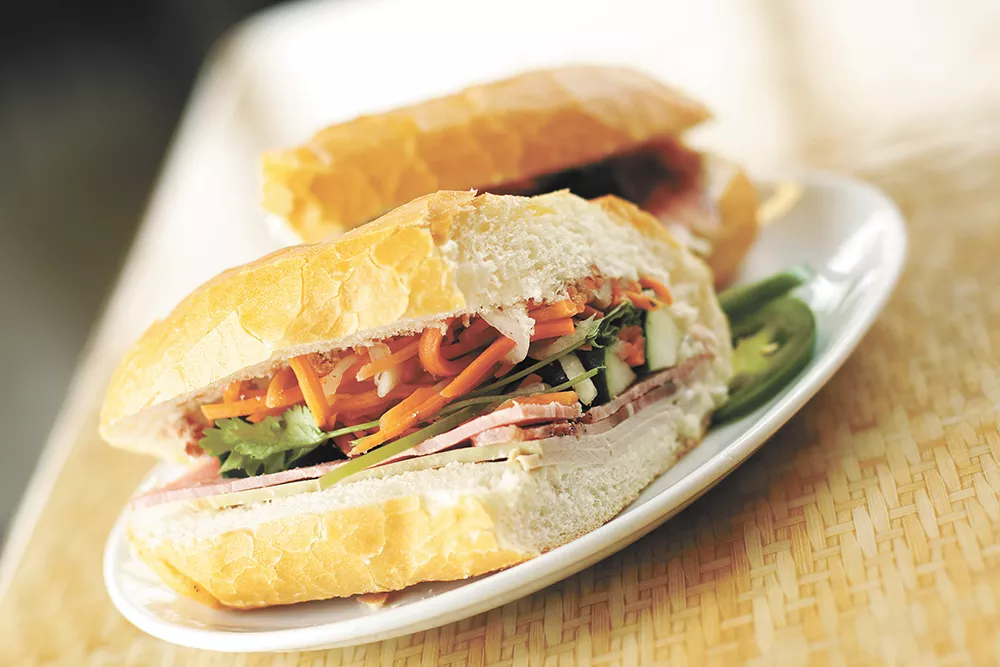 We're lucky in the Inland Northwest to have some outstanding Asian restaurants. Whether you're a fan of Chinese, Vietnamese, Thai or Japanese, there are great options stretching from Coeur d'Alene (Syringa is a must) to Airway Heights (D'Bali Asian Bistro has area foodies aflutter). Here are spots that deliver serious deals in soups, noodles and more:
Vien Dong,
3435 E. Trent, 536-6073
Vien Dong's prices are only part of the reason I followed them to their new location on the corner of Trent and Freya. The food is consistently fresh and delivered in impressively massive doses. While my go-to is a giant bowl of spicy pho, it's hard to resist the classic banh mi. The Vietnamese sandwiches are delivered on a large, soft roll and loaded with pickled carrots and daikon, cucumber, cilantro and jalapeno, along with toppings ranging from shredded pork to grilled chicken, tofu to the "combination" with ham, head cheese, páte, Vietnamese ham and mayo. All of them come in under $5.
Happiness American & Chinese Food,
3420 E. Sprague, Spokane Valley, 534-2525
At Happiness you get more options than your average lunch deal. Every special, served from 11 am-2:30 pm daily, comes with pork fried rice, a spring roll, fried wontons and a cup of soup. Then you add a heaping serving of one of more than 30 entree options, many available as main dishes throughout the day for less than $12. I had the kung pao chicken, and the spice was actually spicy, and the blend of chicken, peanuts and vegetables was proportional, tender and massive. Plan on leftovers.
QQ Sushi & Kitchen,
1902 W. Francis, 279-2721
My love of QQ's sushi means I don't explore the rest of the menu nearly enough. You can find great deals on chow mein ($8-$12) or traditional favorites like curry chicken ($6.50 at lunch). The one non-sushi choice I can never resist is the wonton soup. You've probably had a half-assed version elsewhere, but at QQ the broth has a deep, delicious flavor, and the pork dumplings make this a hearty meal. Even the cup-size serving ($3.50) is worth it.
Three Sisters Food To Go,
4003 E. Sprague, 241-3159
Don't confuse this Three Sisters with a relative's spot further east on Sprague, although they share some delicious flavors. This one is closer to downtown Spokane, and well worth a lunch run to get a flavorful bowl of chicken curry delivered on a bed of vermicelli noodles with fresh green and red peppers, carrots and onions. The curry spice is nice, and each table has chili paste and sriracha on hand. There are plenty of other cheap options, too, from seven kinds of banh mi ($4.25 each) to a wide array of stir-frys and pho.
Red Dragon Hillyard,
3011 E. Diamond, 483-6700 (second location at 1406 W. Third)
The traditional Chinese favorites at Red Dragon have something to satisfy everyone from selective vegans to omnivorous carnivores, and it's a cool, welcoming spot in Hillyard. Happy hour helps, available at Red Dragon and the adjacent Ruby's bar (you can get Red Dragon's food there, too) from 2-5:30 pm daily. You get a dollar off all bottles and draft beer, as well as well drinks and wine. If you lean in to Red Dragon's deep-fried goodness — the crispy teriyaki was breaded and delivered in tot-like nuggets drenched in teriyaki sauce — you're going to want a pop to wash it down. The Pick Three Combo offers no less than 21 options. ♦