LAURA JOHNSON
Inlander Music Editor
10. Lake Street Dive: Bad Self Portraits
9. Jenny Lewis: The Voyager
8. alt-J: This is All Yours
7. Mac DeMarco: Salad Days
6. Doug Paisley: Strong Feelings
5. Jessica Lea Mayfield: Make My Head Sing
4. TV on the Radio: Seeds
3. Cloud Nothings: Here and Nowhere Else
2. Conor Oberst: Upside Down Mountain
1. Big Freedia: Just Be Free
Every song on Big Freedia's recent release is about shaking your body, a continuation of previous booty-movin' efforts. Sometimes the artist (born Freddie Ross) directs you to "wiggle" or "jump on it" or "go crazy," but it's all about getting up and dancing. The music, a strain of New Orleans hip-hop called bounce, is so refreshing because of its simplicity. Drum machine, sirens, yells, and claps provide the firm foundation for Freedia to rap/shout over in a very repetitive manner. In a world full of music that's far too serious, this is the album to play when you just want to be free.
DAN NAILEN
Inlander Staff Writer
10. Ex Hex: Rips
9. The New Pornographers: Brill Bruisers
8. Spoon: They Want My Soul
7. Run the Jewels: Run the Jewels 2
6. Tom Petty and the Heartbreakers: Hypnotic Eye
5. Afghan Whigs: Do to the Beast
4. St. Vincent: St. Vincent
3. Drive-By Truckers: English Oceans
2. Lydia Loveless: Somewhere Else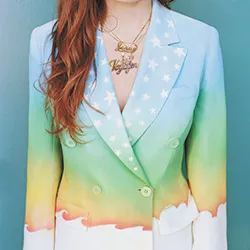 1. Jenny Lewis: The Voyager
Lewis' music lands at the nexus of indie rock, classic country and sunny retro-pop, and she easily avoids the danger of coming off too precious, with biting lyrics set in a darker, uneasy present than her rainbow suits and glammy L.A. background might suggest. Her third solo album comes on sonically like an easy-listening soundtrack to a summer convertible cruise (Beck and Ryan Adams are both on board as producers), but Lewis is excavating deep feelings about old breakups, family deaths and the reality of facing down 40 — issues that make it easy for young and old, male and female, to relate to where she's coming from.
SETH SOMMERFELD
Inlander Contributor
10. Posse: Soft Opening
9. S: Cool Choices
8. PAWS: Youth Culture Forever
7. Dude York: Dehumanize
6. La Sera: Hour of the Dawn
5. TacocaT: NVM
4. Angel Olsen: Burn Your Fire for No Witness
3. Sharon Van Etten: Are We There
2. St. Vincent: St. Vincent
1. Against Me!: Transgender Dysphoria Blues
If punk rock is supposed to give a voice to the brash, rebellious, maligned, and disenfranchised through unfettered aggression, then Against Me!'s Transgender Dysphoria Blues might just be the most punk album ever. The record serves as Laura Jane Grace's screamed declaration of arrival as an open and out transgender woman. Over the course of 10 unrelenting tracks, she says: "Here's who I am, here are the insecurities I've dealt with all my life, and I'm gonna kick in the teeth of any bigot who gets in my way." Against Me! turns explorations of transgender issues into catchy, anthemic sing-alongs and capture the heartbreaking anguish of being a true outsider.
GAWAIN FADELEY
Inlander Contributor/Musician
10. Old 97's: Most Messed Up
9. Blake Mills: Heigh Ho
8. Sturgill Simpson: Metamodern Sounds in Country Music
7. Future Islands: Singles
6. The Budos Band: Burnt Offering
5. St. Vincent: St. Vincent
4. Various artists: Country Funk II
3. The War On Drugs: Lost in the Dream
2. Jenny Lewis: The Voyager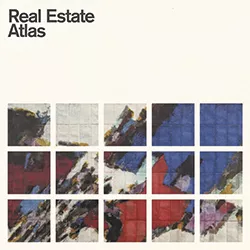 1. Real Estate: Atlas
I know the last thing we all need is another easygoing, white-dude guitar band, but these five fellows from north Jersey have something figured out. On this, their third LP, they've managed to solidify an immediately identifiable sound in the confines an all-too-familiar format, with an understated and limber rhythm section, an abundance of shimmering guitar hooks, and terrific, evocative songwriting courtesy of frontman Martin Courtney. The entire album, both lyrically and musically, plays like the soundtrack to that perfect summer afternoon back in junior year, driving the family station wagon down leafy suburban streets, the hazy light fading into the promise of the night ahead.
JORDAN SATTERFIELD
Inlander Contributor/Musician
10. Total Control: Typical System
9. St. Vincent: St. Vincent
8. Xeno & Oaklander: Par Avion
7. Tombs: Savage Gold
6. Kodomo: Patterns & Light
5. Angel Olsen: Burn Your Fire for No Witness
4. Boris: Noise
3. Swans: To Be Kind
2. Aphex Twin: Syro
1. FKA twigs: LP1
So far, this decade has been full of highly confident debut records — ones with both palpable density and graceful subtlety. The first full-length by English producer and songwriter FKA twigs is a prime example, an intoxicatingly sexual yet unapologetically dark record of trip-hop and electronic R&B. What it lacks in bombast it more than makes up for in staunch intensity and effortless class. LP1 is FKA twigs laid bare, a twisted but simple collection of elegant pop tracks with cavernous depth and a razor-sharp edge. For a record that is so hopelessly modern by virtue of its very existence, it also feels inescapably timeless. ♦
AZARIA PODPLESKY
Inlander Contributor
10. tUnE-yArDs: Nikki Nack
9. TV on the Radio: Seeds
8. How to Dress Well: What Is This Heart?
7. Esmé Patterson: Woman to Woman
6. Grieves: Winter & the Wolves
5. alt-J: This Is All Yours
4. Manchester Orchestra: Cope
3. Watsky: All You Can Do
2. Vance Joy: Dream Your Life Away
1. Thumpers: Galore
Try as I might, I couldn't get the debut album from the British indie-pop duo — featuring Marcus Pepperell (vocals, guitar and piano) and John Hamson Jr. (vocals, bass and drums) — out of my head this year. The Sub Pop-released Galore is just plain infectious, with vibrant keys, cheery vocals and an overall optimistic feel. There are more contemplative moments, like "Running Rope" and the call-and-response "Now We Are Sixteen." But with the one-two punch of group vocals and sing-along-ready choruses from "Sound of Screams," which isn't nearly as violent as it sounds, and "Unkinder (A Tougher Love)," along with the familial sense of the aptly titled closing track "Together Now," Galore is like an instant pick-me-up.♦