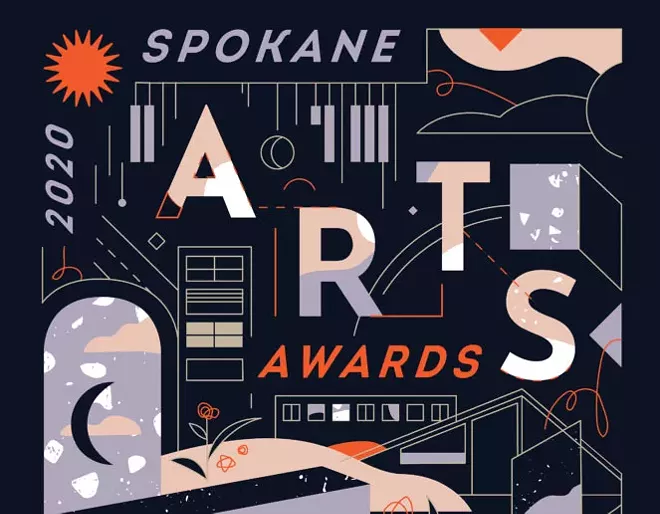 L
ike everything right now
, the Spokane Arts Awards will be a little different this year. They're still happening at Lucky You Lounge, but it will be a live-streamed broadcast rather than a big in-person to-do.
The organization isn't letting that stop them from throwing a serious celebration on Sept. 26, though. Besides awarding several worthy people and organizations for their work this past year (see the full list of nominees below), the award show will include author Jess Walter reading from his new book
The Cold Millions
, as well as poet/visual artist Kathryn Smith sneak peeking her new book as well. Emma Noyes is hosting the festivities and there will be live music, dance and more. Tickets are just $5, with the money going toward helping Spokane Arts pay the people involved in throwing the party, from the tech folks to the sculptor who created the actual, physical Arts Awards.
Visit spokanearts.org to get tickets.
Here's your complete list of nominees for 2020's Spokane Arts Awards, given in categories including: Collaboration, Imagination, Leadership and Inclusion.
Your Collaboration nominees:
Caleb Ingersoll
Carl Richardson
Fall Folk Festival
Feast World Kitchen
Kate Vita
Morgan Walters
Ryker Beard
Seven2 & 14Four
Stage Left Theater
Your Imagination nominees:
Amber Hoit
Desmond Boston
Justin Frick
Leyna Krow
Nefabit
Robert Sletner
Shantell Jackson
Spartan Theatre
Susan Webber
Sylvia Fountaine
Your Leadership nominees:
Ashley DeMoville
Bethany Taylor
Dean Cameron
Juan Mas
Marshall Peterson
One Heart Native Arts & Film Festival
Sam Moore
Sandra Williams
Spokane Public Radio
Spokane Chinese Association
Suzanne Ostersmith
Your Inclusion nominees:
Audrey Overstreet
Helen Parsons
Jeremy Whittington
June Sanders
Nickie Shek
Spokane Poetry Slam
Spokane Youth Symphony
Spokane Theater Arts Council