Sherry Jones loves to stand up to The Man. It's a recurring theme in her life, and in the life of the main character in Jones' new historical novel Josephine Baker's Last Dance.
Jazz music fills the background as light filters through the windows of Jones' West Central kitchen. A larger-than-life painted portrait hangs in her living room, a gift from her best friend who painted it from memory. A rambunctious chocolate lab, her daughter's dog, can't resist the excitement of a new visitor as Jones discusses her new work, and the long road that turned her into an author.
"I continue to challenge authority in my work, which was always important to me," Jones says.
Her mission to question the status quo comes in many forms — her historical novels, her past as a newspaper reporter, and her more recent involvement with Spokane-area National Organization for Women.
As an Air Force brat, Jones moved often while growing up, finding a home as a teen in rural Kinston, North Carolina. By 18 she was already working for the local newspaper in Kinston as a reporter. A longing to live in a big city drove Jones to Philadelphia. There, her journalism career was jump-started with political and investigative reporting assignments.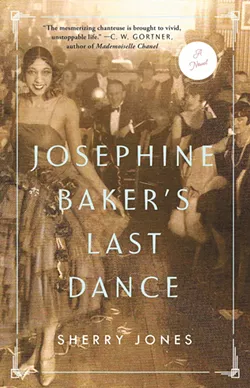 After following a guy to Montana, Jones worked for the Missoulian and freelanced. She never went to journalism school, instead learning the trade from "the school of hard knocks," as she says. However, she still wanted a college degree. Through the creative writing program at University of Montana, Jones emerged as a novelist.
Jones' first novel, The Jewel of Medina, was inspired by an essay she heard on NPR shortly after 9/11 about a Muslim woman who renounced her faith due to Islamic extremism and the misogyny that comes with it. Jones found that grounding a fictional tale in real history gave her an avenue to connect with readers that was different from either pure fiction or nonfiction. She's especially interested in making sure women in 2018 don't forget the struggles and progress made by women in the past.
"By choosing women from history to portray, I can help readers make connections between the past and the present and see what has changed and what has not — which unfortunately is mostly everything," Jones says.
The Jewel of Medina began as a project for her honors thesis and then morphed into a book everyone was talking about. Well, ranting about. The novel is told from the point of view of Aisha, one of the wives of the Islamic prophet Muhammed, with a feminist spin. A scathing review from an academic expert on Aisha caused Random House to drop plans to publish the book.
Then came the bombing.
A publisher in the United Kingdom picked up the novel only to be met with firebombs by a small group angered by the book.
"It was a really trying time, but on the other hand it was exhilarating because the controversy made the book so well-known and I had book publishers around the world who published it," Jones says.
Amidst the chaos surrounding her first book, Jones moved to Spokane in 2007 to be closer to her daughter. Eleven years later, she is still integrating herself into the community.
"I love the burgeoning arts scene here and I'm trying to be more a part of that," Jones says. "I've been so held up with my book for four years that I have not been very active in the arts community, but I've been trying to turn that around."
A sense of optimism in the city has kept Jones here, with the belief that one person can truly make a difference. She's put this to the test by helping found the Spokane-area chapter of the National Organization for Women. And Jones continues to use her reporting skills and instincts in her historical fiction — skills such as finding sources, researching information and maintaining the mindset to continue writing over a long period of time.
The hunt for a new story begins with biographies. She reads a few and sometimes decides she doesn't want to write about that person. She's driven by a love to get inside the heads of women who have achieved great things, despite all the factors stacked against them. All it takes is one event that catches Jones' interest and that becomes the opening scene in her book.
"Once I get the spark of inspiration, then I become obsessed with telling the story."
For the past four years, Jones delved into the life and story of Josephine Baker, an American performer who made it big in Paris, for her new novel Josephine Baker's Last Dance. At first she thought it was going to be a lighthearted story about the glittery jazz age of the 1920s in Paris, but she came to find a deeper theme.
"As I researched, I came to understand how much race defined Josephine Baker's life," Jones says.
She traveled to Baker's childhood hometown of St. Louis. She talked with one of Josephine Baker's adopted children. She read 10 biographies of her. Competing narratives and outlandish stories made it difficult for Jones to pin down the truth in Baker's life story.
"When you have more than one version of history to choose from, I think you end up choosing the one that fits into your narrative and supports your themes and your thesis," Jones says.
Jones believes that women of the past can teach women of today to achieve their own highest potential and to find their own power and strength. Baker was a performer — and also a World War II spy for the French Resistance, a pilot, a civil rights activist and a mother to 12 adopted children. The challenges of being a woman of color in the early to mid-20th century did not stop her.
"Her work for the French Resistance was in part inspired by her hate for the Nazis and the racism she experienced," Jones says. "Before she was recruited to do that she was already flying for the Red Cross and she was a pilot. She got her pilot's license, she was so kick-ass."
Jones feels Josephine Baker is such a compelling character that it's hard to decide who her next novel will be about. It will be hard to top a story as full and inspiring as Baker's.
"She remained true to her ideals throughout her life," Jones says. "She used her fame as a platform to promote racial equality, and she never let naysayers convince her to do otherwise. She sacrificed everything, even her home, to her ideals, and still emerged victorious. She was also one of the most talented, charismatic, and hard-working people who ever lived."
Beyond being a good read, Jones wants her book to contribute to the ongoing conversation about racism in America. She hopes readers will see that by acknowledging the racism of the past that affected Baker, we can work towards a more equitable and just society.
"I hope this book will awaken other people the way I have been awakened." ♦
Release party for Sherry Jones' Josephine Baker's Last Dance • Fri, Dec. 7, from 6-10 pm, includes music, Charleston lessons and readings from the book • 1507 E. Sprague • Facebook: Launch Party for Josephine Baker's Last Dance