The allure of metal goes beyond its shiny surface. It can be melted and poured into molds, pounded into thin sheets, and transformed into chains as thick as your wrist or as delicate as a strand of hair. Once freed from its earthly confines, metal becomes a seemingly magical ingredient, which appears in virtually every culture dating back centuries.
Artist Ruly Deen is particularly enamored of silver.
"Silver can be matte white or shiny, reflective bright, or it can be oxidized to a rich, deep black," Deen says. "It can be cast, which is my primary method, or it can be fabricated, which is a set of techniques I have been employing in my most recent work," she says.
In her new Raw Earth series, Deen forms the setting around stones such as pietersite, which has a characteristically stormy-looking surface, and larimar, a light blue stone reminiscent of water. The result is jewelry and other works that harken to an older time.
History and nature are two favorite inspirations, Deen says.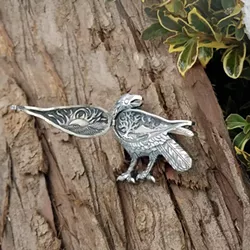 "I am also very drawn to symbol systems, especially those of ancient cultures, as diverse as Nordic runes to Greek alchemy," says Deen, who took her first metalsmithing class at age 12. By 16, she was earning money and en route to a bachelor in fine arts in metalsmithing from the University of the Arts in Philadelphia. "I find meaning in the marks humans make and share with one another and the way their interpretations change based on the culture where they are used. I collect the stories that are told to explain their shapes, and bring their emotional importance into my own interpretations." She calls this her "symbolic landscape" style.
Deen founded Silver Element Jewelry in 2011, yet she's been working and exhibiting in the community for much longer. Fans of the defunct Inland Craft Warnings, an annual juried show and sale that ran from 1983 to 2012, may remember her elaborately defined designs. Others may remember her former gallery space above Auntie's called Argentum Aurum.
She travels to select Northwest shows, including ArtFest and Art on the Green, as well Terrain's Winter BRRRZAAR.
Prior to the Northwest, Deen worked as head model maker for a large design supplier in Florida and on Philadelphia's renowned Jeweler's Row.
"I was lucky enough to be in several shops that had European masters as part of the team, and I picked up techniques from them that I still use each time I sit at the bench," says Deen, who works out of her home studio in rural Eastern Washington.
The bench is the jeweler's workspace. Deen has several: one for detail work neatly lined with small containers and tools and lit with two portable, adjustable lamps, as well as a bench for soldering with a small flame torch. Elsewhere are setups for polishing stones, grinding, and casting.
A separate part of the shop houses her woodworking area — Deen designs and fabricates her own jewelry stands — and a photography area she uses to document her designs.
Deen also maintains a showroom in Kendall Yards, where she meets clients and does special exhibitions around major holidays.
"One of the benefits of being a local artist is the opportunity to meet people who would like to incorporate their own love of nature with my 'symbolic landscape' style for a meaningful piece [of] wearable art," Deen says. "Sometimes it is a ring, but I have also created pendants or bracelets, and even, a bronze walkway plaque."