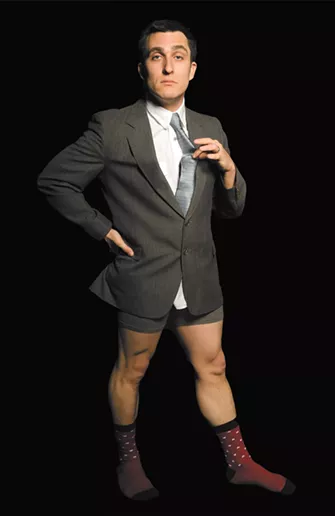 Behind the bright lights and glamor of show business there are, of course, myriad people working behind the scenes to make what happens on stage look great, and easy.
When you're talking about independent artists, though, the people hustling to do all the legwork of promotion and production are typically the same people who are on stage at show time.
That's certainly the case for Spokane comedian Phillip Kopczynski, who is recording an album Saturday at the Big Dipper. Not only is the 37-year-old headlining, obviously, but he also found the venue, booked his friend and mentor Harry J. Riley to open, hired models to serve as ushers and planned to have local recording studio Amplified Wax mix his album, post-recording. And all that effort to make sure the show comes off does nothing to help him actually hone his act for the stage, so he spent the weekends leading up to recording night bouncing between gigs in Tacoma, Richland, McMinnville, Oregon, and Fort Wayne, Indiana.
"The only opportunities you have are the ones you create for yourself," Kopczynski says over coffee at his Dishman Hills-area home. "Club gigs cancel all the time, other gigs cancel all the time. Stuff comes up and goes away, but if you're producing your own show, you're controlling it. I just feel like if you're going to be an artist of any kind, you just need to make your own projects."
That's a lesson Kopczynski learned early on, before he started doing stand-up, when he was a theater major at Whitman College in Walla Walla. It was there he realized that only the "weird-looking or exceptionally talented" actors could rely simply on auditions — most people had to start their own theater troupes, write their own plays or produce their own shows to do the work they wanted to do.
Kopczynski headed west after college and wrote for some small newspapers before returning to the Spokane area and going to work for his family's facilities-management business, a move that allowed him to start his own family with his wife, take care of his sister with Down syndrome and delve back into improv and community theater.
In the fall of 2013 he tried stand-up for the first time "and immediately started going up like five times a week" at places like Neato Burrito, Uncle D's Comedy Underground and Chan's Dragon Inn. He hasn't really let up since, although the list of places he goes up on stage has expanded well beyond Spokane through road trips he juggles with his day job.
"There are a lot of opportunities within a 300-mile radius, more than you think," Kopczynski says. "There's wineries, breweries, a lot of that kind of stuff. I'll go over to Seattle a lot just to stay fresh. I'll take a Seattle gig and people say, 'It's not worth it, you'll lose money,' but I'm exposed to a new audience, and it's a different demographic. I just want to see if my material is funny in front of a different audience."
While he does shows at places far from home, Kopczynski's job and family life likely will keep him in Spokane full time. Even so, he wants to continue to build his fan base and connect with fellow comedians and maybe, eventually, become part of what he calls "a small middle class of stand-up (comedians) out there who tour the country and never live in New York or LA."
"A lot of comedy clubs will pay big money (to established comics), but they can't afford to do that every week because it's a risk, so they kind of fill in with these working comics," Kopczynksi says. "It takes a while to build the material, because if you're not famous, man, you better be making people laugh. Your funniness better overshadow your lack of fame."
Recording an album — one he's already titled Hillbilly Glamorous — is a way for Kopczynski to capture the material he likes right now and have a new means to share his comedy online to binge-craving comedy fans. It's also a way to preserve this point in time in his comedy development, as some jokes will inevitably be retired as he continues writing new material geared more toward long, funny narratives than rat-a-tat jokes.
"My thing is, a comedian should be writing, creating and putting stuff out there, and if enough people find me and like it, they go and consume it," Kopcynski says. "Maybe you capture lightning in a bottle, but that's also just how you build a fan base." ♦
Phillip Kopczynski Live Comedy Album Recording • Sat, May 12 at 7:30 pm • $15 • All ages • Big Dipper • 171 S. Washington • phillipkop.brownpapertickets.com • phillipkopcomedy.com