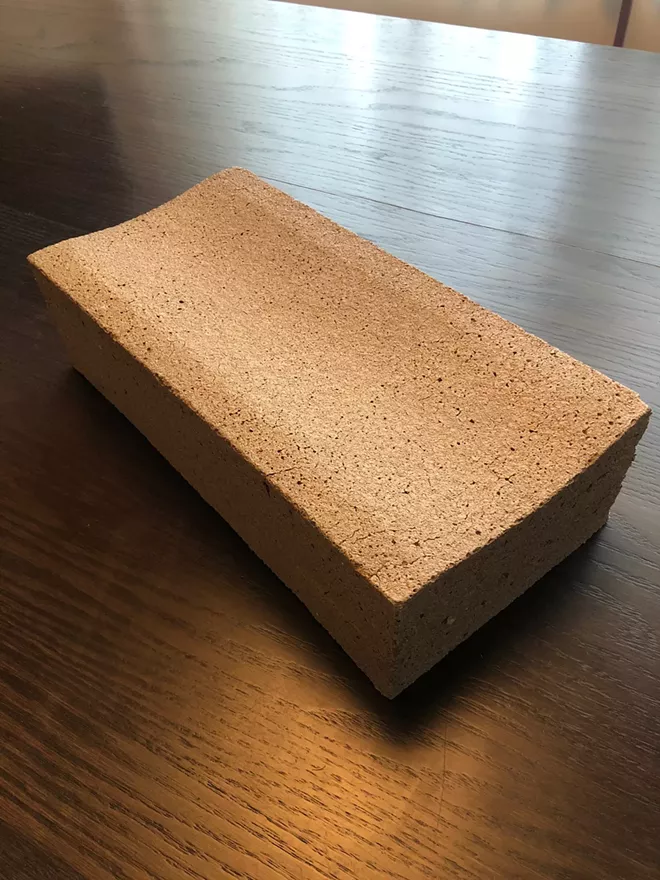 B
efore you learn about
the new building material designed by Spokane company AquiPor, cofounders Greg Johnson (CEO) and Kevin Kunz (vice president of market development) want you to know that their main focus is on helping conserve and keep fresh water clean.
All the fresh water that the world will ever have is already out there being cycled through ecosystems, so ensuring it's clean and available for people is a pressing issue, they say. Trillions of gallons of untreated sewage and storm water gets dumped into American waterways each year. Climate change is only going to make the issue more pressing as municipalities deal with pollution problems as well as supply concerns in coming years.
"This is an issue that's only going to be magnified not in decades, but in years," Kunz says. "We've got to deal with our water issues now."
About five years ago, Johnson and Kunz (who happens to be a cousin of
Inlander
publisher Ted S. McGregor, Jr.) started development of a new porous brick-like material that could help filter the stormwater that runs off our city streets and hard surfaces while simultaneously making an easier path for it to return into the ground.
What AquiPor eventually created is a porous building material that can be cast into different shapes as needed, and which the founders believe will have a lower carbon footprint than traditional concrete while functioning better than other porous materials.
Not only can the material create a faster path to groundwater and aquifers that rely on rain to be replenished, but it can also filter out pollutants and ease stress on municipal pipes and massive underground tanks that have had to be built over the years to prevent flooding and the dumping of pollutants into the environment, Johnson says.
"The chemical technology we're using is completely novel," Johnson says. "This material has microscopic pore space, so anything that is over three microns in size will simply filter to the surface where it can be swept up by street cleaning equipment."
It doesn't break down in the presence of salt and deicers, and having pore space that small also prevents the material from clogging up like many other porous materials meant for the same purpose, he says.
If used at the edges of streets in gutters and for sidewalks, the founders believe the AquiPor material could help cities save money and resources, as it can last potentially decades in place.
"We're developing it to be on par with traditional structural concrete to have a 30-to-35-year life," Johnson says. "But we think it could be much longer than that."
PROVING IT WORKS, GETTING INVESTMENTS
Last year, the two proved that AquiPor works the way they want it to by testing their prototypes to meet strict Washington state Department of Ecology standards in their own lab.
If the material can meet those standards under official tests (Johnson and Kunz are confident it can) AquiPor would meet what are generally accepted as the most stringent standards in the country for this type of material to help capture pollutants. That would make it very easy for cities around the country to accept it as a material as they plan around their own flood and stormwater issues.
While they're confident the material filters solids and doesn't clog, the two say more testing is needed to prove that toxins and concerning chemicals are captured by the process, too. In Spokane, the city spent hundreds of millions of dollars building underground tanks in part because stormwater runoff is a major source of PCB (polychlorinated biphenyl) pollution.
Many pollutants attach themselves to dirt and organic materials, Johnson says, so the team is eager to find out if the effective filtering of those particles also means that AquiPor can effectively prevent pollution from PCB and other chemicals.
After connecting with Inland Northwest manufacturers last year and establishing supply chains for the needed materials, the two are now moving onto the proof of concept stage.
AquiPor is seeking its next round of funding in a somewhat unique way: rather than go to venture capitalists, they're seeking crowdfunding in increments as small as about $250 through the platform
Start Engine
, which will allow individual investors to own a piece of the company.
"To us it's the perfect fit for what we're trying to do, because we are trying to solve big issues in the community," Johnson says. "There have been people following us, and this opens the door for everyday investors to be able to own a piece of the company."
Once they hit their next goal, capped at a little more than $1 million in crowd-sourced investment, Johnson says the company will test the product more this year, and after figuring out the kinks of scaling up production, potentially be ready to start taking projects next year.
"We lit the match, now we've got to nurture the kindling and get this thing burning," Kunz says. "It's just the beginning for us but we want to get it right."