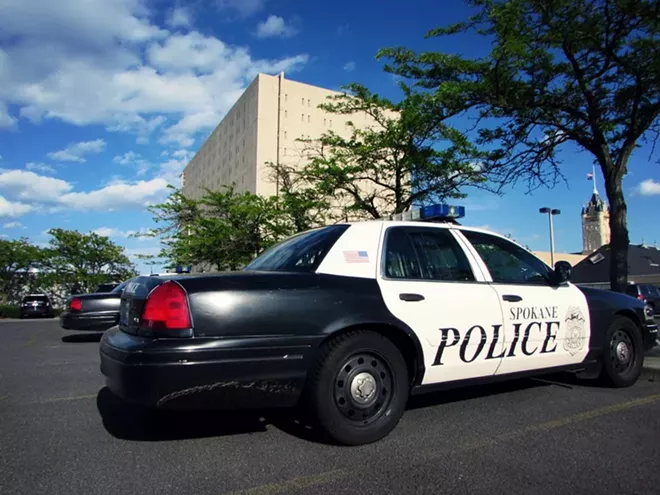 A
Spokane Police officer who shot and killed a suicidal man
last October won't face criminal charges, according to a Spokane County news release issued on Tuesday.
The Spokane County Prosecutor's Office, which reviews police shootings for potential criminal liability, cited the fact that the victim,
61-year-old David Shafer,
was armed at the time, did not respond to police commands to drop his weapon and pointed it at Spokane Police Officer Caleb Martin — the cop who ultimately shot and killed him — as evidence that the shooting was justified.
"At the time of the application of deadly force, Martin was confronted with an armed individual who had refused commands to drop his weapon and then aimed the firearm at him," the release states. "Martin had a good faith in the correctness of his actions and was acting pursuant to [state law]."
Around 1:30 pm on Oct. 23, 2019, Spokane Police responded to a 911 call reporting that Shafer was threatening suicide near the Esmeralda Golf Course in northeast Spokane, according to the news release. The caller reported that he and another person, who both knew Shafer, had disarmed him and attempted to restrain him before Shafer fled to his home several blocks away where he had additional firearms. Shafer also had a history of prior attempts, per the release.
Martin, who was the first officer to arrive on the scene, saw Shafer sitting on the front steps of his home. After he "re-contacted" the original 911 caller and overheard a phone call during which Shafer claimed to be armed, Martin reportedly saw Shafer move towards the street and point a firearm at nearby homes.
Martin then took cover behind two parked cars east of Shafer's location and shouted at him to drop the gun. Instead, the press release states, Shafer "raised the gun at and pointed it at Martin's direction." Martin then fired two shots at Shafer, who fell and dropped the firearm.
Shafer was declared deceased at the scene despite medical assistance from both other responding officers and medics. It was later determined that the firearm he was carrying was an unloaded .22 caliber semi-automatic pistol.
Martin has been with the Spokane Police Department since 2016 and was involved in one other fatal officer-involved shooting in 2017, according to an October Spokane Police Department news release.
Under changes to state law that
went into effect last year
, prosecutors now use a legal standard for assessing police shootings that asks whether the involved officer believed that deadly force was warranted at the time and whether a reasonable officer in a similar situation would have done the same.
So far, since the legal changes were approved, Spokane Prosecuting Attorney Larry Haskell has
not found any local police shootings to be unjustified
.