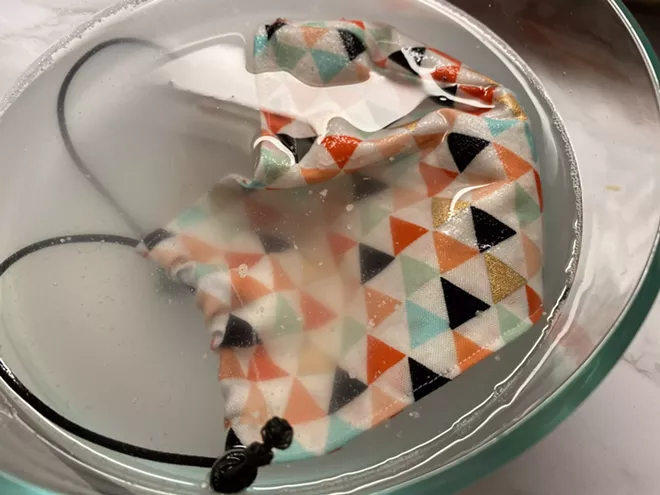 P
eople are now directed to wear cloth face coverings
while shopping and out in public spaces, with exceptions for outdoor settings where social distancing is easier, according to a new directive from Spokane Regional Health District.
Health official Dr. Bob Lutz issued the directive Wednesday that all people who can should be wearing coverings over their nose and mouth while in public, indoor and confined places. Businesses are also directed to post signs advising people wear face masks to protect themselves and others from the spread of COVID-19.
While cloth masks are not very effective at preventing the person wearing the mask from getting sick with the virus, they are quite effective at preventing a sick person from spreading germs, Lutz says, so the idea is if everyone wears masks, the chances of the virus spreading becomes very low.
"If you're in stores, if you're going to, again, be in a confined space where physical distancing is difficult ... I'm going to say you must wear a mask," Lutz says during a press conference Wednesday, May 20. "Now again this is not enforceable, it's just good practice. It's me protecting you, it's you protecting me. It's all of us protecting each other going forward."
The mask guidance is not going to be enforced with tickets or legal action, but can come with education for those who aren't wearing masks, according to the phrasing of
the directive
.
While eating or drinking, masks don't have to be worn, but they should be worn at all other times in public settings that are confined and/or indoors.
The directive includes exceptions for:
children under 2
children under 12 if their parents/guardians/caregivers aren't around to help them wear the masks safely
people with disabilities that prevent them from easily wearing or removing a mask
people who are deaf and the people they're talking to, if that person relies on facial movements for communication
people who've been medically advised not to wear a mask for health reasons
and people who have difficulty breathing or are unconscious so therefore unable to remove a mask when needed
It's important to put on and take off masks using clean hands that have been washed with soap or an alcohol-based hand sanitizer, the directive states. Masks should also be washed regularly with hot water and soap, and dried with high heat (be careful of elastic bands' potential to melt in the dryer — it may be better to use a hair dryer in some cases).
Many employees of retail stores, dining and drinking establishments will also be required or strongly encouraged to wear masks under state guidance for the phased reopening.
Lutz's directive notes that wearing masks doesn't negate the need for other measures to reduce spread of the virus, including frequent handwashing, avoiding touching your face, staying 6 feet apart from others who don't live with you whenever possible, and continuing to avoid nonessential travel.
"I think as we are opening, this is one other means by which we can keep COVID-19 at bay and really keep each other healthy," Lutz says.